Hundreds of locals form chain to protest high-intensity blasting for Navi Mumbai airport project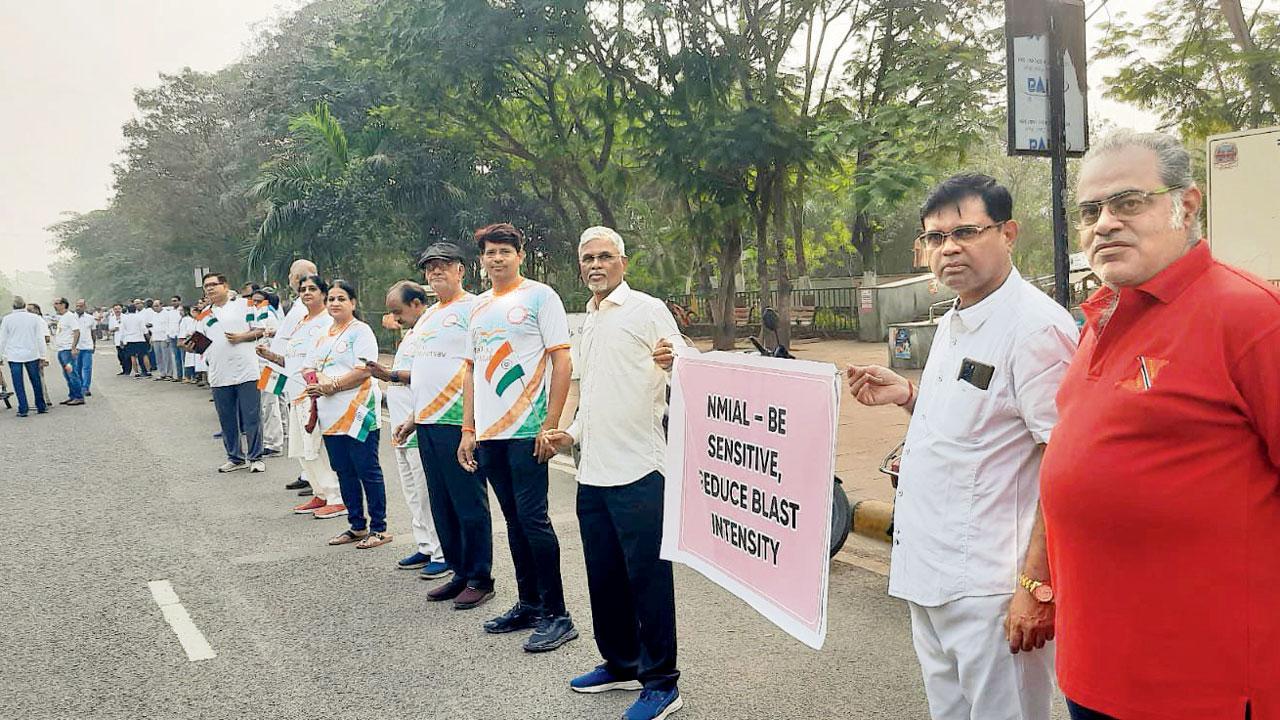 The silent protesters at Joggers' Track in CBD Belapur, Navi Mumbai on Sunday morning
Over 350 people formed a 900-metre-long silent human chain at CBD Belapur, Navi Mumbai, on Sunday morning in protest of high-intense blasts that are being executed to flatten rocky hills for the construction of the Navi Mumbai International Airport (NMIA).
The chain stretched from one end of the Joggers' Track at Sector 15 to the other. They attempted to highlight the suffering of residents due to frequent loud blasts that have caused wide cracks to appear in buildings and windowpanes to shatter. Initiated by NatConnect Foundation, the protest saw a good response not only from creek-facing housing societies, but NRI Seawoods and Parsik Hill.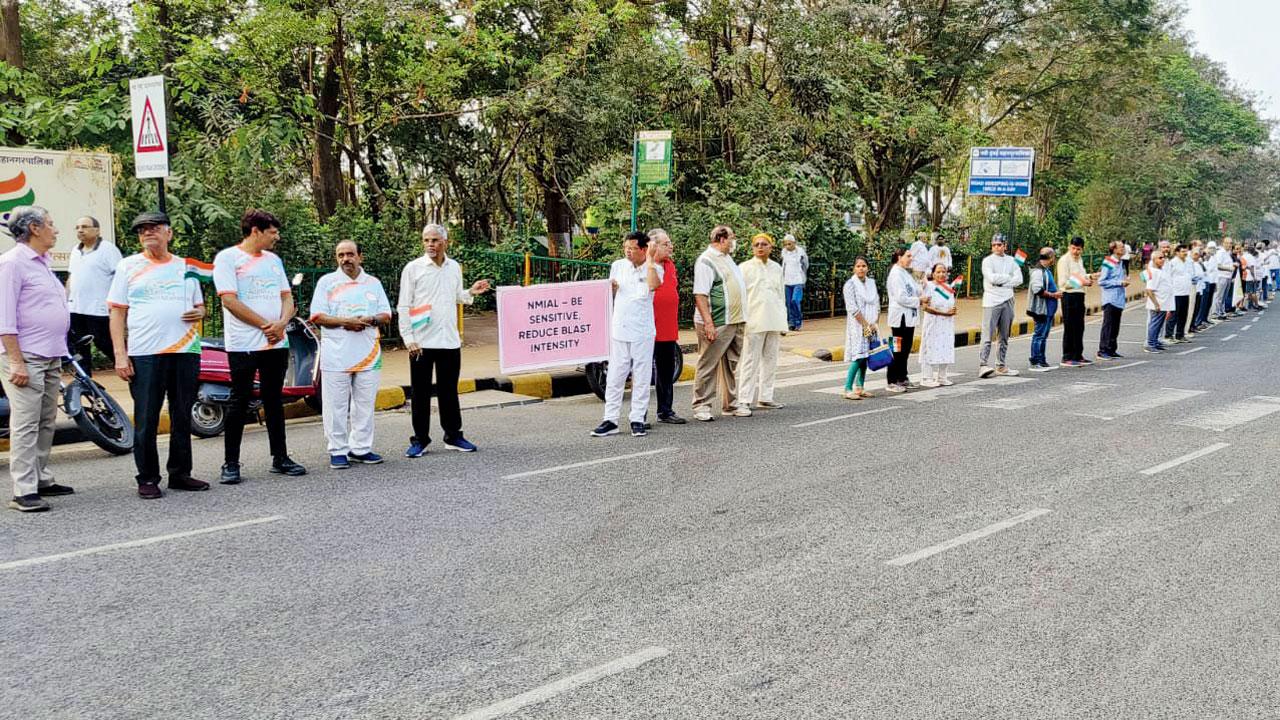 "After the chief minister responded to our complaints last week and asked the state aviation and urban development departments to intervene, we expect the government to order a structural audit of the affected buildings," said B N Kumar, director, NatConnect Foundation. The protesters held banners stating that NMIA Limited must reduce the intensity of blasts and highlighting the need for structural audits of buildings by the government or NMIA.
"We have nothing against the airport but the blasting of the solid rock hills has been causing us a lot of trouble," said Rohit Agarwal, a resident of Arenja Co-operative Housing Society, Sector 11. The blasts also cause a lot of dust pollution in the area, he said. Dr B B Gajare, a physician who practises at Sector 15, said the number of patients with respiratory problems has been on the rise. "Even in my building, Sai Vihar, we have seen big cracks," he said.
Also Read: Locals fume as BMC plans to axe 19 trees
Realtor Israel Shaikh showed this reporter pictures of his shattered windowpanes and blamed the high-intense blasts. Suryakant Pandey, another Sai Vihar resident, showed the huge cracks in the pillars and walls of the housing society that were caused by the airport site blasts. In response to Pandey's complaint, R B Dhayatkar, CIDCO chief engineer (NMIA), admitted that the society is close to the northern boundary of the airport site. He asked NMIAL to look into the issue and take action.
Kumar, however, said that CIDCO cannot wish away its responsibility as the planner is building the airport project through Adani Airports Limited. It is the duty of CIDCO officials in charge of the project to ensure that contractors meet all environmental clearance norms, he said. Ex-corporator Netra Shirke expressed the hope the CM and CIDCO would take appropriate action to redress the grievances of residents.
Vishnu Joshi of Parsik Greens said the blasts are causing dust pollution, severely affecting air quality. The organisers did a headcount of the human chain participants and collected their signatures. "We will plan the next steps soon," said C D Gupta, a resident of Belle Vista society.
900m
Length of human chain Do you often find yourself in the middle of office politics?