Doctors divided over zero-percentile cut-off; while some say it's a welcome decision, others slam it
Representative image
EVEN as health academicians in the city are puzzled with the timing of the World Federation of Medical Education (WFME) recognition that 706 medical schools in the country got last week and the recent "Zero cut off' notification passed by the apex medical regulatory body; whether it will have any impact on the standardization of postgraduate medical education in India and its effect, if at all on the overall health care system, is to be seen.
Dr Wiqar Shaikh, professor of Medicine, Grant Medical College and Sir J.J. Group of Hospitals, said that he is absolutely shocked to know about the notification from the Director General of Health Services (DGHS), which conveyed that the qualifying percentile for NEET-PG 2023, for admission to Postgraduate Medical and Dental Courses in the country has been reduced to "Zero". The notification was released on September 20. Dr. Shaikh added that the notification mentioned that the reduction in the qualifying percentile has been made applicable in all categories of candidates.
ADVERTISEMENT
Bizarre decision
Dr Shaikh said that this decision is bizarre and will raise concerns regarding the quality of medical education in the country. He also said that he is worried that reducing the percentile to zero could promote corruption and possibly stimulate an increase in fees in private medical colleges.
Dr Shaikh added that the actual percentile required for PG Medical and Dental admissions until now was 50 from the general / unreserved category, and 40 for students from reserved categories. He said that this decision has been implemented to fill up all the PG clinical and non-clinical seats so that unlike previous years, no seats are left vacant.
Dr Shaikh said, "The WFME has approved 706 medical colleges of India, of which 6 medical colleges (Cooper, Nair, KEM, Sion, JJ and Somaiya hospital) from Mumbai have been recognized last week, and Indian graduates can now pursue their PG education in countries such as the USA, Canada, Australia and New Zealand. The government of India has spent R 320 crore towards the processing fees, to obtain this approval. The recognition is being looked forward to, as students of these medical colleges can pursue their post-graduation from any PG colleges from these countries, but will it really happen? Only time will tell."
He said the decision by the Ministry of Health and Family Welfare to reduce the NEET-PG percentile to "Zero", if and when noted by the WFME, may lead to cancellation of approval to our medical colleges.
'A big surprise'
Dr Ketan Vagholkar, professor of Surgery at DY Patil Medical College, said, "Reducing the qualifying percentile to zero for the NEET-PG 2023 has come as a big surprise. Bringing the qualifying mark to zero defeats the whole purpose of a PG medical entrance test. There should be no compromise in quality and standards at any cost. Just because there are no takers for the post graduate seats, does not mean that we have to provide substandard care to  society by permitting doctors who do not qualify the set intellectual standards required for that job. By doing so eventually there will be poor quality doctors serving society which will have a negative impact on the medical care provided. The population will suffer for no fault of theirs."
"Therefore, the best of medical graduates needs to be selected and allowed to enter postgraduate courses. By reducing the qualifying mark to zero the tail end scorers including those who have scored negative marks and are devoid of scholastic and academic skills will get an opportunity to enter the system causing dilution of standards. It is important to ensure that the best intellectual class of medical graduates enter post-graduation," said Dr Vagholkar.
'Stringent cut off a must'
Dr Vagholkar added, "The primary health care centres in the country need basic medical graduates, as India still has a large rural sector. Post-graduation is specialisation in different branches of clinical sciences. It is a universal concept in medicine, that the best of the medical graduates are selected for post-graduation specialised medical courses. Therefore, stringent cut off in PG-NEET is absolutely essential, to select the best of the medical graduates. This will ensure quality health care for our citizens."
Dr Vagholkar said, "Every country, for instance USA, UK, Canda, Australia, and New Zealand, has their own state licensing examination. Non-citizens who clear it will then be allowed to practice medicine in those countries. The recent WFME recognition of 706 medical schools in India, is undoubtedly good for the medical graduates, as it will render them eligible to appear for individual licensing examinations in these countries.
The whole medical education system has to be only patient centric, or reform needs to have a positive impact on the health care system. The zero-percentile circular has created confusion, in the minds of medical professionals and medical students, as it impacts the quality of health care."
NEET-PG cut-off pros and cons
The National Medical Commission (NMC) reduced the criteria for admission to postgraduate (PG) medical and dental courses to zero percentile in NEET-PG. This was the demand for several years by IMA and other medical bodies due to discriminatory slabs of cut-offs in the past decades; namely the general category students would qualify above 50 per cent, but it was 45 for persons with disabilities and 40 for reserved category. With zero percentile cut-off i.e. those scoring up to minus (-) 40 in NEET-PG examination will qualify for admission, This came into effect immediately.
"The advantages of this change seen by many education experts are that it eliminates discriminatory cut-off slabs for general versus disabled versus reserved categories. It will ensure that qualified doctors with medical and dental degrees will be able to get admission to PG courses in India thereby reducing dependence on foreign universities. Tons of non-clinical and paramedical course seats that were going abegging will now get filled, and it will reduce the hangover of 'seat selling' of yesteryears! Yet, merit admissions will be retained by applying NEET-PG scores in the system", said Dr Subhash Hira, Professor of Global Health at University of Washington-Seattle who has over 40 years of experience working in and designing medical universities in USA, Africa, India, and Asia.
"An over-arching news that hit the media recently is that the National Medical Commission (NMC) has become a member of the World Medical Association based in Geneva. This membership of WFME that has 100-odd medical associations, raises the profile of NMC and its 706 affiliated medical colleges of India, that are likely to benefit recognition on the global platform. The accreditation of global medical colleges by WHO-Geneva continues to be the formal quality education standard," said Dr. Hira.
'Welcome move'
Dr Santosh Bansode, emergency medicine specialist said, "It's a welcome move, as many seats which remain vacant each year because of no takers, can be filled. Students who qualify generally do not opt for subjects like physiology, anatomy, biochemistry so such seats remain vacant. The problem is that after doing MD in Physiology or Anatomy or Biochemistry, we can be professors, teachers and since these are non-clinical subjects, doctors who prefer clinical practice don't opt for them."
"Doctors who did not qualify earlier might be interested in these non-clinical seats as sometimes non-clinical MD is better than plain MBBS. I feel amongst doctors there will be only few who will want to take non-clinical subjects for doing MD. So even if NEET PG cut off is made zero, still there's a high chance that seats for anatomy, physiology and biochemistry will remain vacant, as most doctors wish to do clinical practice or something related to clinical practice, and very few doctors are interested in such purely non-clinical subjects. By making the cut off to zero, the government is doing its best. Now it will be fully dependent on what students want and what they wish to do in their future," Dr Bansode concluded.
'Improve teaching, learning to ensure standards are met'
AMID the furore National Medical Commission (NMC) recent notification of zero cut-off for the qualifying National Eligibility cum Entrance Test (Post Graduate) (NEET PG) for 2023, mid-day speaks to Dr Vedprakash Mishra, a recipient of the Dr BC Roy Award, pro-chancellor, Datta Meghe Institute of Higher Education & Research (Deemed to be University), Nagpur, and former chairman, Academic Council, Medical Council of India (now NMC), New Delhi.
What is your view on the NMC's zero percentile notification? Can you explain the 2009 case that led to the Supreme Court's (SC) direction and the logic behind it?
The 2009 judgment by SC recognised that all pathways towards postgraduate medical education are precious and thus, it must be ensured that all seats are filled. It may be for this reason that the Ministry of Health and Family Welfare, in consultation with the NMC changed the cut-off. In the past, when seats remained vacant for want of eligibility, the authorities would reduce the cut-off. The present notification follows the prescribed policy incorporated in governing regulations, thereby allowing an instant change.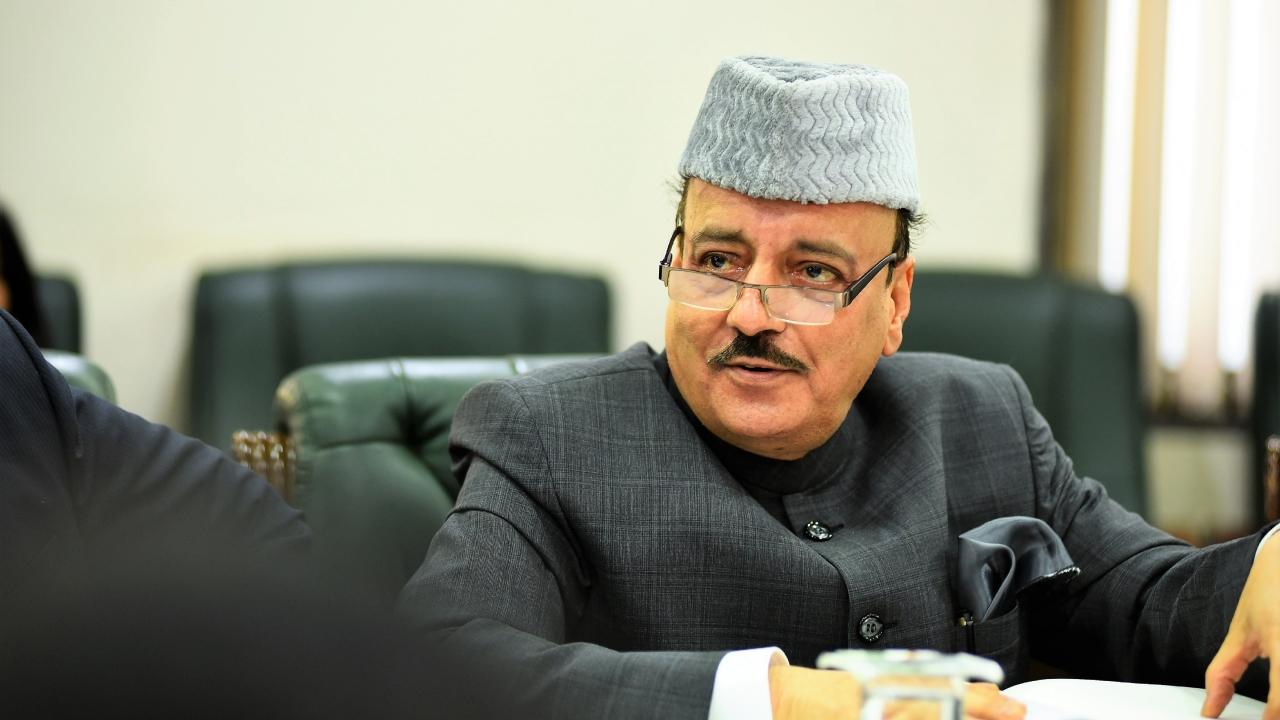 Dr Vedprakash Mishra, pro-chancellor, Datta Meghe Institute of Higher Education & Research (Deemed to be University), Nagpur
How would the notification affect the quality of post-graduate medical education and students entering specialised branches? Can the step expose citizens to substandard healthcare?
Merit for entrance examinations is definitely of consequence and relevant in terms of the standards to be maintained for postgraduate medical education. However, the same must be viewed in the context of preventing vacant seats. The standard of postgraduate specialists produced would depend on teaching, training and learning, in addition to the required eligibility standards. Thus, such situations must be dealt with by strengthening the teaching and learning process, especially in the domain of psychomotor skills, which turns out to be of paramount importance.
What is the relevance of WFME (World Federation for Medical Education) recognising 706 medical schools and its impact on the healthcare system?
The Academic Council of the then Medical Council of India (now NMC) undertook the work of readying the Competency Based Model of Undergraduate Medical Education in 2015. A comprehensive document was adopted by the regulatory body and the government, and implemented across the country from the academic year 2019-20. This was to ensure that the curricular design, teaching and learning modes align with the standards and guidelines prescribed by the WFME. It is a result of this initiative that the WFME recognised the NMC for 10 years and 706 medical schools under its ambit were recognised. They have also been placed in the WHO directory of medical schools. Any new medical college, after fulfilling the required procedures, will also get the WFME accreditation. The position would be open for renewal. This highlights that the standards of medical education in India are at par with the world. Since the WFME guidelines are centred around quality teaching, adhering to them would mean better input, throughput and output. It can result in the generation of competent, compassionate, trained health workers, who would prove to be good clinicians, communicators, leaders and lifelong learners. Such a workforce is expected to deliver effective and meaningful healthcare.
"Exciting news! Mid-day is now on WhatsApp Channels

Subscribe today by clicking the link and stay updated with the latest news!"
Click here! Will you take intranasal vaccine as a precautionary dose?