The participants called for the release of the remaining co-accused in the Bhima Koregaon conspiracy case, along with an independent impartial investigation into the tampering of electronic devices and fabrication of evidence of all those accused in the case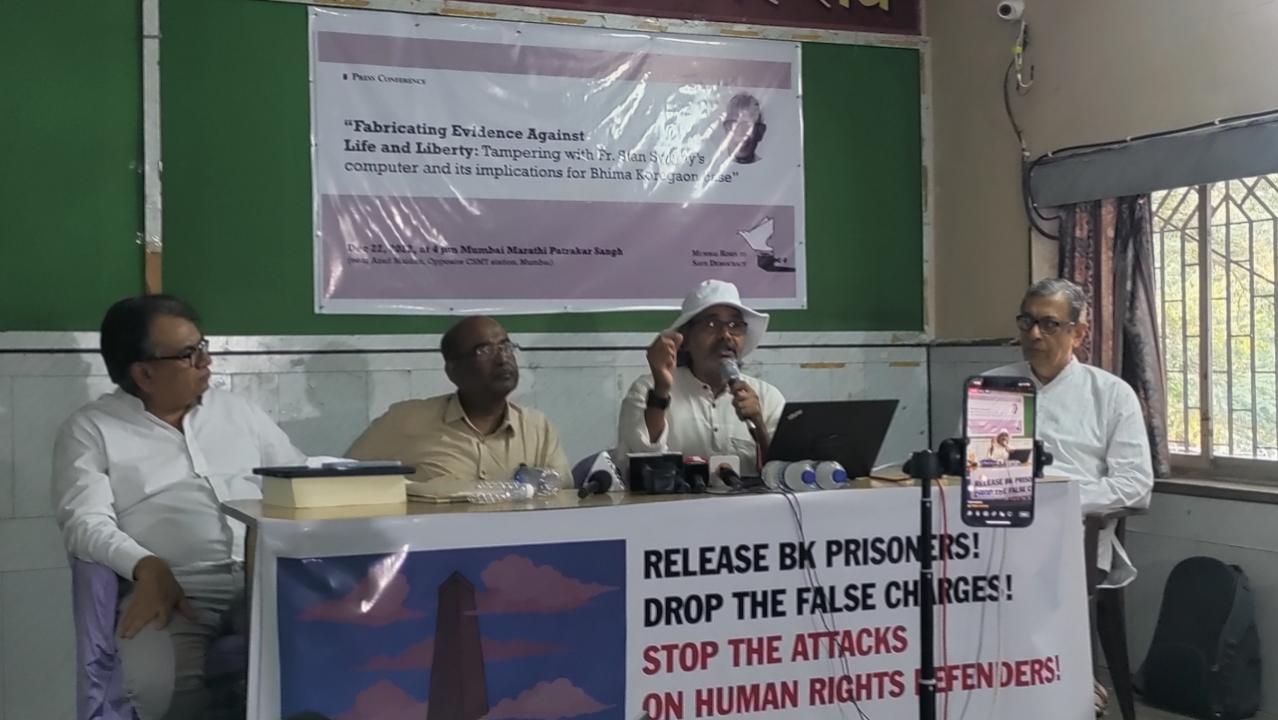 Human rights lawyer Mihir Desai, Father Joe Xavier, Professor Nagarjuna G and Father Frazer Mascarenhas speak at the press conference at the Mumbai Marathi Patrakar Sangh. Photo Courtesy: Nascimento Pinto
Almost a week after American digital forensics firm 'Arsenal Consulting' revealed in a detailed report that tribal rights activist Father Stanislaus Lourdes Swamy's computer was tampered with and 'evidence' was planted on it, human rights activists, lawyers and academicians vowed to secure justice for the late Ranchi-based priest and those accused of terror links in Bhima-Koregaon case.

Addressing a press conference at the Mumbai Marathi Patrakar Sangh in Mumbai on Thursday, the participants called for the release of the remaining co-accused in the Bhima Koregaon conspiracy case, along with an independent impartial investigation into the tampering of electronic devices and fabrication of evidence of all those accused in the case.

Mihir Desai, the lawyer of Father Swamy and a human rights activist said that either the agency (NIA) is not carrying out the investigation into the tampering and fabrication of evidence in late Father Stan Swamy's computer or the investigation reveals things that they don't want to disclose. "The only conclusion I come to is that they may be trying to suppress the probe."

Desai said he believes the prosecution knew the evidence was planted into Father Stan Swamy's computer. "The Arsenal report says very categorically one day before the hard disk was confiscated, there was tremendous movement on the computer to delete all the footprints of how the evidence was planted. It would not have happened unless somebody had told somebody that the computers should be cleared because they were going to confiscate the devices," he said. 
Desai said that after the two Arsenal reports came, they wrote to the NIA and asked them to investigate. "For one and a half years, the investigation has been suppressed."

Jesuit priest Father Stan Swamy passed away in judicial custody on July 5, 2021, while he was being treated at the Holy Family Hospital in Bandra. Suffering from Parkinson's disease and various other ailments, Swamy was arrested by the NIA on October 8, 2020 under the Unlawful Activities (Prevention) Act including 15 other activists, lawyers and academicians in connection with Bhima Koregaon case of 2018.

Besides Desai, the press conference was also addressed by Father Frazer Mascarenhas, parish priest of St Peter's Church in Bandra, Father Joe Xavier, former executive director of the Indian Social Sciences and convener of the Father Stan Swamy legacy committee, and professor Nagarjuna G, former professor at Homi Bhabha Centre for Science Education, Tata Institute of Fundamental Research. 
The trio said that the Arsenal report revealed that the hackers had been infiltrating Swamy's computer since October 19, 2014 and more than 40 documents were planted on it.

Father Joe Xavier, who was a long-time acquaintance of Swamy, said, "We as religious Jesuits are proud to fight for justice, live for justice. Justice and reconciliation are our motto." He said he is not angry neither would Stan be angry, but he (Swamy) was concerned that a state that proclaims (the) constitution and is supposed to work towards the welfare of the adivasis is not doing it. 

The team fighting the case, he said, wasn't doing it to liberate Father Stan Swamy but to take forward the legacy of the human rights defenders, their contribution and those who are still inside jails. "We want to expose those who intrude into somebody's computer, create and generate false evidence, and arrest people and put them behind bars, and kill them."

The speakers said that the moment the state decided to arrest Father Swamy, his death warrant was signed. "We were fully aware of it," Desai said.

Against most of the people arrested in the Bhima Koregaon case, Desai said, the central and the only evidence is what is recovered from the computer. "It is not a question of 10 different types of evidence including cash, arms or RDX, letters or documents. There was none of it."

He said it is important if the prosecuting agency is relying only on computer evidence for them to be absolutely sure that it is reliable unless the prosecution knows it is planted.

The Arsenal report said that Swamy was the target of an extensive malware campaign for nearly five years right up until his device was seized by police in June 2019. In this period, the hacker had complete control over Fr Stan's computer, dropping dozens of files into a hidden folder without his knowledge. Close to 44 documents, including the so-called Maoist letters, were planted by an unknown cyber attacker who gained access to Swamy's computer.

The speakers said that they are not going to let Father Stan's "killers go unpunished". The legal team has filed a petition and we are contemplating on the future course of action, Desai said.

Responding to a query, Father Frazer Mascarenhas said he was not surprised by what the Arsenal report had revealed. "We always knew Father Stan Swamy was innocent." What is surprising, Father Frazer said, is that within a few months after coming to power, the government had started "planning" (on Father Swamy).

Also Read: First death anniversary: Remembering Father Stan Swamy, the man who wasn't afraid to speak up