The custodial death of Father Stan Swamy brought attention to the problems of delays in trial and poor prison conditions in India. Mihir Desai, Swamy's advocate and a human rights lawyer, says questioning the establishment is now viewed as sedition and criticism as waging war against the country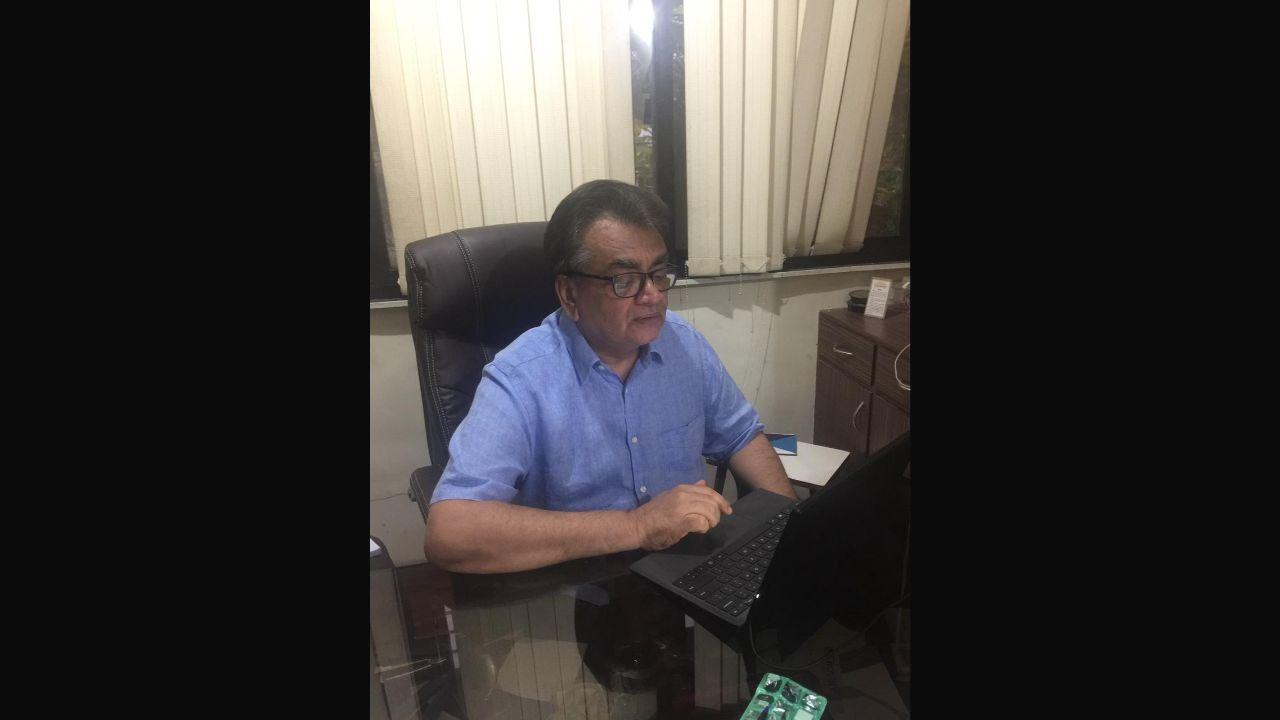 Advocate Mihir Desai. Photo courtesy: Mihir Desai
On July 5, Jesuit priest and tribal rights activist Father Stan Swamy, who was jailed under the anti-terror Unlawful Acts (Prevention) Act [UAPA] in the Bhima-Koregaon case, died in judicial custody. For the past several months, the 84-year-old's repeated pleas for bail on health grounds did not bear any result. On July 3, a bench comprising Justices SS Shinde and NJ Jamdar had adjourned the hearing in his most recent bail plea to July 6 after Swamy's counsel, senior advocate Mihir Desai, said Swamy's health was critical and that he was still in the ICU.
Recently, a Delhi court said it would hear the bail application of former Jawaharlal Nehru University (JNU) student leader Umar Khalid, arrested under the UAPA in the northeast Delhi riots conspiracy case, on July 27. Besides him, Jamia Millia Islamia student Asif Iqbal Tanha, JNU students Natasha Narwal and Devangana Kalita, Jamia Coordination Committee members Safoora Zargar, former AAP councillor Tahir Hussain and several others have also been booked under the stringent law in the case. The Delhi High Court had granted bail to Tanha, Narwal, and Kalita in the case, saying the State blurred the line between the right to protest and terrorist activity in its anxiety to suppress dissent.
ADVERTISEMENT
The past year has seen several arrests under the controversial sedition and UAPA laws. These cases have also brought to the fore the problem of delays in trial and bail hearings. On July 15, while hearing a plea challenging Section 124-A of the IPC (a colonial-era legacy popularly known as the 'sedition law') the Chief Justice of India, NV Ramana, questioned the provision which was historically used to silence Mahatma Gandhi and Bal Gangadhar Tilak. "This section (124-A) gives enormous powers for misuse…. There is no accountability fastened on police for falsely implicating persons under the sedition provision of IPC," the CJI said, adding, "When some particular party, which formed the government in the states, does not want to hear dissent, they resort to Section 124-A." On July 19, journalist Patricia Mukhim and Kashmir Times owner Anuradha Bhasin also moved the apex court, challenging the constitutional validity of Section 124-A, which they said aids in curbing free speech and freedom of the press. In March, the SC had quashed an FIR against Mukhim, editor of The Shillong Times, which had accused her of creating communal disharmony through a post on Facebook. 
Mid-day.com spoke to late Father Stan's counsel Mihir Desai for his perspective on the current scenario in the judicial system with regard to arrest, trial, and bail procedures. Desai is a Mumbai-based human rights lawyer and senior advocate who co-founded the Indian People's Tribunal and Human Rights Law Network. In 2003, he assisted the Asian Human Rights Commission in their fight on behalf of the tribal population to remain on land claimed by the Maharashtra State Farming Corporation.
Excerpts from the interview:
What does Stan Swamy's death say about the judicial system? 
I normally do not comment about matters in which I appear, but I make Stan Swamy's case an exception for two reasons. First, that my client's unnecessary death has been totally shocking and a reflection of a larger malaise. Second, because I knew Stan not just as a client but in his capacity as a social activist for more than 30 years. I have in the past visited Chaibasa and Ranchi for legal training of tribals and had interacted with him even otherwise at various human rights meetings. I also stayed at his place at Bagaicha, which is anything but fancy, and has simple facilities. The man was extremely popular among the marginalised communities in various parts of India and was very humble, down to earth, with complete lack of aggression but totally firm about his convictions. I will never believe that he was a Maoist or had anything even remotely to do with violence. 
Father Stan Swamy. Photo: File pic
As far as the judicial system is concerned, there are two issues. It is my opinion that the Special NIA Court was totally wrong in rejecting both the medical bail, as well as bail on substantive grounds. But the High Court did give him a sympathetic ear. The High Court directed a special committee of doctors at JJ Hospital to examine Father Stan. The court also had a very courteous and sensitive direct conversation with Father Stan from the jail to enquire after his health. The Court also offered that he could be hospitalised despite there being no such recommendation from the government hospital team. On two occasions, the bench of the High Court sat specially (on days on which the bench was not otherwise meant to convene) to hear Father Stan's appeal. The High Court also ordered his admission to a private hospital of his choice. Of course, ideally, he should have been granted bail on the very first day but that is a systemic problem which affects all bail matters. 
At the same time I am highly critical of the fact that he was arrested at all. Look at the situation. He was interrogated over a period of two years prior to his arrest. He always cooperated. His electronic data, which is supposedly the central evidence against him, had been seized. He was an old, frail man of 84 years suffering from diseases. The NIA did not ask for even one day's custody for further interrogation. The names of witnesses allegedly speaking against him have been redacted. So what was the purpose of arrest? That too in the middle of the pandemic, when the Supreme Court itself had directed decongestion of prisons. In fact, the National Investigation Agency filed an affidavit in court denying that Stan had Parkinson's disease or was suffering from any ailments. I am strongly of the view that his arrest was mala fide.
Unfortunately, once you are arrested under the Unlawful Activities Prevention Act (UAPA), you have a long haul in custody. This is because of the harsh bail conditions under the Act and the unfortunate interpretation given by the Supreme Court to this law. Even so, the Special Court ought to have released him as there is no prima facie evidence against Father Stan. UAPA has become an instrument to jail people for years together without any trial, especially those who are seen as dissenters. This, coupled with the conditions in prison led to Father Stan's death.
Protests and activism have been a part of India from time immemorial. Why are protesters and activists being labelled "conspirators" and "anti-nationals"?
The present majoritarian establishment does not brook any dissent. Anyone who disagrees with their views is treated as a conspirator and an anti-national. The earlier establishment is also responsible. UAPA is their creation, so are many other draconian laws. But the present establishment has perfected the weapons and is making brutal and ideological use of it. Questioning is seen as sedition and criticism as waging war against the country. 
Can they be called political prisoners?
There is nothing like political and non-political prisoners in India except for a mild West Bengal law. We loosely call certain persons political prisoners because they have been put behind bars for their political views; or, to put it differently, for having allegedly committed offences not for personal gain or profit but for a larger cause. The law does not make any distinction between political prisoners and non-political prisoners. But from the perspective of how political prisoners are universally understood, those charged for instance under sedition or UAPA would fall within the category of political prisoners. 
The accused in the Bhima-Koregaon violence have been in jail for more than three years without a proper trial. Could the protests following Stan Swamy's death result in attention to their condition?
Hopefully, yes. [But] delays in trial are an endemic problem. [They] are a normal part of our system. So it is not just a question of the Bhima-Koregaon cases, it is the question of all other people incarcerated without trial. Especially because trials take a long time, it is important that bail provisions need to be relaxed. Personal liberty is a fundamental right and presumption of innocence is part of our jurisprudence. In the context of long pending trials stringent bail conditions acquire a more sinister tone. 
Families and friends of the prisoners have time and again raised concerns about the poor conditions and lack of basic medical facilities in jail. What have been your observations over the years?
The conditions of jails are deplorable across the country. There is overcrowding and corruption in jails. The medical facilities are pathetic and there is virtually no independent oversight. Prisons are like black holes. They serve zero reformative purpose and end up brutalising those inside. The situation has worsened during Covid times. Over the last forty years significant prison jurisprudence has been evolved through Supreme Court and High Court judgments. In fact, the beginnings of public interest litigation in India was through cases concerning jail reforms. But if you read the prison memoirs of Bhagat Singh written in 1929 or of Mary Tyler in 1977, or the subsequent memoirs of persons like Iftikhar Geelani, Arun Perrira, Kobad Gandhy or Abdul Wahid Shaikh, we realise that prison conditions have not improved.  
What is your opinion on the role of social media in a democracy?
I feel a vibrant social media is very much necessary for democracy. But at the same time, one should not believe all that is posted on social media. I am against state censorship. Censorship by law soon slips into censorship by ideology. Of course certain things like child pornography should be prohibited outright. Social media can and has led to democratising the interaction space and access to information, while at the same time it is also used to spread false news and hatred.
What are the most pressing concerns in our justice system, according to you, that need to be addressed immediately?
Well, first is of course the delays for which there are multiple reasons, including vastly insufficient judges. Second, the erosion of the independence of the judiciary coupled with lack of accountability. Third is the lack of access to the justice system for the vast mass of people due to socioeconomic factors. Fourth, the lack of adequate diversity in the judiciary in terms of class, caste, gender (both in terms of women and sexual minorities) and other minorities. It is important to understand that lived reality brings in a vision which is always different from learned reality. These are only some of the issues. 
Also Read: 'Urdu is always in the air, for Indians feel its tranquillising presence'