Pune Sessions Court says there is nothing to prove that the two men from J&K were involved in terrorist or anti-national activities, or had links with LeT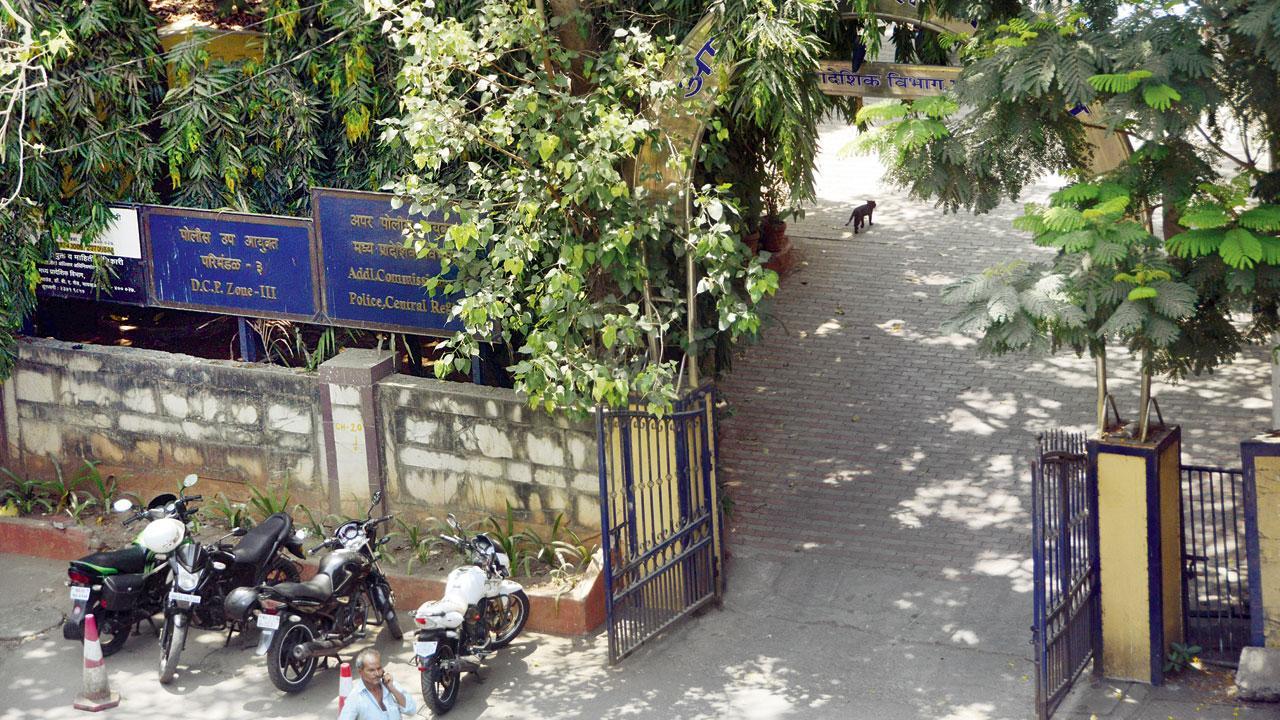 Maharashtra ATS office at Byculla. File Pic/Bipin Kokate
There is no evidence to prove they are part of a terrorist organisation. In fact, one accused person's elder brother is a victim of terrorism in J&K," observed the Pune Sessions Court while grating bail to two men, who were arrested for allegedly recruiting for Lashkar-e-Taiba.
The Anti-Terrorism Squad (ATS) of Maharashtra had arrested Aftab Hussain Abdul Jabbar Shah and Mohammed Yusuf Attu, both residents of Jammu & Kashmir, in May and June, respectively, for planning to wage a war against the Union government.
ADVERTISEMENT
However, the ATS had not invoked the stringent Unlawful Activities (Prevention) Act or UAPA, instead they were booked under Sections 121 (conspiracy to commit certain offences against the State)  and 153B (imputations, assertions prejudicial to national-integration) of the IPC.
The ATS officers had arrested them after taking into custody Mohammed Junaid from Pune in May. Junaid, a resident of Khamgaon in Buldhana district, was working as a scrap dealer in Pune. They had arrested another person, Inamul Haque from UP who was already in jail in a case for his links with LeT.
Also Read: Mumbai Crime: 21-year-old steals from neighbour, buys Rs 1-lakh bike for boyfriend
What court said
"So far, as present applicants [Aftab and Yusuf] are concerned, there is some connection with...Junaid. He had contacted Aftab and there is reference to absconding accused Umar. However, from the conversation, it cannot be inferred that Aftab was involved in terrorist activities or recruitment to the terrorist organisation. Similarly, Yusuf Attu had simply forwarded money to the account of Junaid from a very remote place. There was no conversation between Yusuf Attu and Junaid before transfer of money, or even thereafter," the court said in its order issued on Wednesday.
"Therefore, a possibility cannot be ruled out that Yusuf had transferred an amount of R10,000/- to the account of Junaid on the say of someone else. Undisputedly, there is no evidence of participation of Yusuf in any terrorist activity or in any anti-national activity. Similarly, there is no material to indicate that Aftab was involved in any terrorist or anti-national activity," it added.
The court has also noted that as per the charge sheet, "In the mobile phone of Aftab, a photo of a grenade is seen. As per the record, he had received that grenade from absconding accused Umar. What is important to note is that Aftab did not use the grenade nor did he hand it over to anybody else. There is a statement from Umar that if applicant Aftab does not wish to blast the grenade he should return it."
"...If Aftab really wished to use the explosive in committing some anti-national activity, he could have handed it over to somebody else. Therefore, receipt of a grenade by Aftab cannot be taken as an anti-national circumstance," the court noted. Referring to conversations between Aftab and Umar, the court said in its order that "Umar was provoking Aftab to get involved in terrorist activities or in the recruitment process".
Aftab's advocate Yashpal Purohit has pointed out that his elder brother was a victim of terrorism, it said, adding, "When it is so, and when there is no evidence of participation of Aftab in any terrorist activity, it cannot be prima facie believed that he is a member of any terrorist or banned organisation." Aftab's lawyer had told the court that his family was pressurised to join a terror outfit, but they refused and so they were being harassed. Advocate Purohit had contended Aftab was arrested on the basis of allegations, and that there was "no substantive evidence against him and therefore, he deserves to be released on bail."
The case
According to the ATS, Junaid was in touch with one Hamidullah Jargar (absconding) in J&K, and that the latter was running a WhatsApp group called Ansar Gazwatul Hind/TAWHEED. Jargar used to send anti-national and terrorism-related posts on the group, and on his instructions Junaid allegedly recruited people in India. During the probe, the ATS's cyber cell found that Junaid posted on Facebook content in respect to atrocities committed on Muslims in India to spread the feeling of hatred against Hindus.
According to the ATS, Junaid came in contact with Aftab and after they got close, he offered Aftab to join LeT, a banned terrorist outfit. Aftab introduced Junaid to one Umar through WhatsApp, saying that he was recruiting for a Tanzim (a new terror group), it claims. The ATS also claimed that Aftab and Umar were calling Junaid to Kashmir for training of ammunition and weapons to create havoc in various crowded places in India. Aftab and Umar transferred R10,000 to Junaid's new bank account for coming to J&K for training, through Yusuf. On Umar's instructions, Junaid had purchased various SIM cards to create new Facebook and WhatsApp groups.
May
Month (in 2022) when one of the suspects was arrested by Maha ATS Do you think the Maharashtra-Karnataka border dispute can be solved anytime soon?