Rain, thunderstorms expected in parts of the state by May 21, bringing relief from the intense heatwave of the past two months, says IMD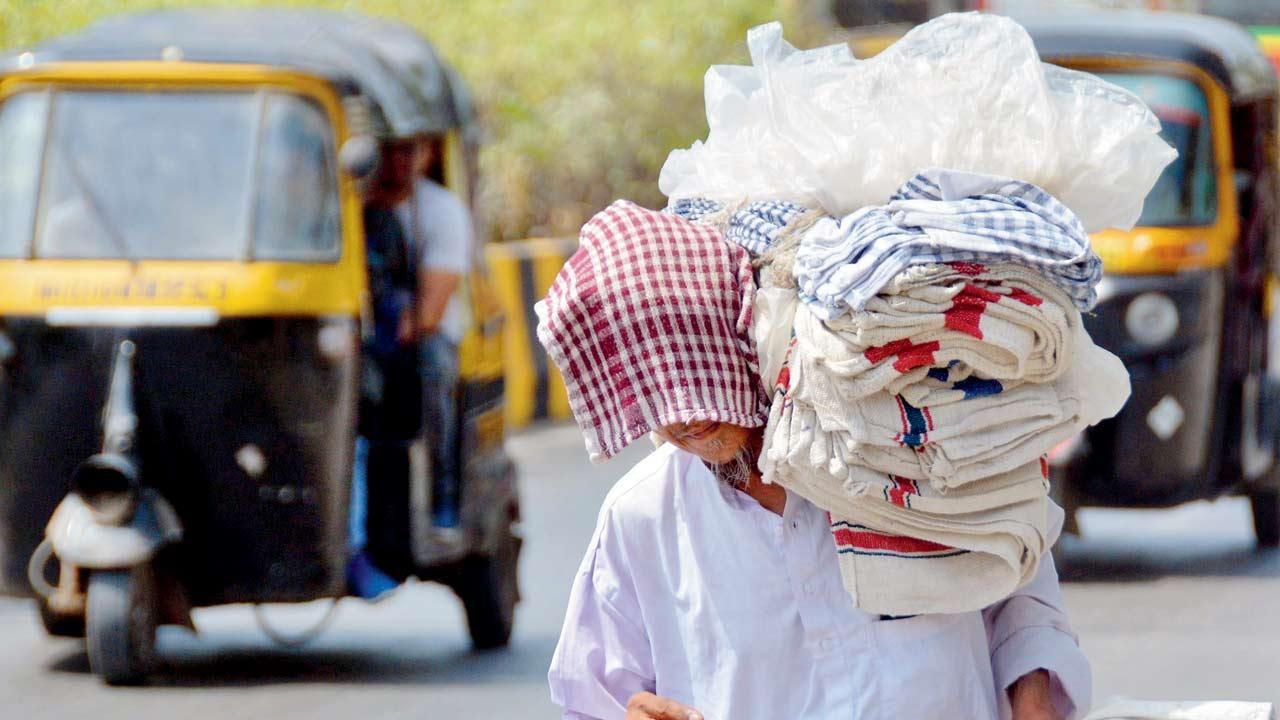 A man covers his face to escape the heat in Govandi last week. Pic/Sayyed Sameer Abedi
Mumbaikars can expect relief from the unusual heat conditions by next week, when pre-monsoon showers are expected, the weather department has said. Rain and thunderstorms are expected in parts of Maharashtra by May 21, including South Maharashtra, Konkan, Marathwada, and Vidarbha, said the Indian Meteorological Department (IMD).
According to the IMD, thunderstorms with lightning and gusty winds are very likely in isolated places at Ratnagiri, Sindhudurg, Pune, Kolhapur, and Satara, Sangli, Solapur, Parbhani, Hingoli, Nanded, Latur, and Osmanabad. At the same time, a heatwave warning has been issued for the districts of Akola and Amaravati until Sunday, and for the districts of Yavatmal and Washim beginning May 18.
"The exact date of the onset of the monsoon over Maharashtra can be predicted after the onset of the monsoon over the Kerala mainland. Until then, a variety of factors may influence or disturb the monsoon equatorial flow," said an official from IMD's Regional Meteorological Centre in Mumbai. The monsoon is expected to arrive in Kerala by May 27.
"Until May 26, these showers would primarily affect the south Konkan, a few districts in south-central Maharashtra, and Marathwada. After May 26, the entire state, including Konkan and the adjacent Madhya Maharashtra ghats, is expected to receive good pre-monsoon showers until June 2,"  the official added.
Arrival of monsoon
As per IMD, the monsoon usually arrives in Mumbai between June 7 and June 8 and covers the entire state between June 12-15. It is expected to stay on course this year. "As of May 19, monsoon has still not been established in Kerala, and therefore there is no official declaration of the Monsoon. When onset happens over Kerala, an offshore trough forms off the coast. 
Cyclonic circulations embedded in the Upper air circulation [UAC] are common features, which help in the northward advance of the Monsoon. At present, at 850 levels, the west/northwest wind convergence is seen near Kerala due to the UAC located near Kerala/Tamil Nadu border. There is no offshore trough," said Rajesh Kapadia,  of Vagaries of Weather- a popular weather blog.
Experts from Skymet Weather, a private weather forecasting agent, said, "Decoding monsoon has always remained a difficult task and it is not going to be any different, this season. Arrival over the Andaman Sea has got no connection with its likely arrival over mainland Kerala. Similarly, an announcement over Kerala has got no bearing on its further advancement over other parts. Invariably, the intensity and speed of monsoon are not so smooth to find linear progression. Sometimes, it halts to take a long break and on some other occasions may arrive sooner." IMD has predicted that the monsoon as a whole for the entire country will most likely be normal. If accurate, India will have a normal monsoon for four years on the trot.
27 May
Expected date of monsoon arrival in Kerala