Pune city Congress chief Arvind Shinde said the move to disqualify Gandhi was taken at the behest of the Union government since the latter was becoming the voice of the people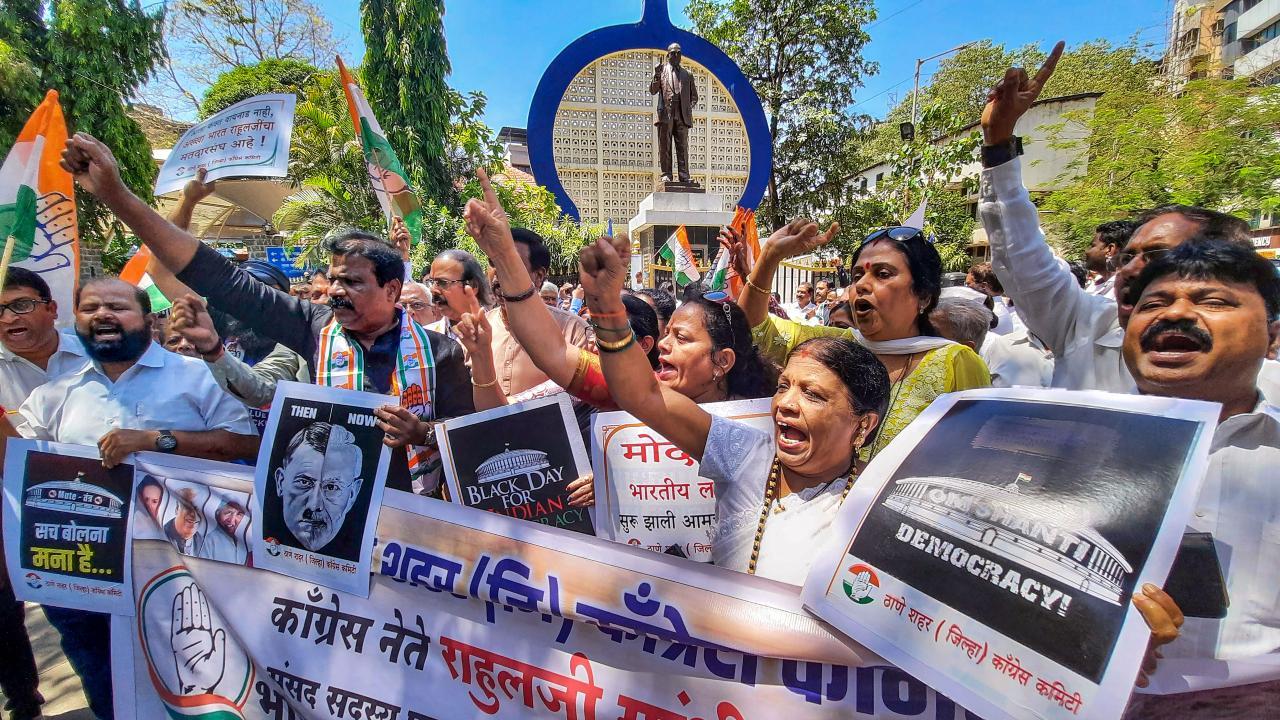 Congress workers stage a protest in support of Rahul Gandhi, in Thane, Saturday, March 25, 2023. PTI Photo
The Congress held a protest on Saturday in Pune against the disqualification of its leader Rahul Gandhi as Lok Sabha MP following his two-year-jail sentence in a defamation case.
The protest, which was held near MG Road, saw Congress functionaries raising slogans against the Bharatiya Janata Party and Prime Minister Narendra Modi.
ADVERTISEMENT
Pune city Congress chief Arvind Shinde said the move to disqualify Gandhi was taken at the behest of the Union government since the latter was becoming the voice of the people.
Signatures are being collected from the public to be sent to the Lok Sabha Secretariat urging it to overturn the disqualification order, Shinde said.
Gandhi was disqualified as Lok Sabha MP on Friday after a court in Surat in Gujarat a day earlier sentenced him to two years in jail in a defamation case over his remark about the Modi surname and thieves.
Also read: My name is not Savarkar, it is Gandhi & Gandhi never offers apology: Rahul on BJP's demand
The court granted him bail and suspended his sentence for 30 days to allow him to appeal in a higher court.
As per the Representation of the People Act, a person sentenced to imprisonment of two years or more shall be disqualified "from the date of such conviction" and remain disqualified for another six years after serving time. Do you like to interpret your dreams?