The play narrated how the scamsters trap innocent people through unauthorised apps; organisers offered help to other victims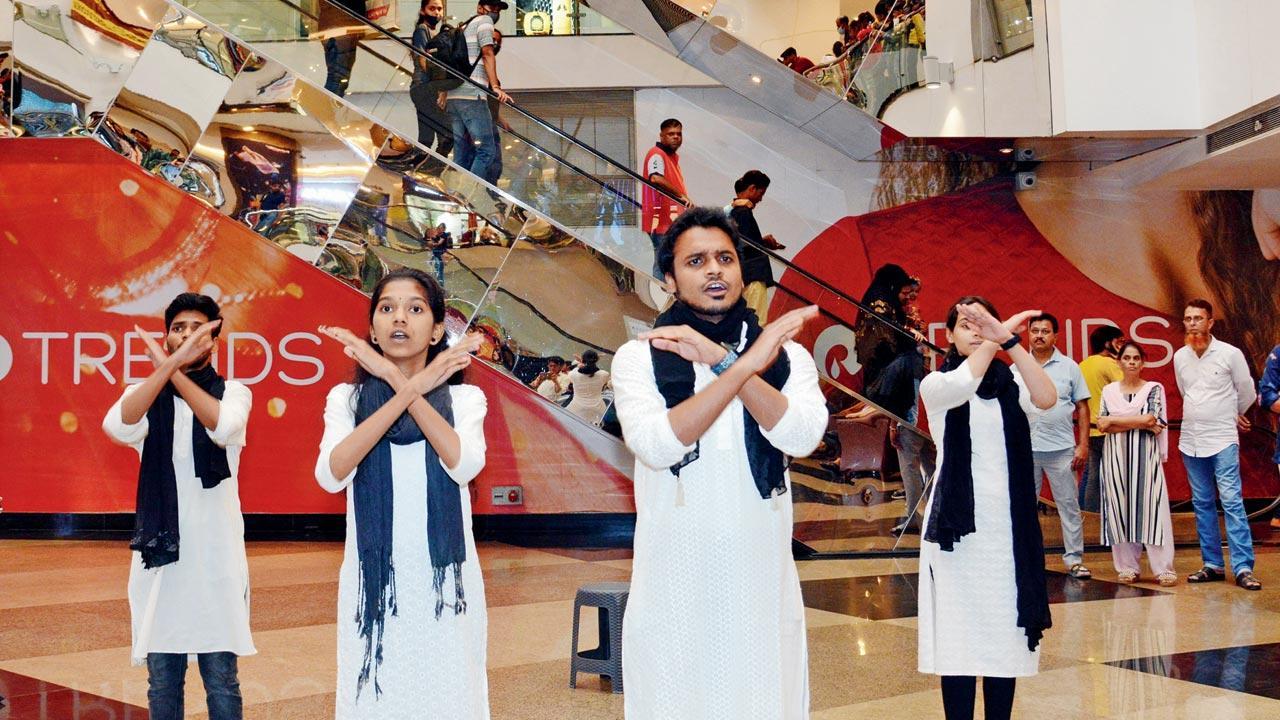 The group performs a street play on loan app scam at Infinity Mall, Malad on Sunday. Pics/Satej Shinde
Victims of loan app scams joined hands with an NGO and a theatre team to raise awareness about unauthorised loan apps and the harassment at the hands of recovery agents. Loan Consumer Association (LCAI) and Young Creative Production performed a street play at Malad-based Infinity Mall and Appa Pada at Malad West where a 38-year-old man recently took his own life due to the harassment. The play explained how scamsters cheat the unsuspecting innocent borrowers. 
Nikkhhil Jethwa, founder of LCAI, said, "With this street play, we want to create awareness and advise people to not to take loans from unauthorised apps. If any of your friends or relatives are suffering due to this, they can contact us. We will help them."
A 35-year-old from Ghatkopar, who had fallen prey to such a scam, was among the organisers. Nachiketa told mid-day, "I lost my job in 2020 due to COVID-19 and my financial condition was hit. So, I took a loan of R3,000 from an app I found on social media. They had given me 7 days' time to repay the loan, but I started getting calls from the fifth day. The agents even morphed my photo and video and sent the same to all my contacts. They ruined my life."
When the agents did not stop calling her even after she repaid the amount, Nachiketa tried to take her own life by jumping off Bandra-Worli Sea Link, but was saved by Worli police. 
"I had visited Ghatkopar police station before this, but they refused to register a case and told me to approach the cyber cell. However, when I went there, they asked me to file a police complaint first. It was only after Worli police saved me that Ghatkopar police filed a case. No arrest has been made yet," she added. 
Talking about how she is coping now, she said, "I deleted all my contacts and photos from my old phone and bought a new one. I also had to change my number. All of this took place because while installing the app, I gave access to it. Once I knew this, I decided to help others and accordingly wrote social media posts. A number of victims approached me. I also helped trap one such agent in 2021 from Guwahati. The agent was harassing a Mumbai-based woman by using her morphed photos."
2021
Year Nachiketa, a victim, helped nab an agent