A total of 450 pieces of high-quality red sandalwood, 25 Kg each (single piece) were wrapped properly in sacks kept under the bags of onions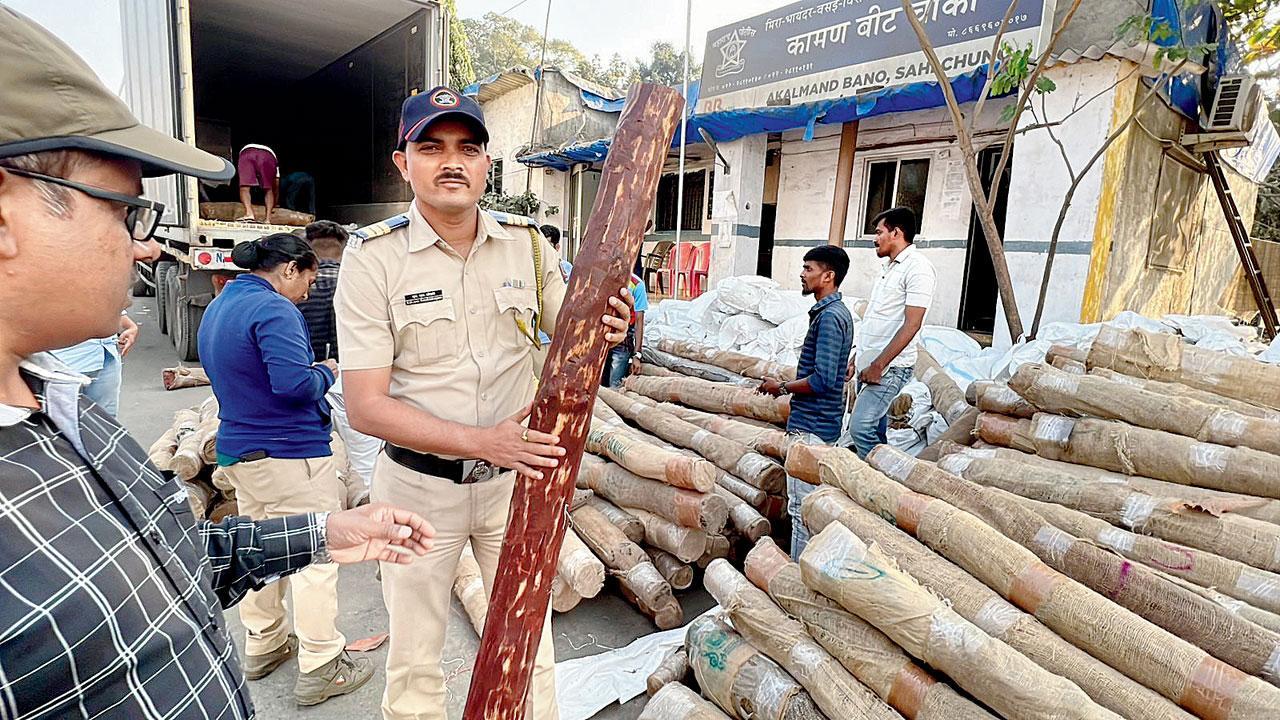 Police with the seized red sandalwood. Pic/Hanif Patel
The Waliv police have seized red sandalwood worth about Rs 6 crore. According to the police, after a tip off, on the check post of Bhiwandi Common Road in the wee hours of Monday they stopped a suspicious container. During the search they found high-quality red sandalwood hidden amid sacks of onions in it.
Two people have been detained and the container seized. During interrogation, it is learnt that the wood had come from Hyderabad, and was to be taken to Dubai from Uran port. A total of 450 pieces of high-quality red sandalwood, 25 Kg each (single piece) were wrapped properly in sacks kept under the bags of onions. The accused said the smell of the sandalwood was greatly reduced by the odour of the onions which is why it was hidden among the sacks.
ADVERTISEMENT
Also read: Mumbai: 1,550-mm-high crash barriers being set up on MTHL, says MMRDA
"The seized material is high-quality red sandalwood which is worth more than Rs 6 crore. With the help of a forest officer, we have conducted the Panchnama. The process of registering the FIR is underway," said Deputy Commissioner of Police Suhas Bavche. Red sandalwood or red sanders is endemic to India and is endangered. Till the time Covid has settled down, we need to follow Covid-appropriate behaviours. Do you agree?