After extended monsoon, flamingos finally flock to city by thousand; boat safari at Thane creek sanctuary on cards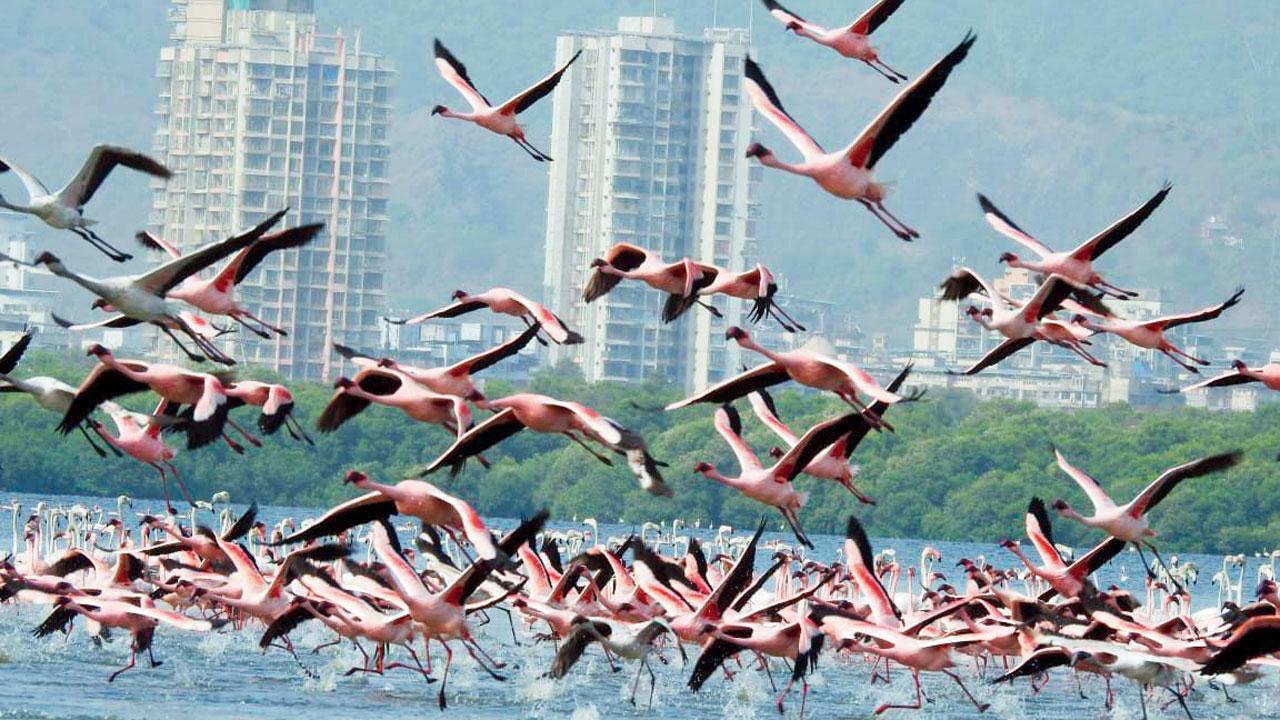 Flamingos usually visit the wetlands of the Mumbai Metropolitan Region in November
The long wait of wildlife lovers and birdwatchers who have been anticipating the arrival of the city's pink visitors has ended. Thousands of flamingos have finally arrived in Mumbai. This year, the wading birds arrived late as the monsoon was prolonged. Pradeep Patade, marine enthusiast and co-founder of Marine Life of Mumbai (MLOM), said, "The flamingos have arrived late this year due to prolonged rainfall."
This is another example, according to Patade, of how climate change is impacting wildlife. In the coming years, the migration pattern might see a change. "I recently visited Sewri and the Thane Creek Flamingo Sanctuary (TCFS), and at both places, the flamingos have arrived in good numbers," he said.
It is also being said that, at present, many flocks have arrived, and the number of these avians at TCFS alone must be over 20,000. Division Forest Officer Adarsh Reddy told mid-day, "According to our staff, around 10-15,000 flamingos have arrived at TCFS. After taking the requisite permissions, we will be starting a boat safari for tourists in a week's time."
Flamingos usually visit the wetlands of the Mumbai Metropolitan Region (MMR) in November, mostly for feeding purposes from breeding sites in the Gujarat region as well as Iran. Their migration starts after the monsoon when water-filled regions start drying up. However, owing to the good availability of water over the past few years through the winter, arrivals have been delayed. The sites where Mumbaikars can see them in abundance are Thane creek, Airoli, Mahul, and Sewri.
Also Read: Mumbai: TB hospital to house civic medical colleges' depts?
Since 1994, Thane creek has been attracting flamingos in large numbers. These elegant birds and their chicks descend here and occupy mudflats bordering mangroves till May, after which most migrate to Bhuj, Gujarat, for breeding, leaving behind a small resident population.
There are a total of six species of flamingos in the world; two are found in India: the tallest of them, the greater flamingo (Phoenicopterus roseus), and the smallest, the lesser flamingo (Phoeniconaias minor). Nearly 90 per cent of the flamingo population that comes to the city consists of the latter species while the rest are greater flamingos.
Greater flamingos are tall, with black-tipped, light pinkish beaks, yellowish eyes and pinkish-white bodies. Their neck is S-shaped. The lesser flamingos are comparatively smaller and pinker, with dark beaks and red eyes. Their neck is inverted or J-shaped.
Six
No of flamingo species Do you like to travel on budget?