Diagnosis revealed that the baby was suffering from the rare genetic disorder 'Tuberous Sclerosis' associated with multiple (rhabdomyomas) tumors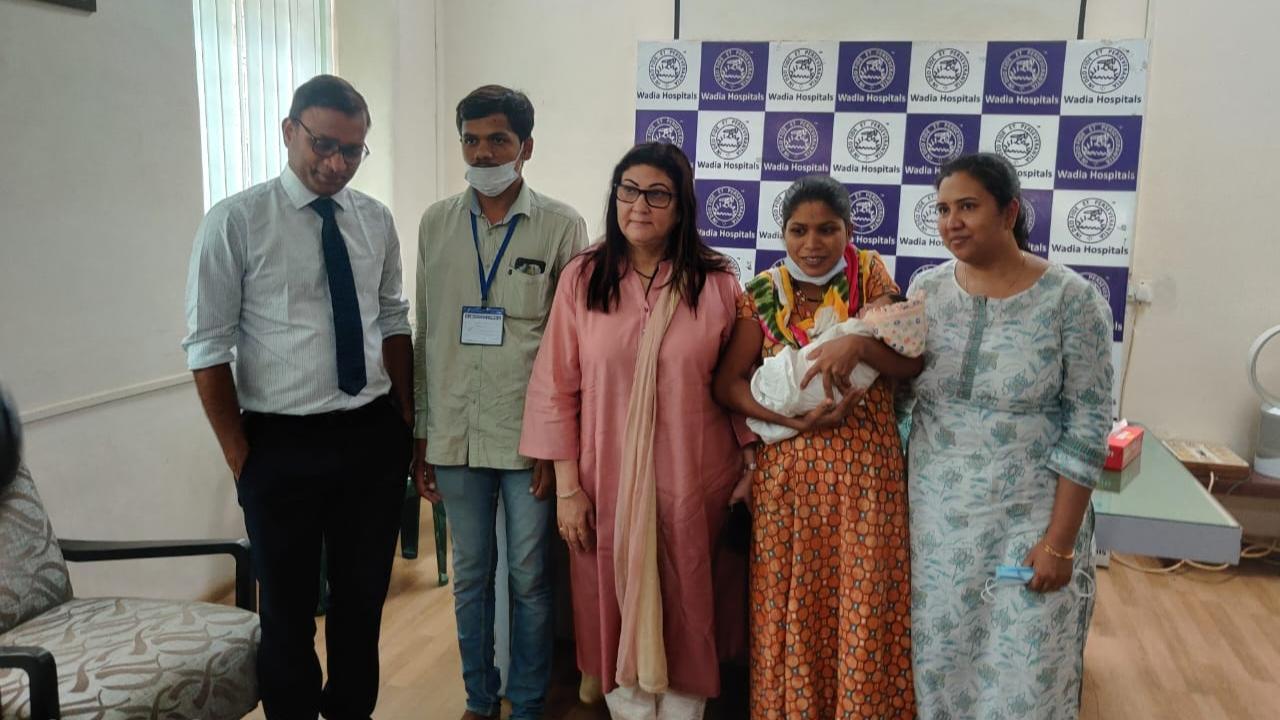 Baby with doctors and parents at Wadia Hospital. Pic/Suraj Pandey
A 29-day-old baby who was suffering from a rare genetic disorder having 20 tumors of various sizes formed in his heart got a new lease of life after treatment by doctors at Wadia hospital. Though the tumor is non-cancerous, the doctors used a cancer drug to treat the baby which proved to be very effective.
The Karjat-based Kandvi family was happy after Kavita delivered a baby boy. But the baby's heartbeats were unusual and he was taken to a private hospital in Badlapur.
While his heartbeat went to 230bpm, the doctor started medicine and it was still uncontrollable. After which the family brought the baby to Wadia hospital.
Diagnosis revealed that the baby was suffering from the rare genetic disorder 'Tuberous Sclerosis' associated with multiple (rhabdomyomas) tumors said Dr Jayashree Mishra, Senior Consultant Paediatric Cardiologist.
Speaking about the case, Dr Jayashree said, "The baby arrived at the hospital in a critical condition. With uncontrolled heart rates, the child was going into heart failure. The scan of the baby's heart showed multiple large and small tumors with characteristics suggestive of Rhabdomyoma."
Also Read: Backache, arthritis most common ortho issues during pandemic, finds study
50 per cent of patients with 'Tuberous Sclerosis' (TS) develop Rhabdomyoma. TS causes non-reccuring tumors in multiple sites like the heart, skin, eyes, kidneys, and brain.
Dr Mishra added, "There are three options to treat tumors. While he had multiple tumors, we could not opt for surgery as it would not have been possible to remove the tumors. Another option was burning the tumors with the help of a catheter but in this case, it was not suitable. So taking reference from Turkey-based case study where a patient was treated with a cancer drug called 'Everolimus' we decided to go ahead with the treatment. It is a four-week course and this anticancer drug worked miraculously for this critically ill baby. Over the next few days the tumor size started reducing and the heart rate came to a safe range. The heart failure came under control and the child became stable clinically. We are continuously monitoring the baby's vitals and giving him antibiotics. The baby is fully stable with normal vitals and feeding orally. Such abnormalities should be detected during sonography at the time of pregnancy so that one should be prepared for further steps."
By June 14, the medical treatment will be completed and the baby will be discharged from the hospital.
Speaking about the genetic issue, Dr Mishra said, "The investigation, revealed that this is a familial abnormality and the child's father and grandmother had the same genetic defect as shown by their clinical stigmata and prior clinical reports. Father and grandmother have both undergone treatment for the same condition, however, in their cases, the heart was spared. Knowledge of this genetic condition is important as 50 per cent of children born to affected parents can inherit this condition."