Superintendent of Palghar police orders FIR against road contractor as accident happened at exact spot where 2 people died after car bounced off pothole on Monday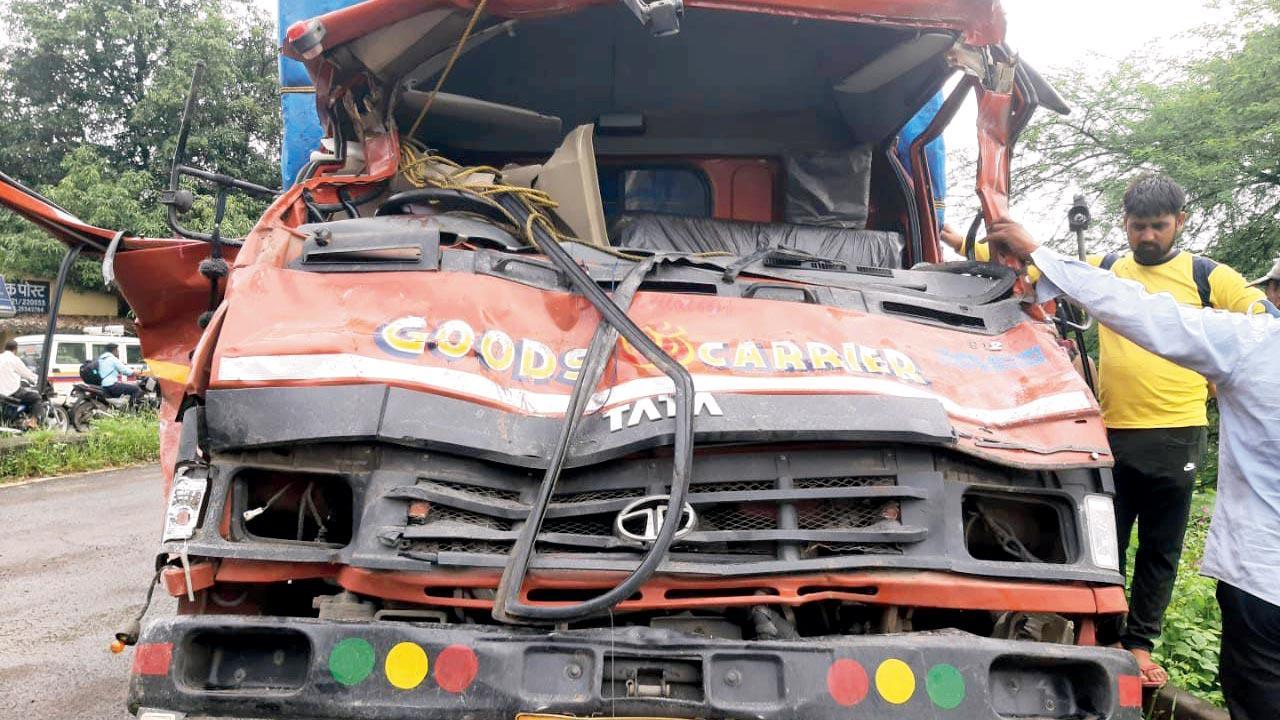 The completely mangled tempo involved in the accident. Pic/Hanif Patel
Two back-to-back accidents on two consecutive days on the Mumbai-Ahmedabad Highway has rocked Palghar district. These two fatal road crashes took place in Achchad of Talasari taluka in Palghar district, the first on Monday night and the second on Tuesday afternoon.
Describing the Tuesday accident, sources at  Talasari police station, told mid-day that a four-wheeler was heading to Surat on the Mumbai-Ahmedabad Highway but the driver lost control of the vehicle after bouncing off a pothole and the car veered towards the right entering the south-bound lane of highway over the divider. "The car collided with a tempo coming from the opposite direction. The car and the tempo got badly mangled after the accident," said an officer attached to Talasari police station.
Also read: Another major accident on Mumbai-Ahmedabad Highway

"Two people including the car driver and the person seated next to him died on the spot and the tempo driver is seriously injured. The bodies have been sent for a post-mortem and the injured tempo driver has been rushed to the hospital," said the officer. Since two accidents took place at the same spot, killing people, the Superintendent of Palghar Police Balasaheb Patil has ordered that a FIR be registered against the contractor responsible for maintenance of the killer Mumbai-Ahmedabad Highway. "The pothole was not filled even after the first accident which took place on Monday," Patil told mid-day. 
At the time of going to press, the identity of the deceased could not be established as the police team and other agencies had to struggle a lot to remove the bodies which were badly entangled in the mangled vehicle.
Talasari police station senior inspector Ajay Vasave said, "This accident took place in Amgaon bridge around 2.30pm on Tuesday."