In a big blow to Uddhav Thackeray camp, the Election Commission on Friday allotted the name 'Shiv Sena' and its poll symbol 'bow and arrow' to the group led by Maharashtra Chief Minister Eknath Shinde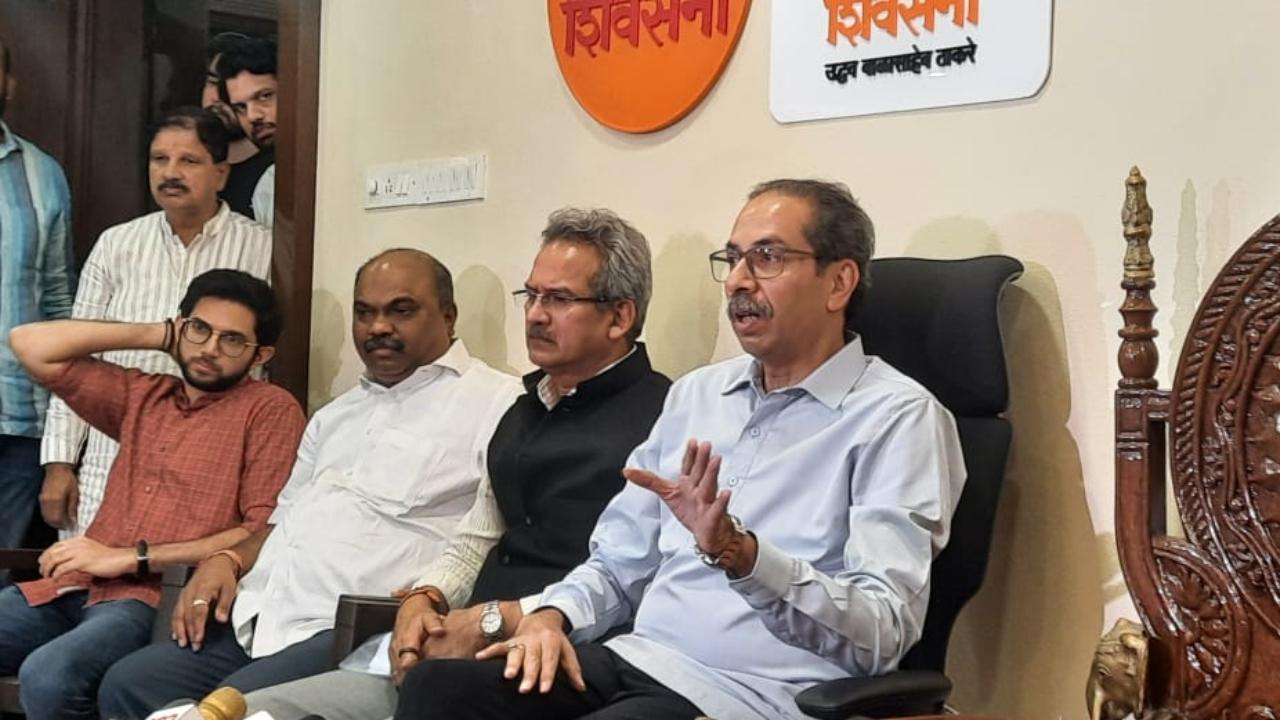 Uddhav Thackeray while addressing the press on Friday. Pic/Pradeep Dhivar
Uddhav Thackeray on Friday said that, his camp will challenge in Supreme Court, the poll panel's decision to recognise Eknath Shinde faction as real Shiv Sena, reported the PTI.
Uddhav while addressing a press conference said, "the Election Commission's decision is dangerous for democracy. No democracy is left in India; PM should declare that dictatorship has started in country," the PTI reported.
ADVERTISEMENT
He said, "Eknath Shinde faction has stolen bow and arrow symbol, people will avenge this theft."
Uddhav further said, "We will surely go to the Supreme Court against this EC order. We are sure that the apex court will set aside this order and that the 16 MLAs will be disqualified by court."
In a big blow to Uddhav Thackeray camp, the Election Commission on Friday allotted the name 'Shiv Sena' and its poll symbol 'bow and arrow' to the group led by Maharashtra Chief Minister Eknath Shinde.
Uddhav further said, "I had said that ECI shouldn't give decision before Supreme Court verdict. If party's existence is decided based on number of MLAs and MPs, any capitalist can purchase MLA, MP and become CM."
In a unanimous order on the six-month-old petition filed by Shinde, the three-member Commission allowed the Thackeray faction to retain the name Shiv Sena (Uddhav Balasaheb Thackeray) and the 'flaming torch' poll symbol, given to it in an interim order last year, till the conclusion of ongoing assembly bypolls in the state.
IN PHOTOS: Shiv Sena name, symbol goes to Eknath Shinde faction
Shinde described the EC verdict as a "victory of truth and people as well as blessings of Balasaheb Thackeray" while Sanjay Raut, who is with Thackeray, said the Commission decision to recognise the Shinde faction as the real Shiv Sena was a "murder of democracy" and his party will "go to the people."
This is for the first time the Thackeray family has lost control of the party founded in 1966 by Balasaheb Thackeray on the principles of justice for the sons of the soil.
The Commission said MLAs backing Shinde got nearly 76 per cent of votes polled in favour of the 55 winning Shiv Sena candidates in the 2019 Maharashtra Assembly polls.
The Thackeray faction's MLAs got 23.5 per cent of votes polled in favour of the winning Shiv Sena candidates, it added.
The Commission said the respondent (Thackeray faction) had relied heavily on the 2018 Constitution of the party to stake claim to the poll symbol and the organisation but the party had not informed the Commission about the amendment to the Constitution.
(with PTI/ANI inputs) Will the newly created special police commissioner post help Mumbai with better policing?