As many as 14 important zones and 35 spots of garbage and landfill were identified as the spots at Aarey to be cleaned up on World Environment Day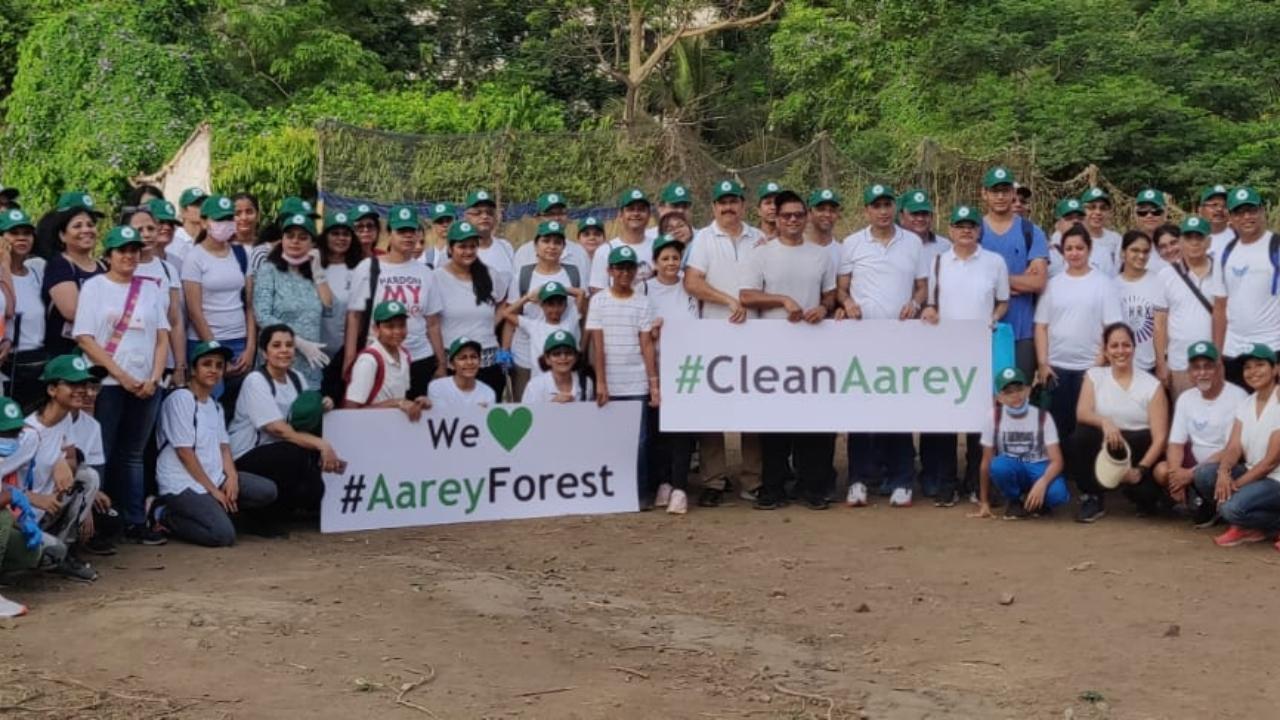 NGOs, citizens, MCGM, etc came together for the drive. Pic/Empower Foundation
In a mega cleanup drive in the Aarey area of Mumbai, on the occasion of World Environment day, a record 94 tonnes of waste was pulled out on Monday.
Mumbai competes with Delhi on reportedly being most polluted cities in the country in terms of Air Quality Index (AQI). The city has the Aarey forest, also said to be the green lungs of Mumbai. With multiple owners in form of dairy department, forest department and jurisdictional issue with three MCGM wards (P South, K East and S ward), Aarey becomes Mumbai's landfill in the making with many spots full of garbage and to add to it, it is at times left unattended, activists say.
ADVERTISEMENT
However, Mumbai's wildlife conservation NGO and the Empower Foundation conducted a mega cleanup drive on the occasion of World Environment Day. The NGOs had also conducted a cleanup drive last year. Mumbai's one of the largest housing complex in the suburbs, Oberoi Splendor having 1450 apartments and housing more 6000 citizens led this initiative with Empower Foundation to conduct a mega cleanup drive at Aarey on June 5, 2023.
Students of Oberoi International School also participated in this unique drive which got all the stakeholders together – led by MLA and ex-minister Ravindra Waikar, MCGM P South and K East wards, Aarey Dairy Department and Forest Department led by RFO, Narendra Muthe and his staff. The MCGM brought in huge machines including 5 JCBs, 10 Dumpers, 5 SCVs and Tempos along with 230 MCGM staff to participate in the mega cleanup drive.
As many as 14 important zones and 35 spots of garbage and landfill were identified as the spots to be cleaned up.
Madhupa Chatterjee, one of the lead volunteers from Oberoi Splendor pointed out that "Garbage burning is a very big issue causing pollution and lack of regular garbage pick ups by MCGM has resulted in large landfills in Aarey, where most of the time the garbage especially plastic is burned causing huge air pollution and impacting the citizens. Oberoi Splendor has around 1500 children and many senior citizens and the rising air pollution issue has been impacting not just their health but also the health of students studying in Oberoi International School. We have participated in this drive with an objective to curtail the air pollution issue and also ensuring that our citizens are aware of the importance of Aarey, the green lungs of Mumbai."
"Consistency is the key and MCGM needs to have a consistent process for garbage removal and Aarey Dairy taking ownership of its own land and garbage and encroachment on it was a unanimous voice of the citizens who participated in the drive," Chatterjee said.
The Chairman of Splendor Complex CHS Ltd, Colonel Arvind Gangoly, on the occasion of the World Environment Day congratulated all the participants from the complex for participating in this drive and reiterated the importance of environment.
He said, "For the first time, the society has set up a Green Initiative vertical to look at environment related issues and this cleanup drive at Aarey being its maiden initiative is a citizens pledge to make this affair a consistent one by ensuring multi-fold activities like tree plantation, adopting tribal padas for creating awareness on waste management and involving residents of Oberoi Splendor who are the key stakeholders in an important matter like environment and climate change."
MLA and ex-Minister, Ravindra Waikar who has also been a part of the Aarey Clean-up drive last year was present in this mega cleanup drive and visited all the 35 spots to encourage the citizen and students and instructed the MCGM team to ensure regular pickup and management of waste. To ensure that culprits littering the garbage and also illegally encroaching land in Aarey are brought to book, Waikar announced installation of CCTV cameras not just at entry-exit points but at all crucial points where there were garbage spots.
Following the mega cleanup drive, he also announced a mega tree plantation drive in Aarey in the forthcoming months. He emphasised on the importance of environment and urged all the government departments like MCGM, Aarey Dairy and Forest department to come together and work.
The drive saw more than 300 citizens participate in this initiative as a result of which around 94 tonnes of waste was pulled out of Aarey. 34 tonne was mix waste and 60 tonnes of debris waste. The waste as analysed by Empower Foundation was a mix of dry and wet waste and also 'illegally' dumped large construction debris, left over food allegedly thrown by caterers and medical waste was found during the drive. 
Dr. Jalpesh Mehta, Founder Chairperson of Empower Foundation confirmed that "Around 40 per cent of the waste has its source inside Aarey thrown by settlements and illegal encroachments while a large 60 per cent waste has come from outside like construction debris and catering food illegally dumped into Aarey at night and also tourists littering plastic and glass bottles on weekends. Lack of regular garbage pickup has magnified the problems. Garbage becomes food for cows, goats, hens and pigs and it attracts leopards that leads to attacks. A consistent garbage pick-up process by MCGM is the only solution and citizen volunteers now being mapped to areas in Aarey along with the MCGM counterparts will monitor their mapped areas and this could be a good and consistent solution." Should housing societies be more cautious with their elevators and sewer lines?