7 Years of Surgical Strikes: It was the Indian Army's revenge for the Uri terror attack, in which many Indian soldiers were killed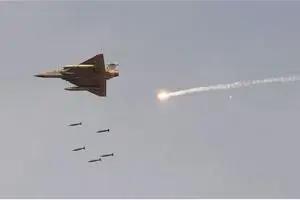 Representational Image
Listen to this article
7 Years of Surgical Strikes: Facts and all you need to know about the surgical strike - 10 points
x
On September 29, 2016, India stunned Pakistan and the world with the Army's daring cross-border operation, which was dubbed a 'surgical strike'.
It was the Indian Army's revenge for the Uri terror attack, in which many Indian soldiers were killed. 
ADVERTISEMENT
India conducted surgical strikes against military launchpads across the Line of Control in September 2016, inflicting 'heavy casualties on terrorists along with those protecting them'. The move had been retaliatory in nature and came mere days after the Uri and Poonch attacks that claimed the lives of over a dozen Indian soldiers.
Since then, the government has been observing September 29 as 'Surgical Strike Day'. The attack was carried out in the wake of the September 18 attack on an Indian Army base in the Uri Sector of Jammu and Kashmir by the Pakistan-based Jaish-e-Mohammed, killing 19 soldiers.
A7 Years of Surgical Strikes: All you need to know about the surgical strike in 10 points
Facts of surgical strikes:
1. On 29 September 2016, teams of Indian Army commandos crossed the Line of Control into Pakistani-administered Kashmir to attack targets up to a kilometer within territory held by Pakistan.
2. The raid occurred eleven days after four militants had attacked an Indian army outpost at Uri on September 18, 2016, in the Indian state of Jammu and Kashmir, and killed 19 soldiers.
3. The Indian Government termed the attack a surgical strike against "militant launch pads" in Pakistani territory, and claimed to have inflicted "significant casualties".
4. On September 18, 2016, a fedayeen attack was made by four armed militants on an army base near the town of Uri. Nineteen Indian Army soldiers were killed. India accused Jaish-e-Muhammad, a Pakistan-based terrorist organisation.
5. On September 29, 2016, eleven days after the Uri attack, the Indian Army conducted surgical strikes against suspected militants in Pakistani-administered Kashmir. Lt Gen Ranbir Singh, Indian Director General of Military Operations (DGMO), said that it had received "very credible and specific information" about "terrorist teams" who were preparing to "carry out infiltration and conduct terrorist strikes inside Jammu and Kashmir and in various metros in other states".
6. The operation lasted from 12.30 am to 4.30 am, with the location being 500 metres to 2 km from the LoC on the Pakistani side, according to reports.
7 Years of Surgical Strikes: How the strike was planned
7. Civilians in the region were evacuated at around 10 pm on September 27 and sentries at launchpads were neutralised with snipers before troops began their mission.
8. The Indian Army started building up its special forces squad on September 24, armed with night-vision devices, Tavor 21, and AK-47 assault rifles.
9. They were also armed with rocket-propelled grenades, shoulder-fired missiles, pistols, high explosive grenades as well as plastic explosives.
10. Two years later in 2018, the Union government decided to honour the bravery of the soldiers and marked September 28 as 'Surgical Strike Day'.
"Exciting news! Mid-day is now on WhatsApp Channels

Subscribe today by clicking the link and stay updated with the latest news!"
Click here!