A lot of the younger generation have no time to find a wife, or are too bored to find one, it seems — so they outsource the job to mummy

A lot of the younger generation have no time to find a wife, or are too bored to find one, it seems — so they outsource the job to mummy. It may also be that they don't trust their own judgment when choosing a life partner. Besides, mum's the perfect alibi if things go wrong. So, when you want to outsource the wife/partner business, mum's the word.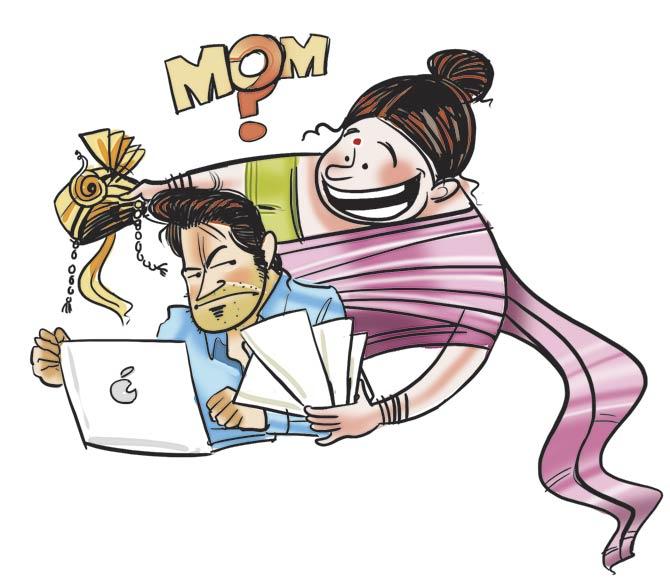 At an impromptu school reunion, I was updated about today's modus operandi for finding a mate. One of my friends, let's call her Radhika, lives in Bombay, and asked if she could bring her daughter-in-law along. Of course, we said. Now, Radhika has two sons in Canada, of marriageable age. She was after them to "settle down", and they said, 'cool, if you want us to marry, you find us a wife each.'
So the future happiness and legacy of Radhika's family was entrusted to shaadi.com. She said she'd got a horrendous backache poring over girls' pictures and CVs in the last two years, shortlisting candidates, conducting endless, polite chats with potential in-laws and brides, and offering a few chosen ones, Shabari-style, to Son No 1. Oh mom, I'm too busy, let's talk on the weekend, he said. When she called him on Sunday, oh, mum, I'm out playing cricket, he said. After years and months of labour finding a suitable girl, His Highness had no time to glance at a few options, with whom he was to spend the rest of his life. Finally, when HH deigned to consider them, he was horrified at mummy's offerings, and said, "Usko goodnight bolo, mummy!" which became his code for "Forget it!"
Eventually, photo, CV and phone chat with in-laws elimination rounds graduated to direct Skype conversations between Boy and Girl. He would make snide comments later, and the girls were no less. Peeche jao, a potential bride instructed him on Skype, so she could see how tall he was. Cap nikalo, ordered another, worried that he was concealing a balding pate.
And so on, until finally, Likely Girl was found. She lived in Nagpur with her family. Boy's parents took flight to Nagpur. Girl — now wife/daughter-in-law — told me, oh god, my mother woke me up at 6 am to make me wear a sari for the first time. Batata pohe and chaha — traditional Girl-Meets-Them offerings, were made by Girl. Radhika freaked out. "Oh my god, please change into your jeans and shirt, like you wore on Skype. Right now! If my son sees you in a sari, he'll kill me! No sari-wari types!" Girl was hugely relieved. Parents approved on both sides, Boy was half a planet away, but deed was done.
On returning to Bombay, Radhika stepped on the gas. Boy gets only two weeks' vacation to Do Everything, she said. So, she printed the wedding cards, invited the guests, booked the wedding hall, organised khana-peena, saris and jewellery, prezzies for everyone, booked Boy's flight to Bombay, and then their honeymoon tickets, before booking them finally on a flight back to Canada.
Finally, Boy arrived from Canada. He met his bride-to-be for the first time, barely a day before their wedding — and they went out to get wedding rings and the main sari — as these were personal choices and had to fit. Before you knew it, wedding happened, honeymoon happened, and they were off.
Bride had kept a diary full of man-reviews, with coloured Post-it tabs — red for Yes, Saturday pe milna hai!, green for Plan B, yellow for thanda, and so on. I asked her what she had wanted from a life partner. She had barely two requirements: he should not be bald, and he should not be short. A smart, educated, beautiful Indian girl, about to live the rest of her life in Canada, I was struck by the modesty of her expectations.
Well, I thought, a Canada-based NRI groom's wedding in 2015 is not much different from how my parents were married half a century ago. They too met for the first time shortly before the wedding, and married partners supplied by parents. I wondered if this was progress. Radhika had no doubts. She said, now I know exactly how it's done, so it'll be easy finding Girl for Son No 2!

Meenakshi Shedde is South Asia Consultant to the Berlin Film Festival, award-winning critic, curator to festivals worldwide and journalist. Reach her at meenakshishedde@gmail.com.