Senior Bharatiya Janata Party leader and former deputy chief minister of the erstwhile Jammu and Kashmir state, Kavinder Gupta Sunday criticised Peoples Democratic Party president Mehbooba Mufti for allegedly "supporting" Jammu and Kashmir Liberation Front chief Yasin Malik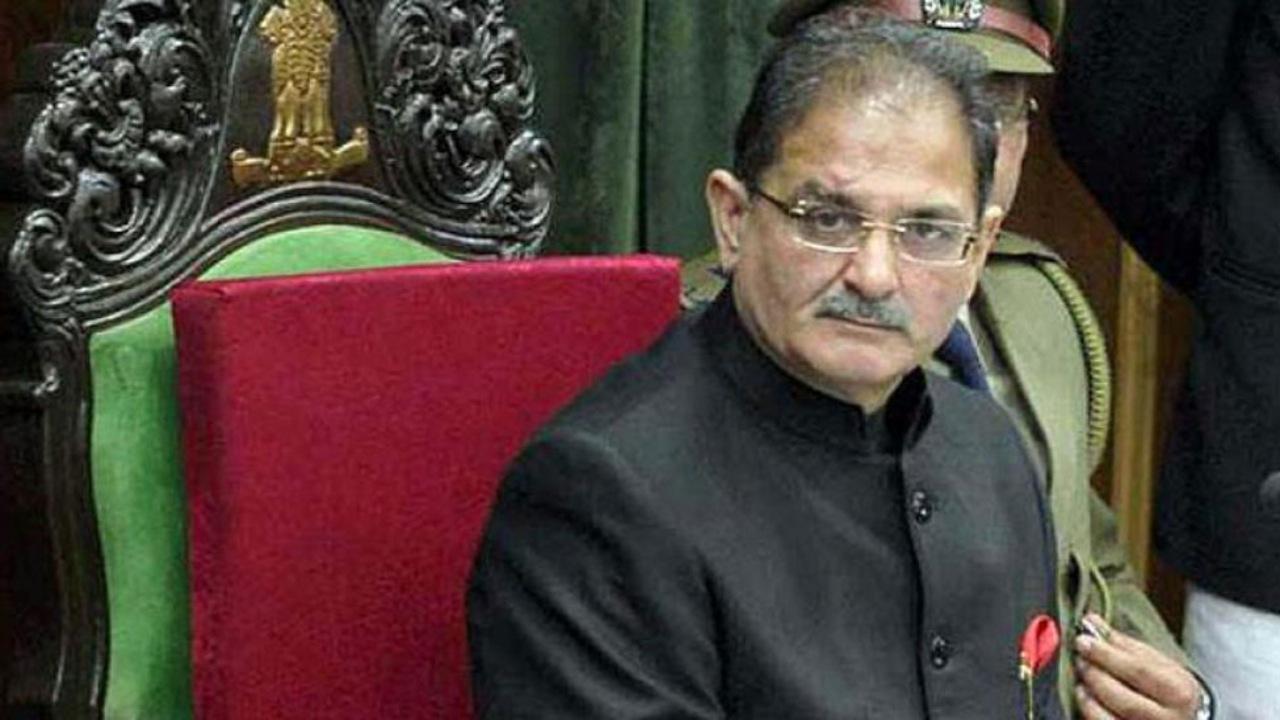 Kavinder Gupta. File PTI
Senior Bharatiya Janata Party leader and former deputy chief minister of the erstwhile Jammu and Kashmir state, Kavinder Gupta Sunday criticised Peoples Democratic Party president Mehbooba Mufti for allegedly "supporting" Jammu and Kashmir Liberation Front chief Yasin Malik and demanded a probe against the former chief minister over her alleged links with "anti-nationals and violence mongers".
Pertinently, Gupta served as Mehbooba's deputy when she was the chief minister of Jammu and Kashmir from 2016 to 2018 in the then PDP-BJP coalition government. He also served as the speaker of the erstwhile state's Assembly.
ADVERTISEMENT
Gupta's statement came a day after Mehbooba sought a review of the Jammu and Kashmir Liberation Front (JKLF) chief's case after National Investigation Agency (NIA) moved a court to press for death penalty for the separatist leader who is presently lodged in Tihar jail.
"Jammu and Kashmir Liberation Front (JKLF) chief Yasin Malik's case must be reviewed and reconsidered as in a democracy like India even the assassins of a prime minister were pardoned," the PDP president had said.
Slamming Mehbooba for her request, the BJP leader said the NIA has rightly moved the Delhi High Court as the crimes committed by the life-term convict are "unpardonable", PTI reported.
Also read: Hurriyat appeals GoI to release political prisoners and send a message of conciliation, says NIA seeking death penalty for Yasin Malik 'deeply disturbing'
"The real face of Mehbooba has been exposed as her support to one of the top terrorists of all times in J&K is the testimony to the fact that there might be some connection between the two," Gupta said and sought a thorough probe into the "whole gamut and strict action against Mehbooba if found guilty."
He alleged that Mehbooba and "her ilk" had led the Jammu and Kashmir to the brink of collapse, when Prime Minister Narendra Modi took over the state's reins and ensured stability, peace and progress by abrogating Article 370 and containing destructive forces. (With inputs from PTI) Do you like to interpret your dreams?