The Congress has released a brochure as the Narendra Modi government completes nine years in office, posing nine questions about his government's alleged failure in key areas like the economy, national security, social harmony and democracy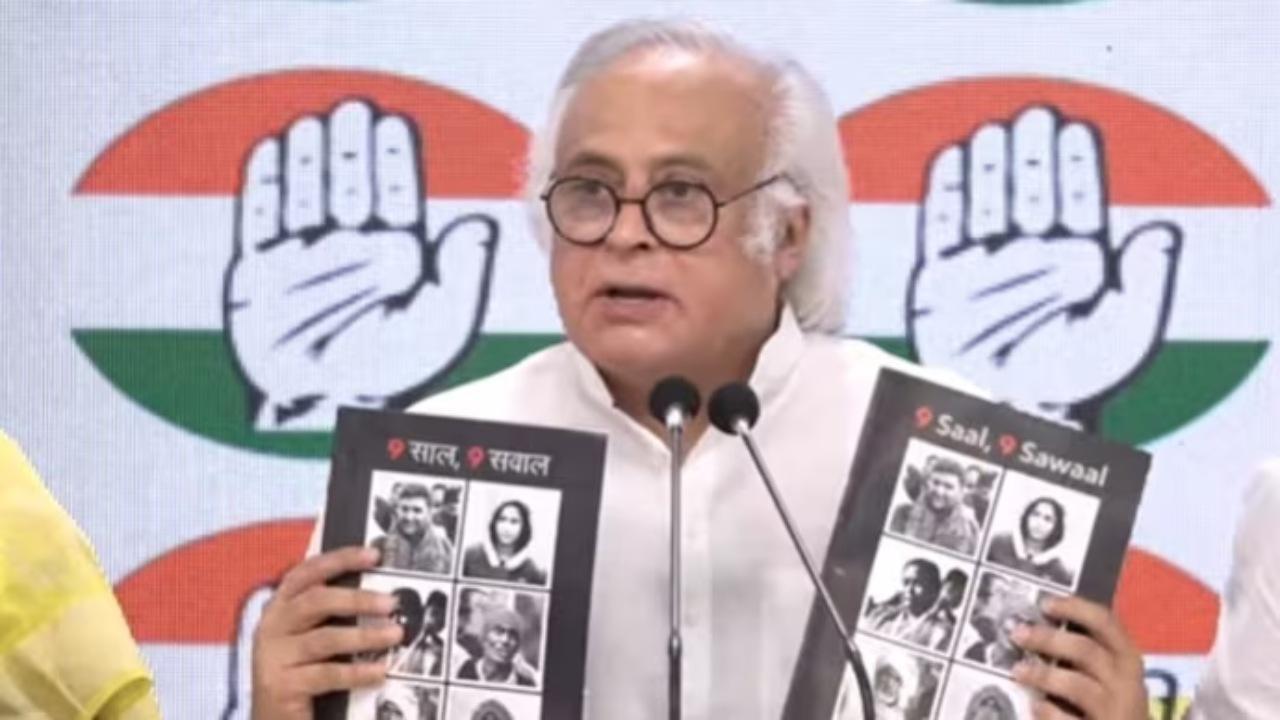 Screengrab/INC
The Congress has released a brochure as the Narendra Modi government completes nine years in office, posing nine questions about his government's alleged failure in key areas like the economy, national security, social harmony and democracy.
Titled '9 saal, 9 sawaal: Chuppi Todiye Pradhan Mantri ji' ("Nine Years, Nine Questions: Break Your Silence, Mr Prime Minister), the brochure asks questions about the Modi government's performance. In a tweet, the party said that the "authoritarian" BJP regime has "completely failed on every front" and demand a response from Modi.
ADVERTISEMENT
The brochure criticises the government's economic policies and asks why inflation and unemployment are currently "skyrocketing".
It also brings up the government's recent decision to withdraw the Rs. 2,000 banknotes from circulation and links it to the controversial 2016 demonetisation exercise.
Asking why the government hasn't honoured agreements it made with protesting farmers in 2021, the brochure moves on to the government's agricultural policy.
"Why is it that the agreements made with farmers while repealing the three black farm laws have not been honoured? Why has MSP not been legally guaranteed? Why didn't farmers' income double over the last 9 years?" it asks.
The brochure takes up the government's record on social harmony, and criticises the prime minister for not calling for peace during incidents of violence, as in Delhi in 2020 and Manipur this month.
Among the remaining sections are mentions of the government's poor democratic record and controversies in its health and welfare policies. The brochure talks about the government's misuse of the Enforcement Directorate, the online attendance policy for MGNREGA workers and the sudden imposition of the Covid-19 lockdown in March 2020.
The nine questions that the Congress has posed to Modi are:
Also read: 9 years of Modi government: Ministers praise PM's "decisive leadership"
The Economy: Why is it that inflation and unemployment are skyrocketing in India? Why have the rich become richer and the poor poorer? Why is public property being sold to PM Modis friends, even as economic disparities are increasing?
Agriculture and farmers: Why is it that the agreements made with farmers while repealing the three black farm laws have not been honoured? Why has MSP not been legally guaranteed? Why didn't farmers' income double over the last 9 years?
Corruption and cronyism: Why are you putting people's hard-earned savings in LIC and SBI at risk to benefit your friend Adani? Why are you letting thieves escape? Why are you silent on rampant corruption in BIP-ruled states, and why are you letting Indians suffer?
China and national security: Why is it that even after your clean chit to China in 2020, they continue to occupy Indian territory? 18 meetings have been held with China, yet why do they refuse to yield Indian territory and instead continue with their aggressive tactics?
Social harmony: Why are you deliberately using the politics of hatred for electoral gains and fueling an atmosphere of fear in society?
Social justice: Why is it that your oppressive government is methodically destroying the foundations of social justice? Why are you silent on the atrocities against women, Dalits, SC, ST, OBCs and minorities? Why are you ignoring the demand for a caste census?
Democracy and federalism: Why have you weakened our Constitutional values and democratic institutions in the last nine years? Why are you practicing the politics of revenge against Opposition parties and leaders? And why are you using blatant 'money power to destabilise governments elected by the people?
Welfare schemes: Why is it that schemes for the welfare of the poor, needy and tribals are being weakened by cutting their budgets and making restrictive rules?
Covid-19 mismanagement: Why is it that despite the tragic deaths of over 40 lakh people due to Covid-19, the Modi government has refused to compensate their families? Why did you suddenly impose a lockdown which forced lakhs of workers to return home, and not provide any support?
Chief Congress spokesperson Jairam Ramesh said that the party would hold press conferences in 35 cities across the country over the next three days, during which these questions would be raised once again.
"Exciting news! Mid-day is now on WhatsApp Channels

Subscribe today by clicking the link and stay updated with the latest news!"
Click here! Do you think you have become a part of the hustle culture?