An FIR registered at the Government Railway Police station at Balasore indicated that live overhead wires which snapped when the Odisha train accident occurred, entangled with a few coaches, electrocuting the passengers trapped in them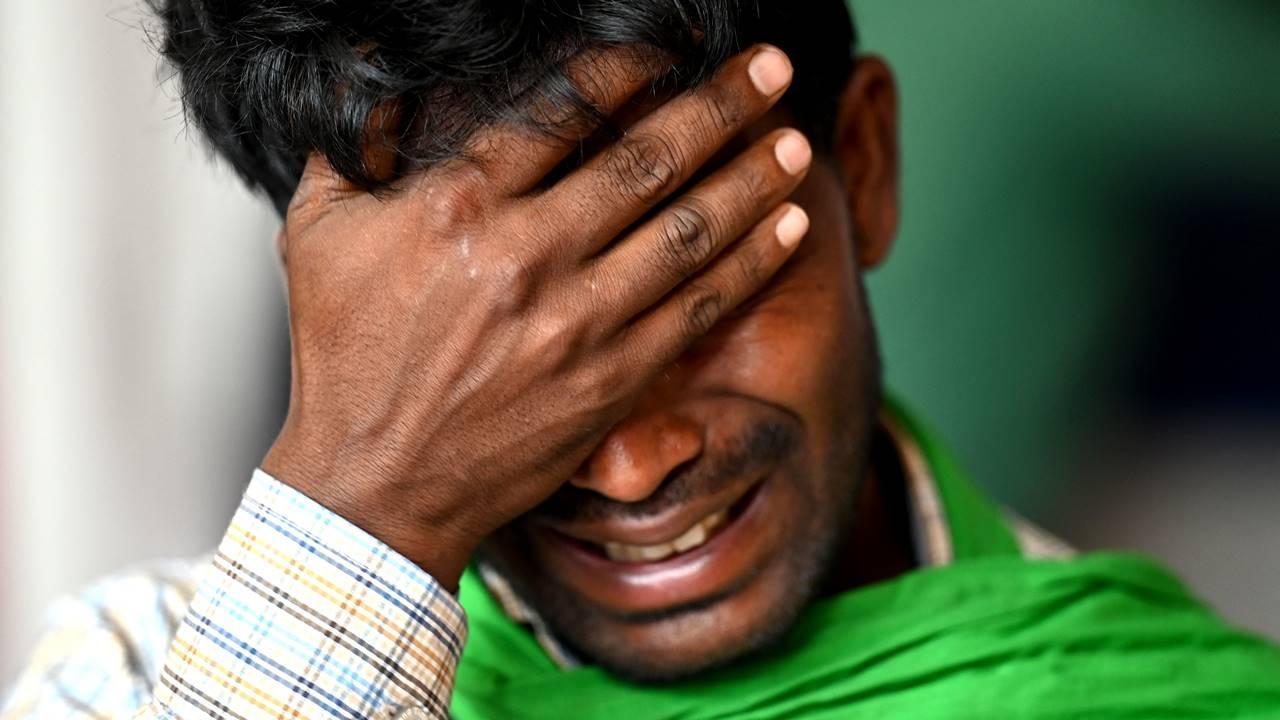 Anil Marandi sobs while he searches for his three family members at the Fakir Mohan Medical College and Hospital after the carriage wreckage of a three-train collision near Balasore in India's eastern state of Odisha, on June 5, 2023. Pic/AFP
The Government Railway Police on Tuesday said that around 40 bodies recovered from the Coromandel Express involved in the Odisha train accident had no visible injury marks and are believed to have died of electrocution, the PTI reported.
According to PTI, an FIR registered at the Government Railway Police station at Balasore indicated that live overhead wires which snapped when the accident occurred, entangled with a few coaches, electrocuting the passengers trapped in them.
ADVERTISEMENT
Sub-inspector of Police, P Kumar Nayak in his FIR said, "Many passengers succumbed to injuries caused due to the collision and electrocution (after) coming in contact with overhead LT (low tension) line."
The overhead wires snapped as coaches which toppled over during the triple train accident overturned electrical masts, said officials.
The three trains involved in the major accident which claimed 278 lives and injured 1200, were the Howrah-Chennai Coromandel Express, Bengaluru-Howrah Express, and a stationary goods train.
The CBI has on Tuesday taken over the Balasore GRP case No. 64 registered by Odisha Police.
On June 4, hours after minister Ashwini Vaishnaw said the "root cause" of the accident and the people behind the "criminal" act have been identified, the railways sought a CBI inquiry into the Balasore train crash.
Congress president Mallikarjun Kharge on Monday wrote to Prime Minister Narendra Modi over the Odisha railway tragedy, saying "all the empty safety claims" of Railway Minister Ashwini Vaishnaw have now been "exposed" and the government must bring to light the real reasons that caused this grave accident. In his letter to Modi, Kharge hit out at the Railway minister for seeking a CBI probe, saying the law enforcement agency is meant to investigate crimes, not railway accidents.
West Bengal Chief Minister Mamata Banerjee questioned the death figures given by the Ministry of Railways in the triple train crash in Odisha's Balasore, stating that 61 people from her state were dead and 182 were still missing. Banerjee also asked questions on whether Vande Bharat engines were up to the mark.
The railways on Sunday virtually ruled out driver error and system malfunction, indicating a possible "sabotage" and tampering of the electronic interlocking system.
(With inputs from PTI)
"Exciting news! Mid-day is now on WhatsApp Channels

Subscribe today by clicking the link and stay updated with the latest news!"
Click here! Do you practice ecotourism?