After claiming electronic interlocking malfunction and receiving flak for not fixing the repair the signalling system, minister and railway board hint at physical tampering of track changes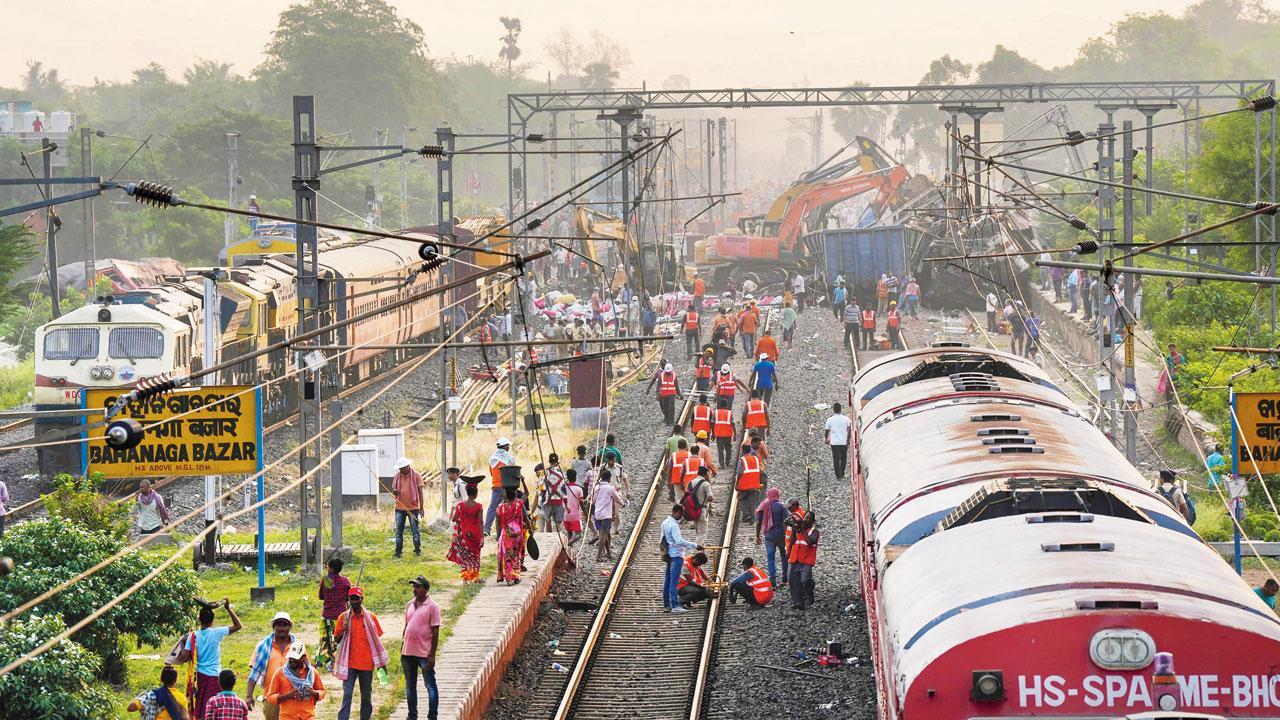 Restoration work underway at the site
The railways on Sunday virtually ruled out driver error and system malfunction, indicating a possible "sabotage" and tampering of the electronic interlocking system behind the triple train accident that claimed at least 288 lives in Odisha. Earlier in the day, in Balasore district, Railway Minister Ashwini Vaishnaw said the "root cause" of the accident and the "criminals" responsible for it have been identified. "It happened due to a change made in the electronic interlocking and point machine," he told reporters.
What board says
ADVERTISEMENT
In Delhi, top railway officials, explaining how the point machine and the interlocking system function, did not rule out the possibility of outside intervention. "It is called a fail-safe system, so it means that even if it fails, all the signals will turn red and all train operations will stop. Now, as the minister said there was a problem with the signalling system. It could be that someone has done some digging without seeing the cables. Running of any machine is prone to failures," Jaya Verma Sinha, Member of Operation and Business Development, Railway Board, said.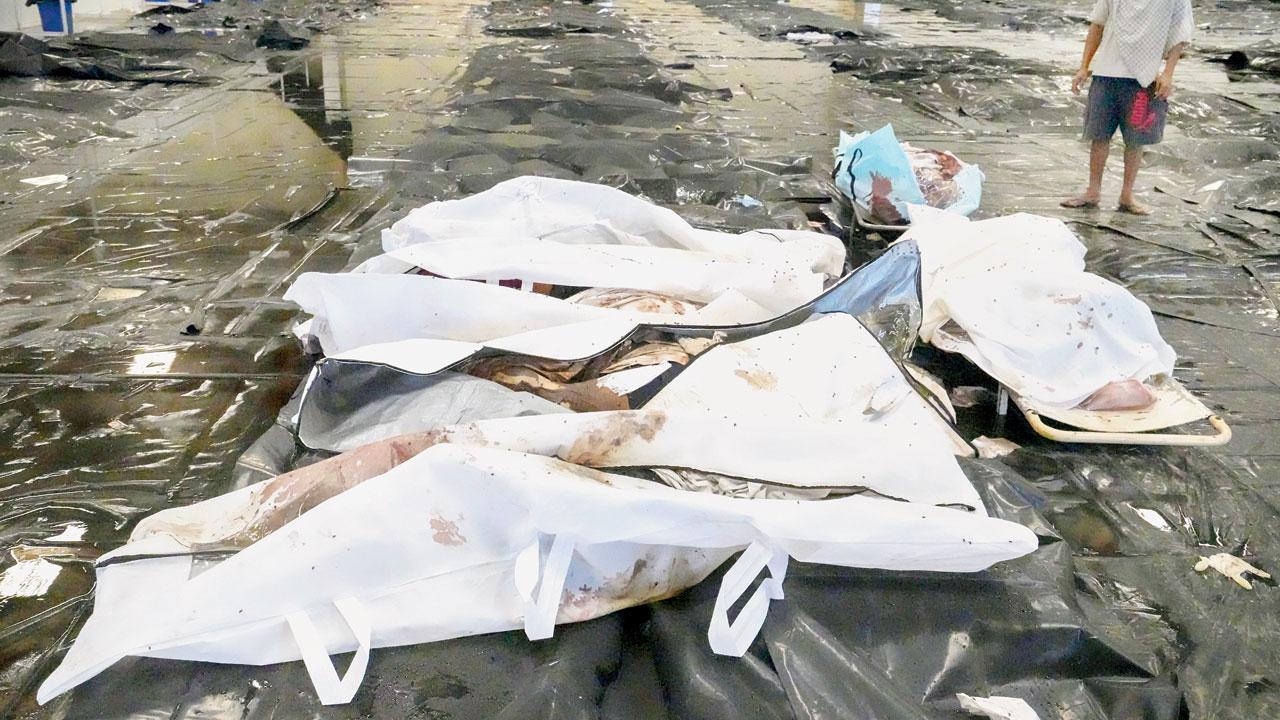 A man tries to identify the dead body of his father, at NOCCI Business park in Balasore, on Sunday. Pics/PTI
A senior railway official, who did not want to be identified, said this kind of tinkering with the "logic" of the AI-based electronic interlocking system can only be "intentional" and ruled out any malfunction in the system. "It could be a case of tampering or sabotage from within or from outside. We have not ruled anything out."
The crash involving Bengaluru-Howrah Superfast Express and Shalimar-Chennai Central Coromandel Express and a goods train occurred around 7 pm on Friday near the Bahanaga Bazar station in Balasore. The Odisha government on Sunday revised the death toll to 275 from 288, and put the number of injuries at 1,175. According to Chief Secretary P K Jena, some bodies were counted twice.
Clean chit to driver
Officials on Sunday gave the driver of the Coromandel Express a clean chit by stating that he had the green signal to move forward and he was "not over-speeding".  The Bengaluru-Howrah Superfast Express train was running at a speed of 126 kmph. "In both the trains there was no question of over-speeding. Preliminary finding has found that there is a signalling issue," she said.
Odisha struggles to preserve the dead
In the aftermath of the biggest train tragedy of the century, Odisha is facing space crunch to keep a large number of unclaimed dead bodies, as Balasore's mortuaries have piled up.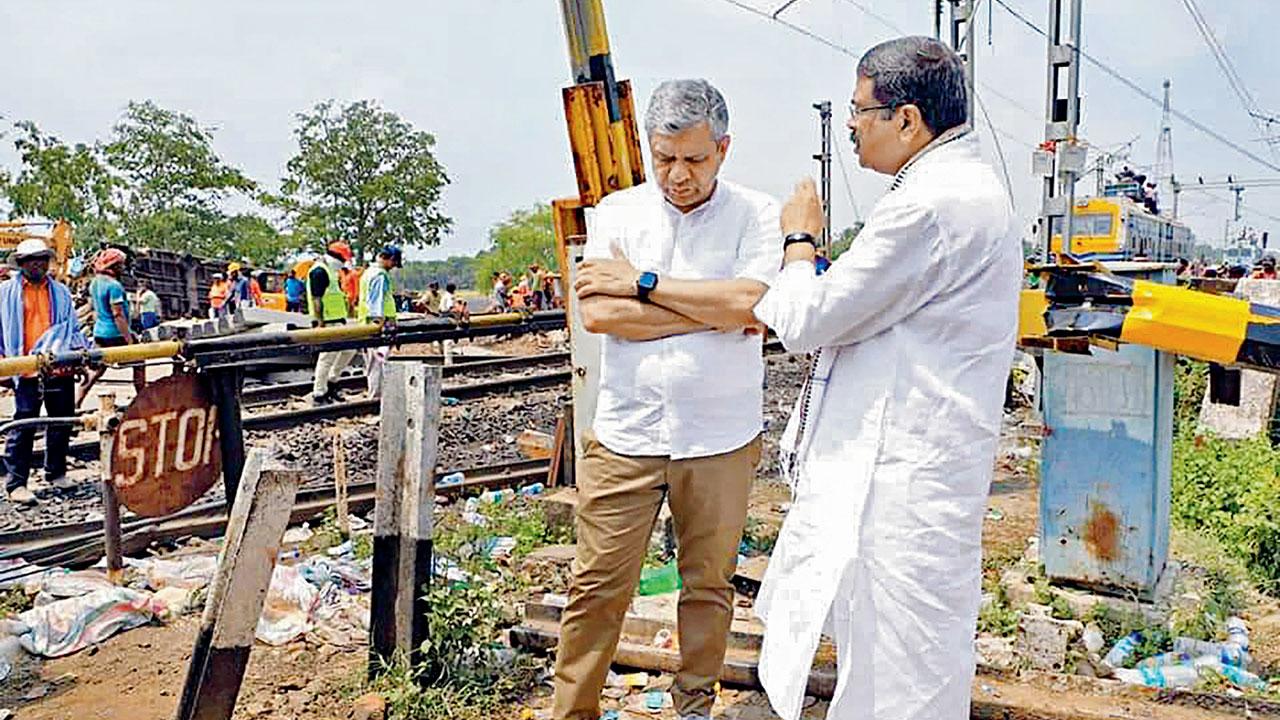 Railways Minister Ashwini Vaishnaw with Union minister Dharmendra Pradhan
The Odisha government has shifted 187 bodies to Bhubaneswar, with 110 kept at AIIMS and remaining at Capital, Amri and Sum hospitals and some other private facilities. However, the city administration is struggling, too. "It is a real challenge for us too, to preserve the bodies here as we have a facility to keep a maximum of 40 bodies," an official of AIIMS Bhubaneswar told PTI, adding that additional arrangements were made at the Anatomy department.
A challenge in summer
The authorities at AIIMS, Bhubaneswar have procured coffins, ice and formalin chemicals to preserve the bodies till they are identified. "It is really difficult to keep bodies in this hot summer weather condition," the official said. Odisha Chief Secretary P K Jena said the bodies were brought to Bhubaneswar in 85 ambulances on Saturday and another 17 bodies reached here on Sunday. "All bodies have been accommodated in cold storage arrangements (due to shortage of morgues)," Odisha's Health and Family Welfare secretary Shalini Pandit told PTI.
Identification a task, too
Admitting that identification was a major challenge, as the victims hailed from different states, the chief secretary said the state government has uploaded their details along with photos on websites of the Special Relief Commissioner, Bhubaneswar Municipal Corporation and Odisha State Disaster Management Authority. One of the doctors added, "The bodies are mutilated ... I came across just one head of a human being and no other body parts to go with it."
110
No of bodies moved to AIIMS Bhubaneswar
40
No of bodies it can keep
This story has been sourced from a third party syndicated feed, agencies. Mid-day accepts no responsibility or liability for its dependability, trustworthiness, reliability and data of the text. Mid-day management/mid-day.com reserves the sole right to alter, delete or remove (without notice) the content in its absolute discretion for any reason whatsoever Do you practice ecotourism?