Former Congress leader Kapil Sibal and Trinamool Congress MP Sougata Roy on Saturday came down heavily on Union minister Giriraj Singh over his praise of Mahatma Gandhi's assassin Nathuram Godse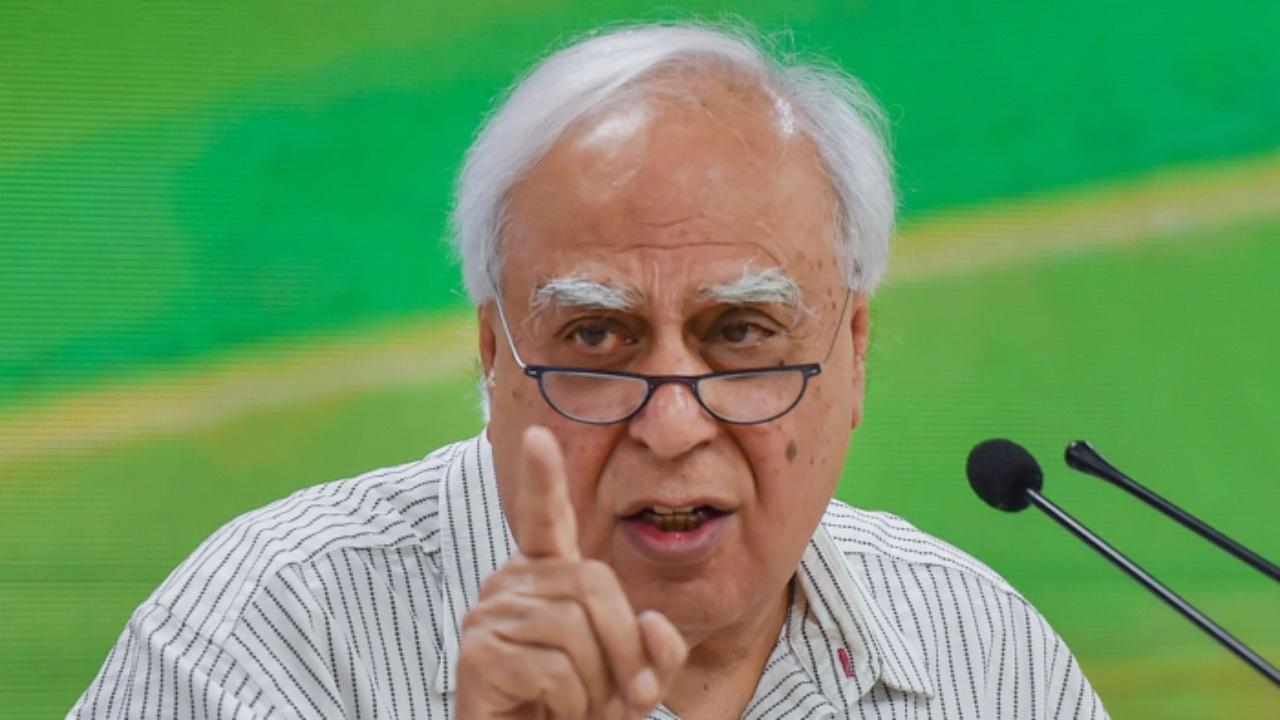 File Photo/PTI
Former Congress leader Kapil Sibal and Trinamool Congress MP Sougata Roy on Saturday came down heavily on Union minister Giriraj Singh over his praise of Mahatma Gandhi's assassin Nathuram Godse.
Hitting out at the Union minister, Sibal, who also is one of the country's leading advocates, said the BJP and the Rashtriya Swamyamsevak Sangh (RSS), its ideological fountainhead, can never truly acknowledge the contributions of Mahatma Gandhi as they had offered to help the British rulers during the freedom struggle.
ADVERTISEMENT
"Was Godse a good son as Giriraj Singh said? The RSS had offered help to the British (during the freedom struggle). How can they acknowledge the contributions of Mahatma Gandhi? Their ideology and beliefs go against the principles espoused by Mahatma Gandhi," Sibal told ANI on Saturday.
Earlier, Giriraj Singh had dubbed Godse as a 'Sapoot' (son) of this country.
"The assassin of Mahatma Gandhi was not an invader like Mughal emperors Babar and Aurangzeb. He was born in India and was a son of the soil," Singh said on Friday.
Condemning the Union minister's statement, TMC MP Saugata Roy said he heaped praise on a person who killed the "Father of the Nation".
"I reject his statement. He sang praises of a person who killed the Father of the Nation. He said the Mughal emperors were enemies of India," the TMC MP added.
Singh made the remark in response to a statement by AIMIM chief Asaduddin Owaisi on Godse.
Also read: Thane: Man arrested for objectionable social media post against Devendra Fadnavis
Owaisi was responding to Maharashtra Deputy Chief Minister Devendra Fadnavis, who made a remark invoking Mughal emperor Aurangzeb.
Singh said people, who take pride in being called the descendants of Babar, cannot be considered true sons of India.
An FIR was registered against Maharashtra Navnirman Sena (MNS) leader Sandeep Deshpande and 8 others under Maharashtra Police Act 37, 135, for burning an effigy of Aurangzeb in the aftermath of Kolhapur violence, Mumbai Police said on Thursday.
A curfew was imposed in Kolhapur the day before following violent clashes between two groups. The police had to resort to a lathi-charge and disperse the crowd to enforce order.
Speaking on the violence, Fadnavis said, "Sons of Aurangzeb seems to have popped out of nowhere in some districts of Maharashtra. They keep Aurangzeb alive through their posters. It is because of such elements that such incidents take place. However, the question remains, where do these sons of Aurangzeb come from? Who were behind this incident? We will find them out," Fadnavis told ANI in Nagpur earlier.
This story has been sourced from a third party syndicated feed, agencies. Mid-day accepts no responsibility or liability for its dependability, trustworthiness, reliability and data of the text. Mid-day management/mid-day.com reserves the sole right to alter, delete or remove (without notice) the content in its absolute discretion for any reason whatsoever. Do you participate in rescuing animals in Mumbai?