Several videos circulating on social media showed VHP and Bajrang Dal members shouting slogans, tearing the film's poster and stomping on large cutouts of Pathaan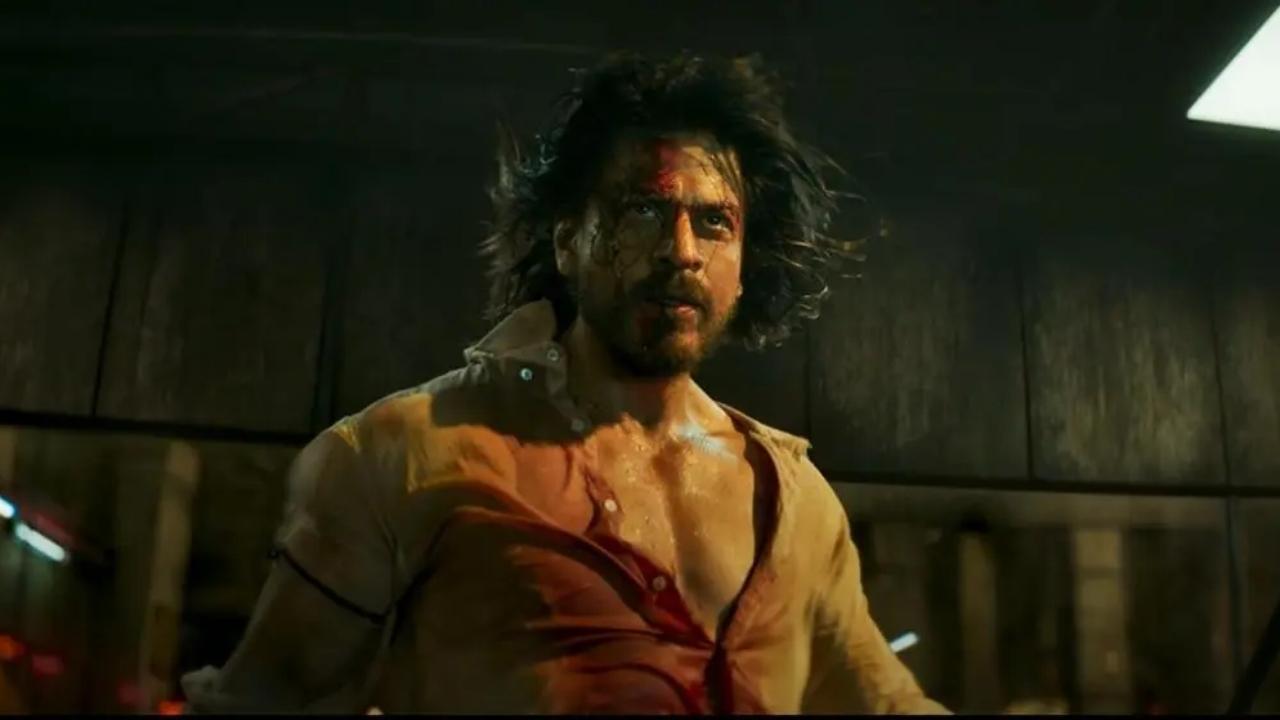 Pic/ still from Pathaan teaser
Shah Rukh Khan-starrer Pathaan slid further into trouble with posters of the film being vandalised in an Ahmedabad mall and members of the VHP and Bajrang Dal saying they would not allow its screening in Gujarat unless their problems over its song Besharam Rang are resolved.
Several videos circulating on social media showed VHP and Bajrang Dal members shouting slogans, tearing the film's poster and stomping on large cutouts of "Pathaan", which also features Deepika Padukone and John Abraham, on Wednesday. While debate raged, team Pathaan found support in filmmaker Rahul Dholakia and some others who condemned the vandalism.
ADVERTISEMENT
The centre of the protests is the song, which features Deepika in several looks, including in a saffron bikini. The song released on December 12 and has already reached 50 million views on YouTube.
We want the makers of 'Pathaan' to remove the words 'besharam rang' from the song and also scenes where the actress is seen in a saffron dress in the song. We will not allow Pathaan's screening in Gujarat if these two changes are not made. Though we are also against the movie's title, because it propagates love jihad, our main demand at present is about that song," Bajrang Dal's north Gujarat president Jwalit Mehta said
Gujarat VHP spokesperson Hitendrasinh Rajput added that "Besharam Rang" should ideally be dropped from the movie.
"VHP and Bajrang Dal have a problem with that song and scenes in it. If that is sorted out, we do not have any problem with the movie. We will not allow the movie to be released with that song in its original form" said Rajput, adding that the VHP is okay with the movie's title.
While most people in the industry have not spoken on the controversy, Dholakia, who directed SRK in Raees, described the protest as vandalism and hooliganism.
He put out a tweet alongside a video of the protest.
Also Read: Shah Rukh Khan shares Deepika Padukone's fierce, action avatar from 'Pathaan'
Soon after the release of "Besharam Rang", Dholakia said the hate attack that had been going on for years against Shah Rukh should be condemned by one and all in the film industry.
SRK has contributed more to our fraternity and India as an ambassador of entertainment & cinema; than most people have. Please tell these bigots with idiotic theories to Shut Up," Dholakia tweeted.
Some other social media users also criticised the incident in Ahmedabad on Wednesday.
"I have zero interest in this movie. But, this hooliganism by bajrang dal is despicable," one user wrote.
Another user said: "This is so wrong... Actually people praise Shahrukh on international levels but in India he is struggling to release movies... He isn't forcing u to watch... But u r forcing people not to watch it's ridiculous."
The censor board last week asked production banner Yash Raj Films to implement changes and submit the revised version of the movie before its release on January 25. It did not specify what changes.
CBFC chairperson Prasoon Joshi said the committee has guided the makers to implement the advised changes in the film "including the songs and submit the revised version prior to theatrical release.
The aim of the CBFC, Joshi said, was to strike a balance between creativity of the makers and sentiments of the audience and accordingly find a solution.
Those who have expressed their displeasure over Besharam Rang and demanded changes in it include Madhya Pradesh Home Minister Narottam Mishra and the Vishwa Hindu Parishad. The Madhya Pradesh Ulema Board also sought a ban on the film for misrepresenting Islam.
Besides, a complaint has been filed before a court in Bihar's Muzaffarpur district, seeking the registration of an FIR against Shah Rukh, Deepika and others for hurting religious sentiments of Hindus in the song.
Last week, the head priest of an Ayodhya temple said he would burn alive Khan for disrespecting Hindu religion.
The trailer of the film drops on January 10.
This story has been sourced from a third party syndicated feed, agencies. Mid-day accepts no responsibility or liability for its dependability, trustworthiness, reliability and data of the text. Mid-day management/mid-day.com reserves the sole right to alter, delete or remove (without notice) the content in its absolute discretion for any reason whatsoever