The 19-year-old student, whose resistance to the heckling was captured in a viral video, told Mid-day Online in an interview that the mob that was intimidating her had consisted mainly of outsiders. Muskan said authorities at her college and most fellow students stood with her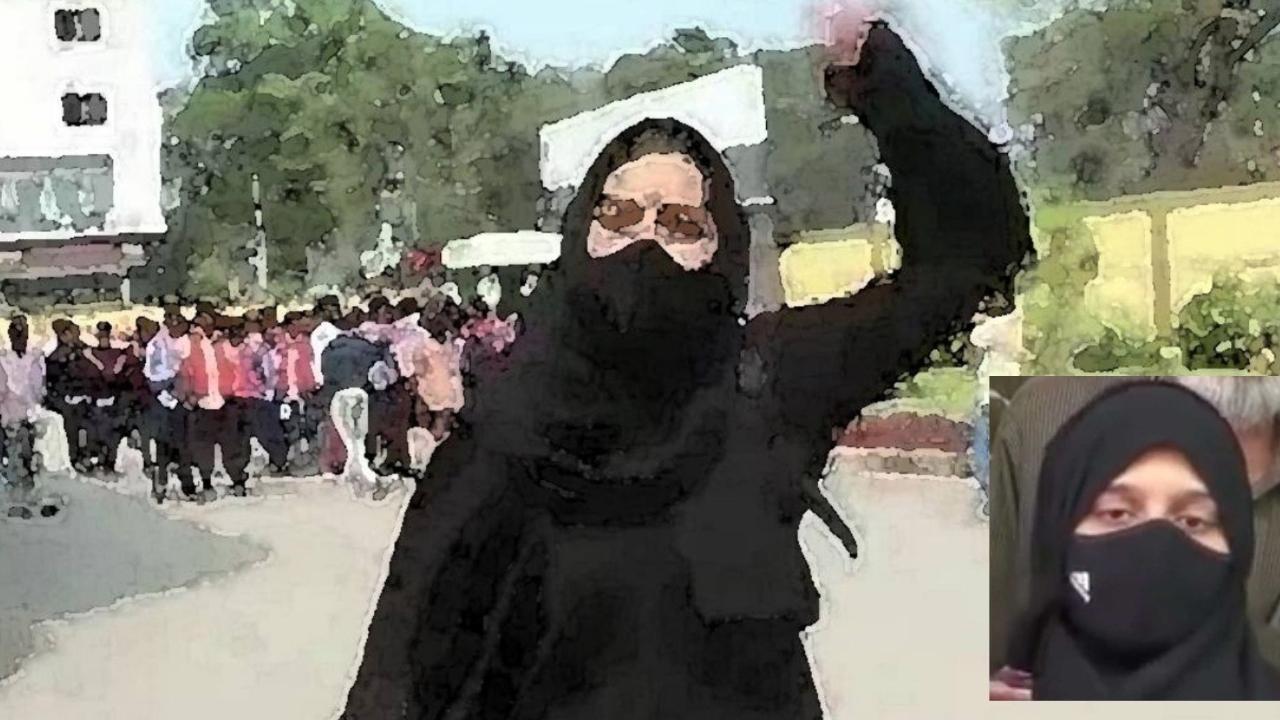 In a video that went viral on social media, Muskan is seen confronting a mob of males wearing saffron shawls
Muskan Khan, a 19-year-old undergraduate student from Karnataka, caught the world's attention after she bravely took on a right-wing mob that was heckling her for wearing a burqa at her college in Mandya district on Tuesday. 
In a video that went viral on social media, Muskan is seen confronting a mob of males wearing saffron shawls, who were forcefully demanding that she remove her burqa before entering the college. Social media has since abounded with tributes that lionised her show of strength and courage in the face of hateful intimidation.  
In a phone interview to Mid-day Online, Muskan, a B.Com student of Mandya's PES College of Arts, Science and Commerce, described the experience and said that while she had felt 'attacked', she had not felt fear.
"On February 8, I reached my college around 11 am to submit my assignment. Even before I could enter the college, I was stopped by a mob of 50-60 men because I was wearing a burqa. They were shouting 'Jai Shri Ram'. They said they would not allow me to enter the college in my burqa and hijab. I was told to go back home if I refused to remove my burqa and hijab," Muskan told Mid-day. 
"After that, I somehow entered the college premises. The mob did not stop following me even then. They were chanting 'Jai Shree Ram' loudly. I did not have a problem with that; I got agitated when they started forcing me to remove my burqa," she said.
Muskan said she shouted the Islamic slogan 'Allah-hu-Akbar' in response to the mob's heckling. "I raised my hands and shouted 'Allah-hu-Akbar', and it made me feel braver," she said.
The incident comes on the heels of the Government PU College for Girls in Udupi banning eight students from entering the classroom wearing their hijabs. They were told to take online classes if they were not willing to remove the hijab in the classroom. 
On Wednesday, the single judge of the Karnataka High Court, who was hearing a batch of petitions against the hijab ban in classrooms, referred the matter to a larger bench saying it brought up constitutional questions of importance on aspects of personal law.  
Also read: 'Will continue the fight for my constitutional right,' says Udupi college student

'Hampering students' lives is wrong'
Muskan said this was the first time she had experienced something like this in her college. "Our principal is standing by us. He said we can wear hijab if we want to, and that he will not question that. Our principal and a lecturer even helped me get inside the college building. It is outsiders who were creating this ruckus," she said.
Muskan said only 10 per cent of the males in the mob were her classmates, and the rest were outsiders – she said they were older men whom she had never seen in and around her college before.
"They were heckling everyone wearing burqa and hijab. Most of the girls were so scared that they cried and went back home. Why should we cry for this? Don't we have the right to speak and express ourselves?" she said,adding that she had not felt any fear when the mob confronted her.
"Why should I be afraid? I think the hijab is my right and nobody can question me. We have been wearing this for ages. Why is it creating a problem now? India is a country that supports every religion; we have the freedom to follow our religion here. People from other religions follow their culture, and we are following ours. Are we questioning others for the culture they follow? No. It is as simple as that."
Upset at the targeting of hijab-wearing students in Karnataka – beginning with the college in Udupi that banned them from classrooms for wearing it -- She said: "Hampering students' lives is wrong. We should all live and grow together. Discrimination based on religion is wrong and unacceptable." 
Muskan said most of her non-Muslim classmates have supported the Muslim female students and are standing with them in this fight. "They are consoling us and are against this ban on hijab. My non-Muslim neighbours, too, are against it. They say we must all be allowed to follow our respective religions."
'Feeling oppressed? Speak up'
Muskan, who wants to study law, said, 'I want to say one thing, not just to Muslim girls, but even to non-Muslim girls: speak up if you feel oppressed, speak up if you feel you are being denied your rights."