Firat Sunel said that there are over 15,000 Turkish Troops, doctors and foreign teams working on the ground in Turkey. He said that the death toll is nearly 10,000, however, the rescue operation continues as there are rubbles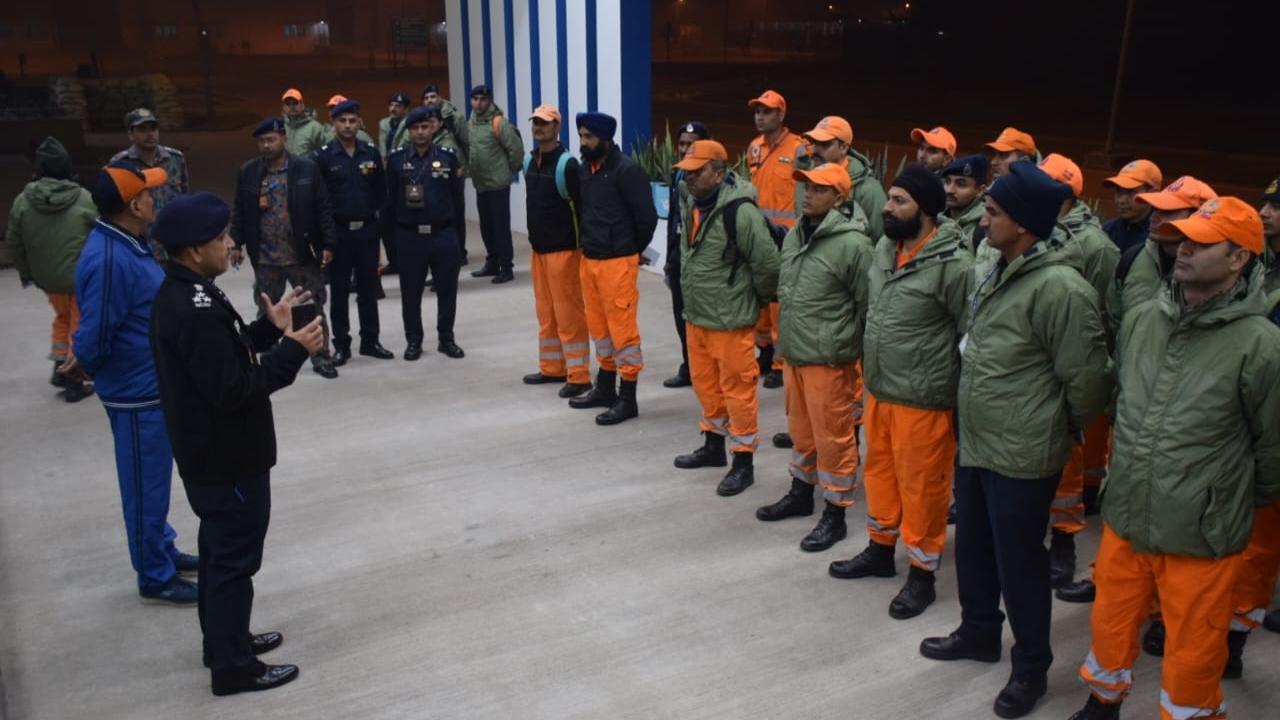 Pic/NDRF PRO
Turkey's Ambassador to India Firat Sunel has said that 'Operation Dost' is a "very important operation" and demonstrates the friendship between the two nations.
Firat Sunel made the remarks at the Hindon Airbase in Ghaziabad from where Indian Air Force's C17 Globemaster aircraft with the NDRF team, medical equipment, relief equipment, took off for Turkey, as part of the ongoing 'Operation Dost.' He said, "Operation Dost is a symbolic operation. It already proves that we are friends. We have to deepen our relations."
Speaking to ANI, Firat Sunel said, "Operation Dost is a very important operation. And this is the operation of friendship because DOST is the word in Hindi and Turkish which means friends. And this operation shows our friendship between India and Turkey and friends always help each other."
He further said, "I remember two years ago in 2021, I was exactly in this airplane and Turkey sent two aircraft loaded with Covid medical assistance. Now, after two years now we have two huge devastating earthquakes in Turkey and India is now sending search and rescue teams in Turkey because real friends help each other in days if they are in need."
Calling Operation Dost "helpful", Turkey's Ambassador to India Firat Sunel said, "What we would need in Turkey, especially in the first 72 hours is search and rescue actions together with emergency medical aid and everything is, you know, the start of the operation Dost, it includes search and rescue teams and emergency medical aid. That's why it is very helpful."
Firat Sunel said that there are over 15,000 Turkish Troops, doctors and foreign teams working on the ground in Turkey. He said that the death toll is nearly 10,000, however, the rescue operation continues as there are rubbles.
"It is almost 10,000, but we are racing against time and there are still so many rubbles and the operation is continuing. Our government bodies are also overall, there are more than 15,000 Turkish troops, rescue operations, doctors and so on," Firat Sunel said.
He added, "There are Turkish Red Crescents also, and they are working there and now also some foreign teams. So, they are doing their best. They are working day and night in order to rescue people."
Union Minister of State for External Affairs V Muraleedharan, who was also present at the Hindon Airbase, has said that India stands ready to extend support to the people of earthquake-hit Turkey.
Speaking to ANI, Muraleedharan said that there are four teams working on the ground in Turkey, including two rescue teams, dog squads and two medical teams. He said that India has already opened a field hospital in Turkey.
"India has already sent four teams including two rescue teams of NDRF and two teams for medical assistance. Today, the third team of NDRF is taking off for Turkey along with a dog squad, medicines, blankets, four wheelers," Muraleedharan said.
Also Read: Turkey President admits "shortcomings" as death toll from earthquake crosses 15,000-mark
He further said, "India stands ready to extend support to the people of Turkey in this hour of grief. India has always been coming to the help of people across the world and humanitarian assistance has been provided in various countries across the world. So this is another such an example."
Muraleedharan said that India continues to stand with the people of Turkey. He said that India would assess the situation and do the needful if any further assistance is required. He said that Turkish Envoy Firat Sunel has called India a "true friend" as it is helping Turkey in the need of the hour.
Earlier on Wednesday, External Affairs Minister S Jaishankar said that India is providing materials, supplies, medical supplies, and equipment, to Syria as well as sending search and rescue teams to Turkey under 'Operation Dost'.
India is providing assistance to Turkey through the ongoing crisis after earthquakes jolted the country on February 6.
The earthquake of magnitude 7.7 on the Richter ripped through Turkey and Syria on February 6, followed by a series of aftershocks that caused huge devastation, loss of lives and damage to infrastructure in the two countries.
This story has been sourced from a third party syndicated feed, agencies. Mid-day accepts no responsibility or liability for its dependability, trustworthiness, reliability and data of the text. Mid-day management/mid-day.com reserves the sole right to alter, delete or remove (without notice) the content in its absolute discretion for any reason whatsoever