Every time the five speak to the RSS, they betray all non-Muslims who have courageously spoken against the RSS and its philosophy of hatred—and for Muslims enduring these horrid times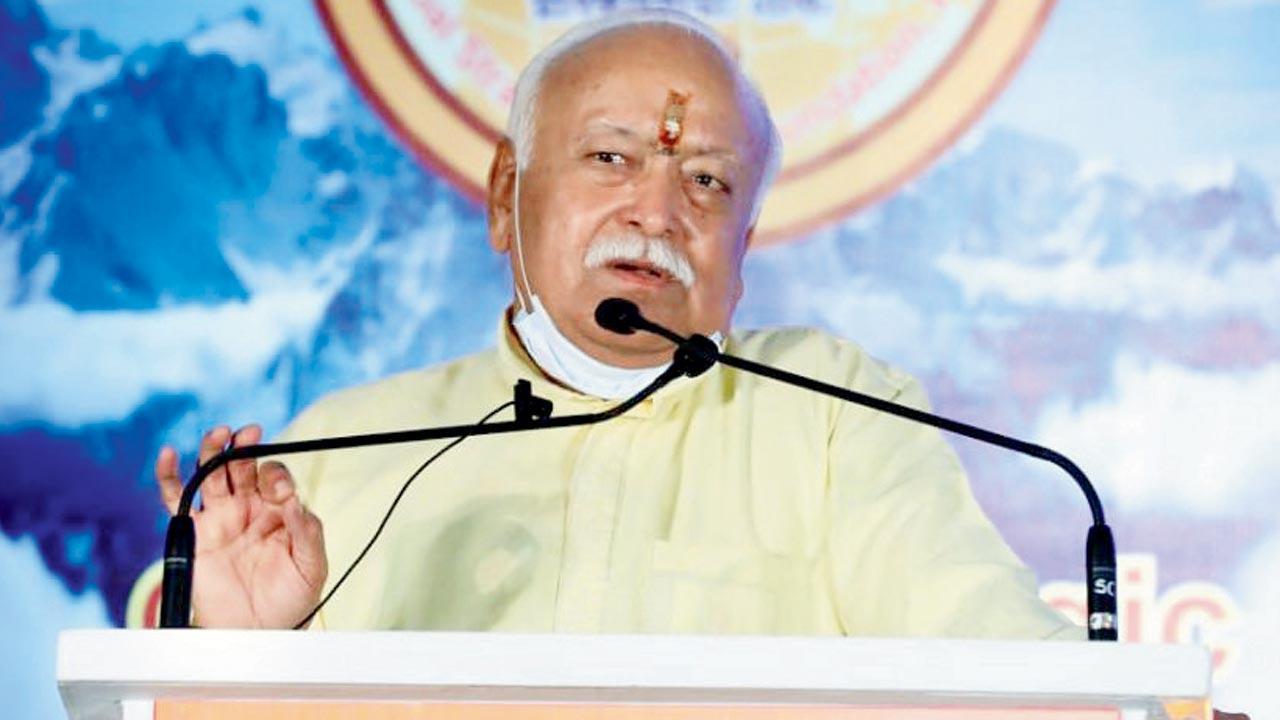 RSS chief Mohan Bhagwat has recently accused the Muslims of believing they would once again rule over India. Pic/Twitter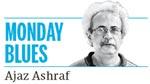 The five eminent Muslims who have had two rounds of dialogue with the Rashtriya Swayamsevak Sangh do not seem to recognise this truism of life: humans must take into account the existing reality before hoping for a better future. The eminence of these gentlemen is undebatable—S Y Quraishi is a former chief election commissioner, Najeeb Jung is a former lieutenant governor, Zameer Uddin Shah retired from the Army as lieutenant general, Shahid Siddiqui is a journalist and former MP, and Saeed Shervani is a hotelier.
The five met RSS chief Mohan Bhagwat on August 22, and then, on January 14, three of the organisation's senior leaders. During the ongoing dialogue, the group of five expressed their worries over the demonising of Muslims, and sought to address the RSS's concerns over the community engaging in cow slaughter, labelling Hindus as kafirs, or non-believers, etc. Their hope is to dissuade the RSS from othering Muslims.
Now, look at the reality as it has unfolded since the first round of dialogue. In Maharashtra, since November, the Sakal Hindu Samaj, an umbrella organisation that also includes affiliates of the RSS, has held as many as 30 rallies, demanding legislations against religious conversion, love jihad, land jihad and, alarmingly, asking Hindus to boycott Muslim-owned shops. Rashtrapati Bhavan's Mughal Gardens was recently renamed Amrit Udyan, a fanatical attempt to efface yet another Muslim name from India's popular memory.
Early January, Bhagwat grabbed media headlines with his statement that because the Hindus have been at war for 1,000 years against "foreign aggression, foreign influence and conspiracies", it is natural for them to become aggressive. Wonder whether the five Muslims realised that Bhagwat, at one stroke, had turned them into foreigners! He also accused the Muslims of believing they would once again rule over India. In fact, ever since Narendra Modi became the prime minister, Muslims fantasise about a secure life, not of becoming rulers.
Bhagwat's remarks should have convinced the five about the futility of entering into the second round of dialogue with the RSS. But mulishness and eminence are Siamese twins. In a September 26 piece, Quraishi wrote how he explained to Bhagwat that Muslims, at their current rate of population growth, cannot overtake Hindus in even 1,000 years. It is hard to believe Bhagwat would have not known this without Quraishi's exposition.
Yet, 10 days after Quraishi wrote his piece, Bhagwat spoke of religion-based population imbalances. He said, "Alongside the differences in birth rate, conversions by force, lure or greed and infiltration are also big reasons [for population imbalances]." Ah, back to taking potshots at Muslims!
Phantoms haunt RSS leaders. These phantoms emerged because Hindutva's jaundiced view of history has its votaries interpret wars between rulers as those between religious communities. And so, since Muslims vanquished Hindus centuries ago, the past must now be avenged. Muslims must accept the RSS's conditions for living at peace in the country—conditions that would invariably turn them into unequal citizens.
They must, for instance, surrender the mosques allegedly built after demolishing temples. The list of mosques the RSS would want Muslims to relinquish is breathtakingly elastic, evident from the failure of its three senior leaders to guarantee, in the January 14 meeting, that a resolution of the masjid-mandir disputes in Kashi and Mathura would bring closure to similar conflicts over places of worship.
Also Read: Let us focus on safeguarding our green spaces
Until a decade ago, no one had heard of love jihad and land jihad, but these are now counted by Hindutva as mortal threats to India. Wonder how many Hindus can claim they were called kafir by Muslims? Contrast this with Indresh Kumar, one of the three RSS leaders in the January 14 meeting, insisting, in 2017, that the Quran bans cow slaughter. That is arrant nonsense.
Such remarks would not be a worry but for the fact that by speaking to people like Indresh, the five Muslims accept the RSS's claim of being the "sole spokesperson" of the Hindu community, a claim Jinnah, too, made vis-à-vis Indian Muslims, with disastrous consequences. Indeed, the band of five could have better expressed their worries by visiting the families of Muslim student leaders incarcerated under the Unlawful Activities (Prevention) Act for protesting against the amended citizenship law. 
Between the executioner and his victim, novelist-philosopher Albert Camus asked us to side with the victim.
But, above all, every time the five speak to the RSS, they betray all non-Muslims who have courageously spoken against the RSS—and for Muslims enduring these horrid times. The othering of Muslims is a manifestation of the BJP's disdain for constitutional morality and the party's authoritarian tendencies, of which many non-Muslims too have been victims. For the five to talk with the RSS is to mock their suffering.
As for Modi's recent overtures to the Muslim community, he has yet to express his sympathy for its victims of hate, let alone act against culprits under as stringent a law as UAPA. The five eminent Muslims need to protest him and the RSS, not become supplicants typical of those who lived in yesteryear's vanquished kingdoms. Their conduct does not befit citizens of a democracy. Don't they know they are betraying democracy itself?
The writer is a senior journalist
Send your feedback to mailbag@mid-day.com
The views expressed in this column are the individual's and don't represent those of the paper