My heart stopped when I was guided to my seat in the Palais des Festivals reserved for our jury—and found my name marked on it.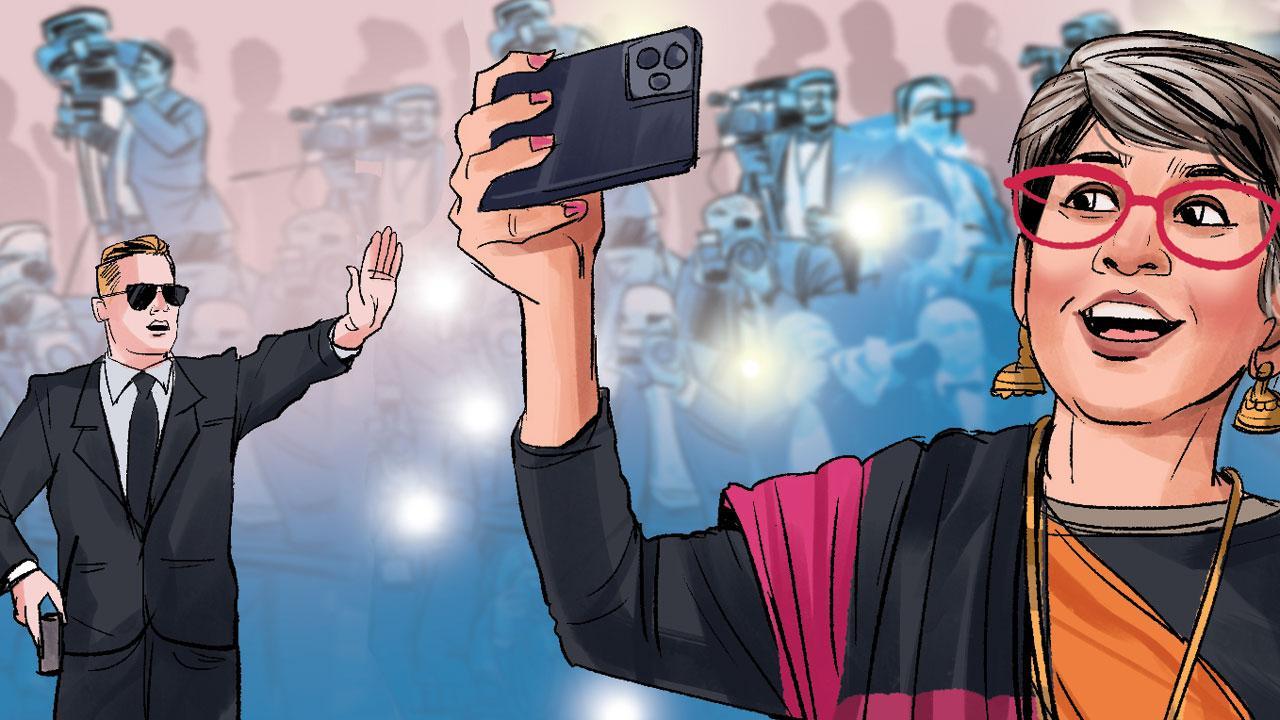 Illustration/Uday Mohite

MEANIES, meanies, meanies! When you finally get your Big Moment on the red carpet of the Cannes Film Festival as a Jury member on Opening Night, and pause to take a selfie, burly bouncers in black pounce on you and force you to put your mobile phone away: selfies are banned on the red carpet. Eeks! It's like not getting a photo of your shaadi. Whaaat? The irony is, you're amidst a phalanx of photographers taking photographs of you, hounding you, "Sari, sari, look here please!"-- but I don't know any of them or how to contact them later. Isn't half the mazaa sharing the photo with family and friends, and, years later, with your grandchildren (even if that's highly theoretical in my case)?
***
ADVERTISEMENT
So along with Ava Cahen, Artistic Director, Semaine de la Critique/ Critics' Week, there we were on the red carpet, the Critics' Week Jury members, Audrey Diwan (Jury President, French-Lebanese director-screenwriter; her film The Happening won the Golden Lion at Venice in 2021), brilliant German actor Franz Rogowski (Terrence Malick's A Hidden Life, Christian Petzold's Undine), Kim Yutani, Sundance Film Festival's Director of Programming, Rui Poças, masterly Portuguese director of photography (Tabu by Miguel Gomes, Zama by Lucretia Martel) and moi. Clearly, the selfie ban is meant to control the quality of ultra glam, high fashion, celebrity images on the tapis rouge and the montee des marches—red carpet and climbing of the steps—beamed out from Cannes to the world. And celebrities ODing on selfies can delay screenings. But hum bhi kisise kam nahin, and we sneaked a quick, smudgy photo at the top of the stairs. Indians are nothing if not jugaad ka ustads. Still, it struck me as curmudgeonly to prevent you from snapping your one Big Moment—which the Berlin Film Festival, for instance, does not deny its guests, despite the same constraints. But the worst is, I have personally seen product-sponsored Indian celebrities who pout on the red carpet, actually go up the steps to the screening at the Palais des Festivals—then do a kalti and escape from the side doors—they do not even watch the film for which they have got tickets, and for which film lovers are ready to kill outside. Aargh!
***
My heart stopped when I was guided to my seat in the Palais des Festivals reserved for our jury—and found my name marked on it. Oh gosh, that felt like Cannes royalty. After the opening film Jeanne du Barry by Maïwenn, we were invited to the opening night dinner, and seated close to French actress Catherine Deneuve. Even in her late 70s, she radiated beauty and a regal aura, that effortlessly dissuaded people from generally asking for selfies or autographs.
***
At Cannes, I got an unexpected text from Anila Gill, an old and dear friend, half-Sikh, half-French, who used to be my roomie when we did the Film Appreciation course at the Film and Television Institute of India, FTII, in a previous lifetime—in 1992. She said her sister Sandrine Gill from Paris was visiting Cannes, so I invited her to an informal addabaji with journos Aseem Chhabra and Shubhra Gupta, where Kanu Behl, director of Agra in Directors' Fortnight, and others joined us. I introduced Sandrine Gill—and guess what? It turned out that Sandrine Gill and Kanu Behl were from the same school, Yadavindra Public School in Patiala. In minutes, Sandrine was fishing out their old school photos on her phone and asking Kanu, "Was this your Principal too? Do you recognize this teacher?" All at a café in Cannes, ha ha, it was delightful!
***
What I love about Cannes—or the Western world: you can go to a posh party where everyone cool is having hard drinks, look the bartender in the eye and unapologetically ask for water. Aah, I felt like the Phantom asking for a glass of milk at the bar. I love it. Long live l'eau.
Meenakshi Shedde is India and South Asia Delegate to the Berlin International Film Festival, National Award-winning critic, curator to festivals worldwide and journalist. 
Reach her at meenakshi.shedde@mid-day.com