The Mahindra Museum of Living History breathes compassionate storytelling into corporate history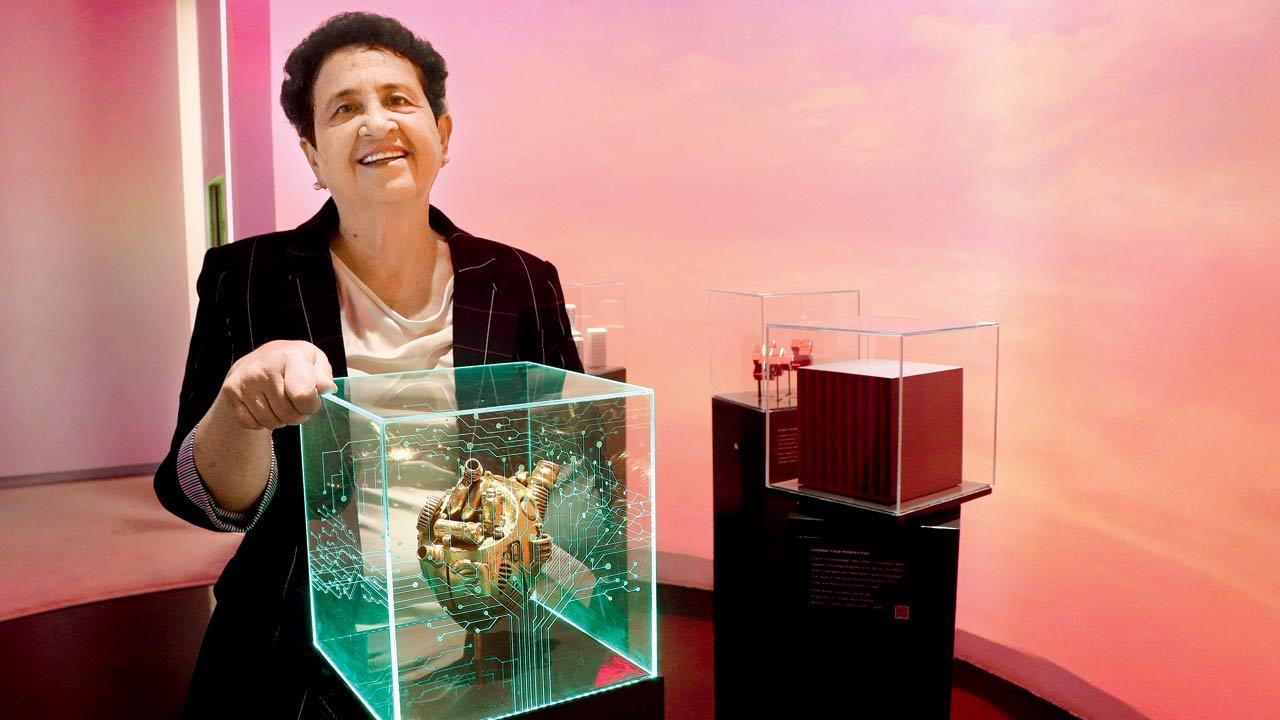 Prochie Mukherji, Chief of Staff, Chairman's office, collected and curated the oral histories that form the beating heart of the Museum of Living History, Worli. Pic/Anurag Ahire

Life in a Bhandup chawl meant queueing in long lines for water, among other hardships for Vishal Kumar. Excelling at computer science, he won a Mahindra scholarship. Topping the state, he gave tuitions to meet daily expenses. Employed by Goldman Sachs, he bought the family a house, did his Master's at Cornell University and is a senior software engineer in California. Vishal Kumar was supported by the KC Mahindra Education Trust. A 'Rise for Learning' story. 
Bhavna Patil loved fixing broken things as a child in a remote village in Maharashtra. Deciding to study engineering, she was overwhelmed by problems, including a huge language barrier. Slogging to surmount the difficulties, after graduation she shifted to the big city—which bewildered but never deterred her from becoming Mahindra's pioneer woman engineer.
ADVERTISEMENT
Bhavna Patil defied odds to earn distinction as the first female engineer for Mahindra's Nashik plant. A 'Rise for Equality' story.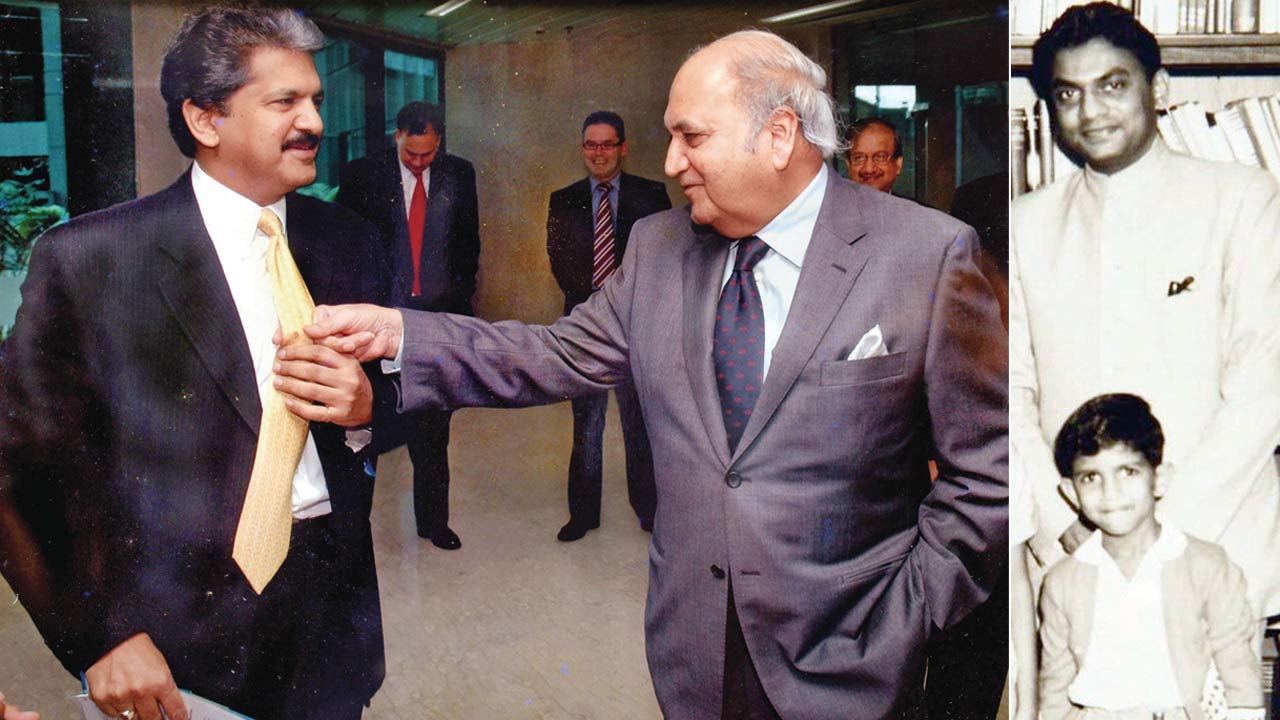 Anand Mahindra with uncle Keshub Mahindra (left) and father Harish Mahindra. Pics/Mahindra Archives
. Tukaram the farmer struggled in a small field with a slow bull. A larger vehicle would prove efficient but expensive. Mahindra produced a cost-effective tractor to plough a tiny plot: the compact, reasonably priced Yuvraj mini. Tukaram sold his bull, rented out the tractor and recovered fuel costs. Humble farmers like Tukaram step from poverty to prosperity with appropriate aid. A 'Rise for the Farmers' story.
. Shyam Kumar, a 26-year-old designer, had to modify a vehicle as his first assignment. He sketched night and day for months. The last of his four submitted drawings was selected. Despite research not in favour of it, Mahindra took a chance on him. The Scorpio, the company's premier global offering in 2002, roared to incredible success. Young Shyam Kumar's striving for excellence was backed by Mahindra. A 'Rise for Excellence' story.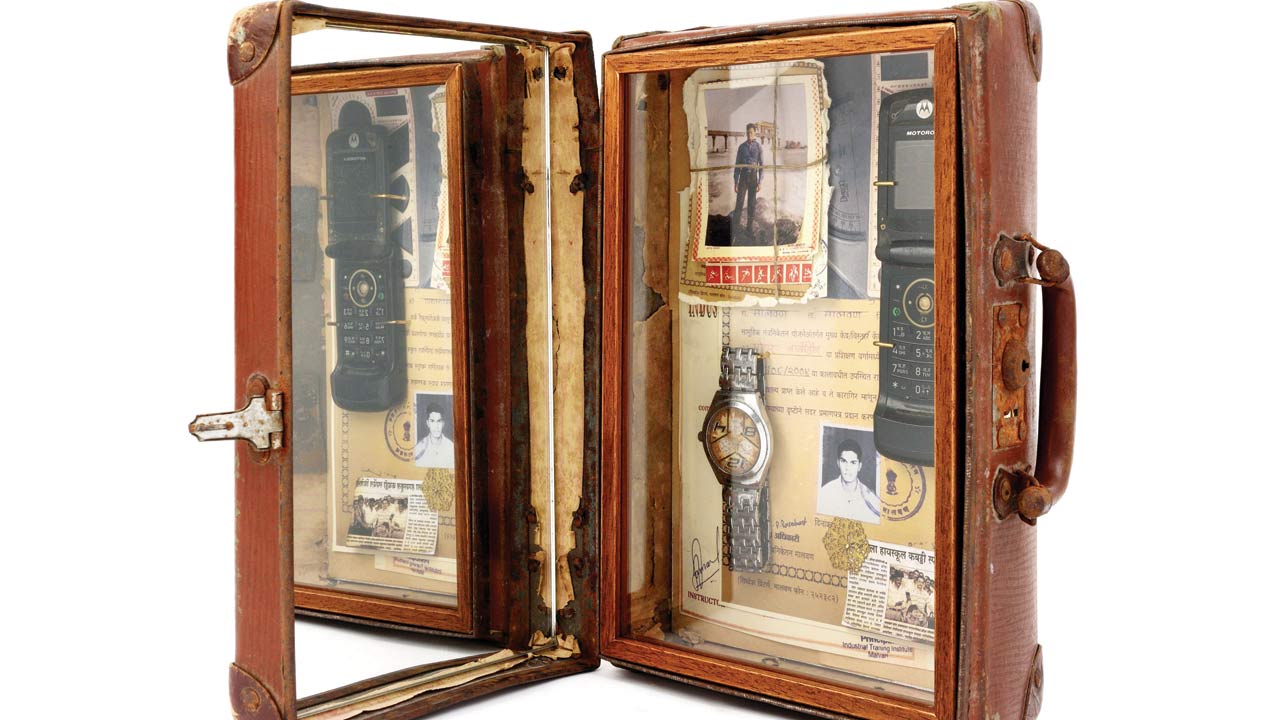 Memory Suitcase, the exhibit showcasing the personal possessions of trainee engineer Mohan Redkar who lost his life saving four people from drowning; the Mahindra Veerta Award is instituted in his honour.  Pic/Mahindra Archives
. After serving the Army, Capt Jaspal Singh joined Mahindra. Stationed at Pab village in Rajasthan, he saw local classrooms were missing desks. Children bent over books after trekking miles carrying torn bags. Dropout rates soared. Getting Mahindra Susten to convert school bags to desks, he ensured the "green desks" improved children's posture and attendance.  Jaspal Singh's resourcefulness enabled children to continue schooling. A 'Rise for the Future' story.
These are a mere handful of narratives, from among hundreds, forming the soul of the Mahindra Museum of Living History in Worli, which marks its first anniversary on July 12. The spirited tribute to the 75-year history of the Mahindra Group—born in freshly minted free India, the company grew apace with the country's progress—celebrates the basic DNA of its culture. This remarkable museum exemplifies how serious purpose can meet cutting-edge design.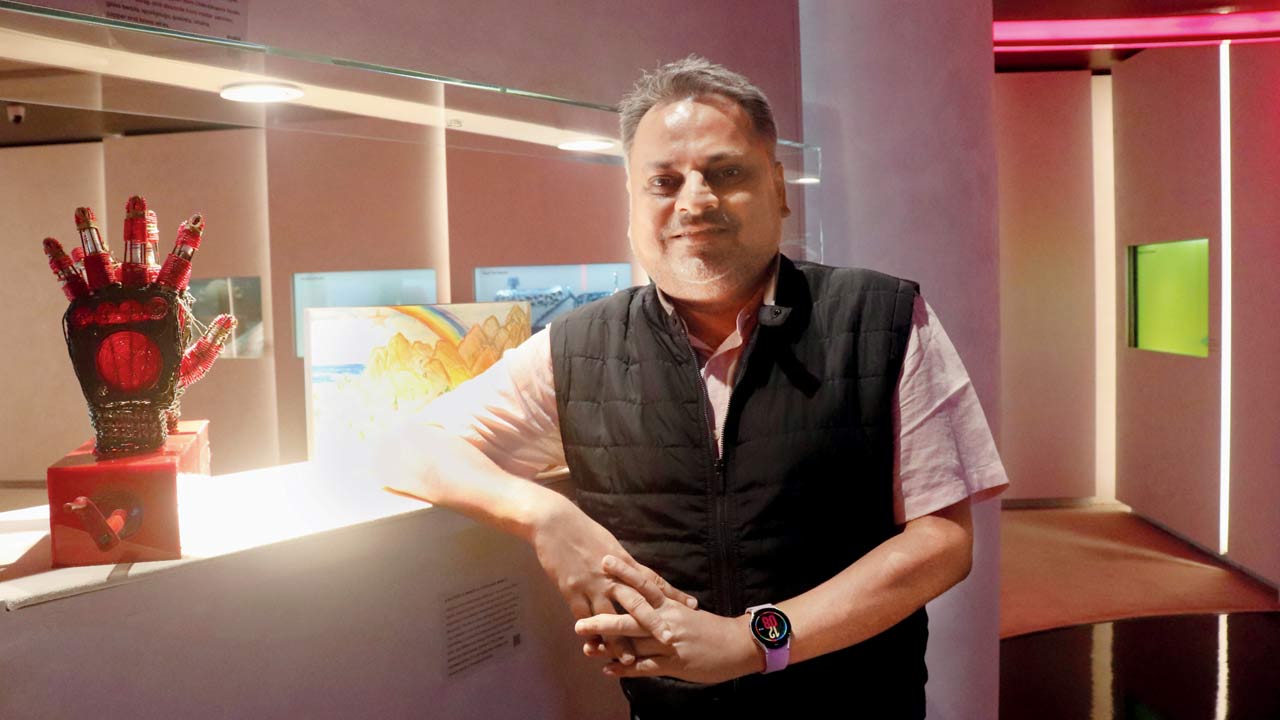 Jay Shah, Head, Cultural Outreach, in the museum's The Big Bang section which also traces the now iconic Mahindra Blues festival. Pic/Anurag Ahire
The momentous journey from leading automaker to multinational conglomerate is explored in the widest possible context. Slicing beautifully through to the project's essential human heart, in no way does the novel technical wizardry on superb display—interactive gizmos, shining holograms, specially commissioned installations by contemporary Indian and international artists—detract from a single deep conviction. That employees are the golden key to a company. That their inspiring histories are important, deserving to be heard.  
Collecting and curating these stories mirroring the vision of the Group's legendary founders—the trader brothers Kailash Chandra Mahindra and Jagdish Chandra Mahindra—Chief of Staff, Chairman's office, Prochie Mukherji, says, "The museum doesn't just look at the nostalgic past. It defines what has made us who we are and what we continue to do."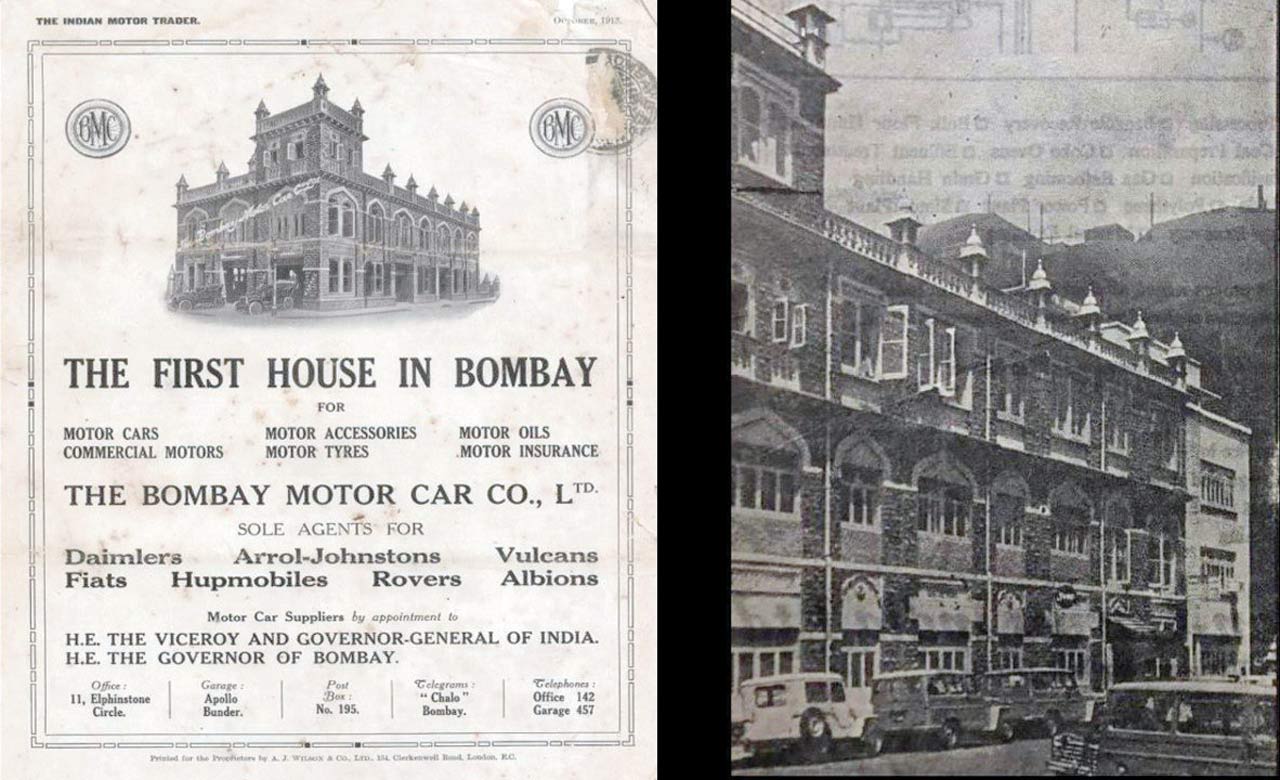 Gateway Building, the company's Colaba bastion, once the address of the Bombay Motor Car Co, as seen in this 1915 advertisement. Pic/Mahindra Archives
The saga of India's largest SUV maker and first firm to place a computer on every employee's table, began with two men and their ideals. Initially dealing in steel, the Mahindra brothers regarded business as an undertaking which would as well help mould independent India. Formally established on October 2, 1945, the enterprise was originally Mahindra & Mohammed. An advisor to the Nizam of Hyderabad, Malik Ghulam Mohammed was later appointed Finance Minister in the Cabinet of Pakistan in 1947.
M&M's first advertisement articulated a mission whose goals stay espoused even today. It announced the birth of an organisation fostering "encouragement of initiative", a workplace built with "the dignity of human toil", where self-belief is applauded.
Embracing that clear thinking while ideating for the museum, some immersive brainstorming later, Mukherji and her team concluded that, besides being a strategic asset acting as a repository of memory and myth, such a space encompasses multiple functions. A powerful tool for employee engagement and pride, it is a means of emotional connect with the customer and should share the corporate contribution to community life. Mukherji emphasises this comprehensive effort involved artists, architects, designers, filmmakers and musicians working in tandem with in-house archiving, IT, administration, branding and budget management departments. 
Pre-dating the museum was a 1995 experiment the HR team conducted. Mukherji reveals interestingly mixed results—"In the decade of liberalisation, the old-fashioned company faced foreign competition. We came up with the Core Values exercise, speaking to old-timers who'd worked with KC or JC Mahindra. After some resistance, they were unstoppable. It was tough, often frustrating. Different perceptions of the company ranged from 'Too much of a top-down company' to 'It's a decent office job'. Everyone scattered in random directions. It was like herding cats! 
"Though the iterative process threw up one big churning and a completely contradictory set of data, five main values emerged: good corporate citizenship (business ethics), professionalism (empowering the best personnel chosen), quality (in products and actions), centering the customer in the Mahindra universe and respecting the dignity of the individual."
The push to collate these anecdotal accounts and experiential findings came from an American tourist reviewing Mani Bhavan. Mukherji remembers, "I took umbrage at him dismissing an institution dedicated to the greatest human being of the 20th century, as 'a series of dolls in glass cases'." She handed Anand Mahindra, JC Mahindra's grandson and Chairman of the Group, a six-page plan for their museum. "Terrific, let's do it," he responded.
The Bhavna Patil story is Mahindra's favourite Rise story. Considering 'Rise' a pithy, poignant encapsulation of the company philosophy, he has explained in an earlier interview, "If there is one word that has changed the way we look at ourselves, it is Rise—a single word holding the whole Group together." 
From the Rise films to the History films, the Digital Book to the Mutoscope, the exhibits weave amazing tales of determination and drive, of honesty and passion, of a bold breaking of frontiers, either solo or with partnerships of integrity. The storytelling flows flawless. Unfolding with objects touch-accessed from both sides of each pod, this is lucid, responsible reporting, stunning in its simplicity. All fitting brilliantly into 4,500 square feet.
"The museum project was an unusual combination of designing a space within the existing area of the Worli office, curating the entire Mahindra history plus future vision into a personal, warm experience for visitors of every age," says Elsie Nanji. "With the architect Harsh Manrao, I visualised the conceptual space to keep the human factor central. Cocooned within a nautilus shell and soothing music, you appreciate the skill of craftsmanship, feel proud to be Indian and hope for the future inspired by success or learning from failures."
Rarely discussed in the public domain, the acknowledgement of non-starter innovations or acquisitions is on record with frank equanimity. Anand Mahindra asserts, "In business, there is no greater resource for learning than past mistakes and failures. The most ill-advised response to failures would be to attempt to disavow and bury them out of sight. That is why a company museum should not only celebrate grand successes of the past, but also showcase grand failures. This is the best testimonial to an organisation's ability to learn and grow."  
Jay Shah, Vice President, Head, Cultural Outreach, is personally very proud of the Mahindra Blues Festival story here. "The company trajectory not only parallels that of the nation, but is a gift to the city that's home to such an iconic brand," says. "The Blues fest is another wonderful gift to Mumbai from the Group." 
Shaped by an eventful past, tempered by the present and marching on with optimism, the company spreads its saga across six non-linear sections assigned galactic names: The Force, The Big Bang, Stars in Our Skies, Hyperspace, Beyond Space and Time, Multiverse.
"Visitors enjoy the fact that it is less about our products, more an idealistic approach," says Senior Manager Shubha Shetty. "They react with excitement to the stories told, some even with tears in their eyes. We've struck resonating chords." She points out the Rise for Good philosophy of the Group ties in with its Veerta Award, extending recognition to heroes showing uncommon bravery.
One recipient showed exceptional valour when the nation celebrated Republic Day in 2017. Raj Sharma in Kishtwar, Jammu, got news of an oxygen-deprived mother with two daughters falling unconscious after their charcoal angithi heater flickered off. Aware of terrorists and no transport to a hospital 2.5 kilometres away, Sharma carried the freezing bodies on roads under three-feet-high snow. Admitted to the emergency ward, the three women breathed again.
There is arresting symbolism at every turn, beginning with a giant hourglass at the museum entrance. It represents three broad phases: The period of striving (1945-1960), middle years of the licence raj (1960-1990) and post-liberalisation decades (1990 onwards).
The audio description of a dreamcatcher, dramatically positioned near the exit, is a goodbye greeting voiced by Mahindra himself—"This final object holds within its concentric rings the dreams we dream together. Its dynamic movements capture the energy turning our dreams into reality. Its shimmering surface reflects the lure of the future. 
Take a moment to dream a dream with us, for a better life, a better world."
Get in touch: mahindra.museum@mahindra.com/98671 83381
Author-publisher Meher Marfatia writes fortnightly on everything that makes her love Mumbai and adore Bombay. You can reach her at meher.marfatia@mid-day.com/www.meher marfatia.com