Killer's mental disorder weakened his impulse to control hate inculcated in him by Hindutva even as his 'incoherent' rant echoed venomous rhetoric employed by public figures against Muslims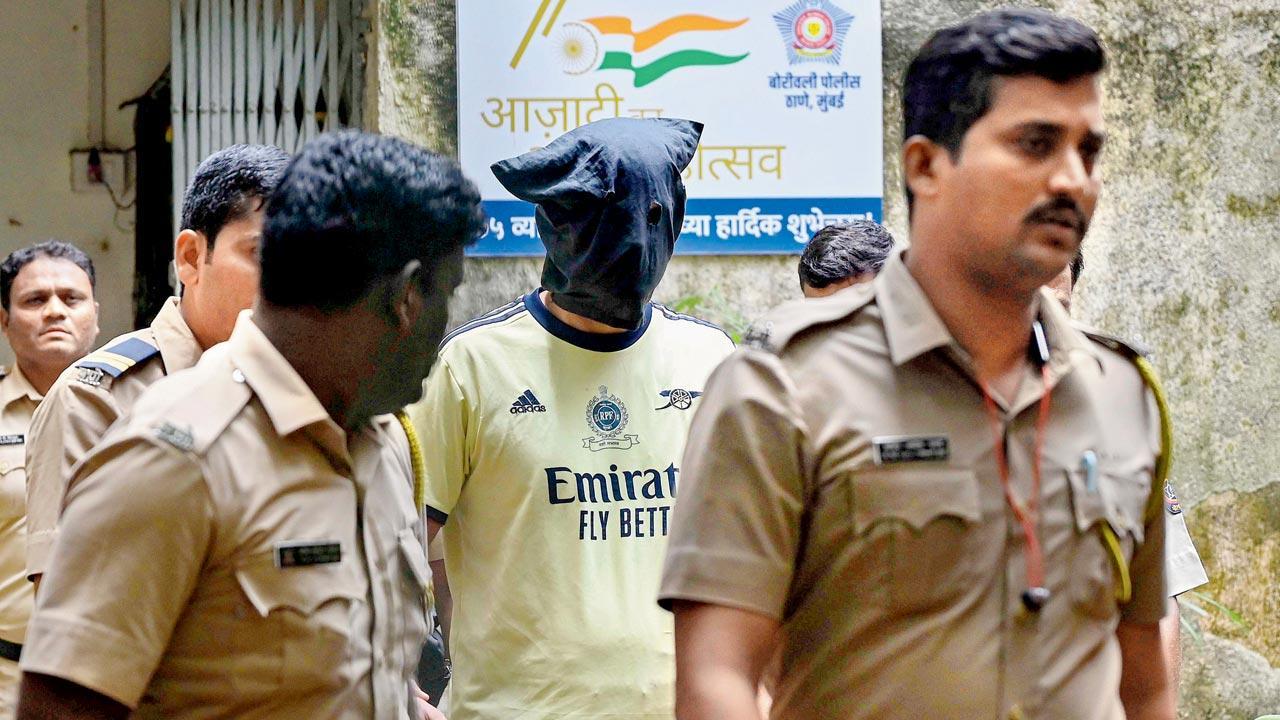 The authorities take Railway Protection Force Constable Chetan Singh to the magistrate court in Borivli on August 1. Pic/PTI
Railway Protection Force Constable Chetan Singh was ostensibly lucid as he embarked upon a killing spree on the Jaipur-Mumbai Central Superfast Express. After shooting dead his senior, he moved from coach to coach, zeroing in on three persons who sported a beard. It seems Chetan asked their names to double-check their religious identity before pumping bullets into them.
The lucidity he displayed in identifying his quarries was missing as he delivered what the media described as an incoherent speech. He ranted against Pakistan and suggested that in case Muslims wanted to live in India, they must vote for Prime Minister Narendra Modi and Chief Minister Adityanath. 
ADVERTISEMENT
It was disclosed that Chetan suffered from a mental disorder, and was on anti-psychotic drugs. This narrative led to the conclusion that Chetan's killing spree had an individual particularity—his mental disorder—and was not linked to systemic factors. The latter is spooky to contemplate because systemic factors would mean that there could be several Chetans waiting to randomly empty their guns on us. 
Yet that is what we must precisely do—analyse the links between Chetan's mental disorder and systemic factors.
For one, Chetan did not shoot randomly. He did not open fire at a public place, as so many American mass killers do. He chose his victims: his was a hate crime, which, to use the definition of America's FBI, was "motivated in whole or in part by an offender's bias" against a race, religion, gender, etc. For the other, his rant, even in its incoherence, echoed the rhetoric India's public figures employ against Muslims. Had he not killed before he spoke, Chetan would have come across as a typical obsessive Modi or Adityanath bhakt.
"Terrorist acts are not caused by mental illness but mental illness can provide a background that's receptive to terrorist activity," Dr Raj Persaud, a reputed London-based psychiatrist and professor, said in an interview in 2016. Persaud was analysing Mohamed L Bouhlel's motivation in driving a lorry into a holiday crowd in Nice, France. Bouhlel, too, had been on anti-psychotic medication.
Likewise, hate acts are not caused by mental illness but mental illness can provide a background that's receptive to hate activity. Extremist ideologies attract those who are mentally disturbed, Persaud suggests, because they are able to rationalise all their resentment arising from a warped sense of reality. Or, as neuroscientist Jack Pemment says, dangerous ideologies offer solutions a depressed mind may find valid for ending his pain.
As such, in India, there has always existed a reservoir of resentment miraculously held back from bursting out in fury. There is resentment because of the precarity of life millions are condemned to live. By demonising Muslims, Hindutva provides them a faux reason for rationalising their anger, and also a target to vent their fury upon.
Hatred is not a symptom of any mental disorder, clinical psychologist and professor Philip Yanos writes in Psychology Today. Hate is manufactured by a brand of politics which dehumanises a social group—the dehumanised ones are perceived as evil. Yet there is an impulse in humans to not kill persons labelled evil. Yanos points out, "Some disorders include symptoms that may be associated with diminished impulse control which could plausibly be related to reactive violent outbursts."
Chetan killed because his mental disorder likely weakened his impulse to control the hate inculcated in him by Hindutva, evident from his speech. But other factors can also weaken a person's impulse to control hate, such as being under the influence of alcohol or narcotics. It also weakens when a leader uses the word "termite" to describe 'infiltrators', a code name for Muslims. Or when a minister leads a crowd to chant: "Desh ke gaddaron ko, goli maaro saalon ko." Their rhetoric legitimises violence.
Chetan's speech on the train was dubbed as a rant. Yet what he spoke was no different from the ramblings of local Hindutva leaders. They, too, have spoken of packing off Muslims to Pakistan, or making their stay in India conditional to chanting "Ram, Ram", or accusing them of conspiring against their homeland.
Chetan shocks because his violence was directed against the three Muslims who had done him no harm. But was his act any different from, say, that of Monu Manesar, the man who allegedly killed two Muslims from Rajasthan on the suspicion that they were engaged in slaughtering cattle? 
Last week's riot in Nuh, Haryana, led to retaliatory violence in Gurugram, where a mosque's naib imam was killed. Did those who shot him dead act any differently from Chetan? The naib Imam had done no harm to his killers. Such examples abound, implicating just about every community.
We would be deceiving ourselves in case we think Chetan's killing spree was merely because of his mental illness, which might also be a condition waiting to be diagnosed among a substantial segment of Indians, given the increasing frequency with which hate-driven violence is perpetrated. Certainly, the impulse not to hurt has weakened over the last nine years. There is a post called Chief Statistician of India. We desperately need to have a Chief Psychiatrist of India, who could measure India's growing sickness.
The writer is a senior journalist
Send your feedback to mailbag@mid-day.com
The views expressed in this column are the individual's and don't represent those of the paper
"Exciting news! Mid-day is now on WhatsApp Channels

Subscribe today by clicking the link and stay updated with the latest news!"
Click here!