Throughout the day's play, every time an Indian bowler beat an Aussie batsman or appealed, there was a loud roar from the London crowd hoping it would be an Australian wicket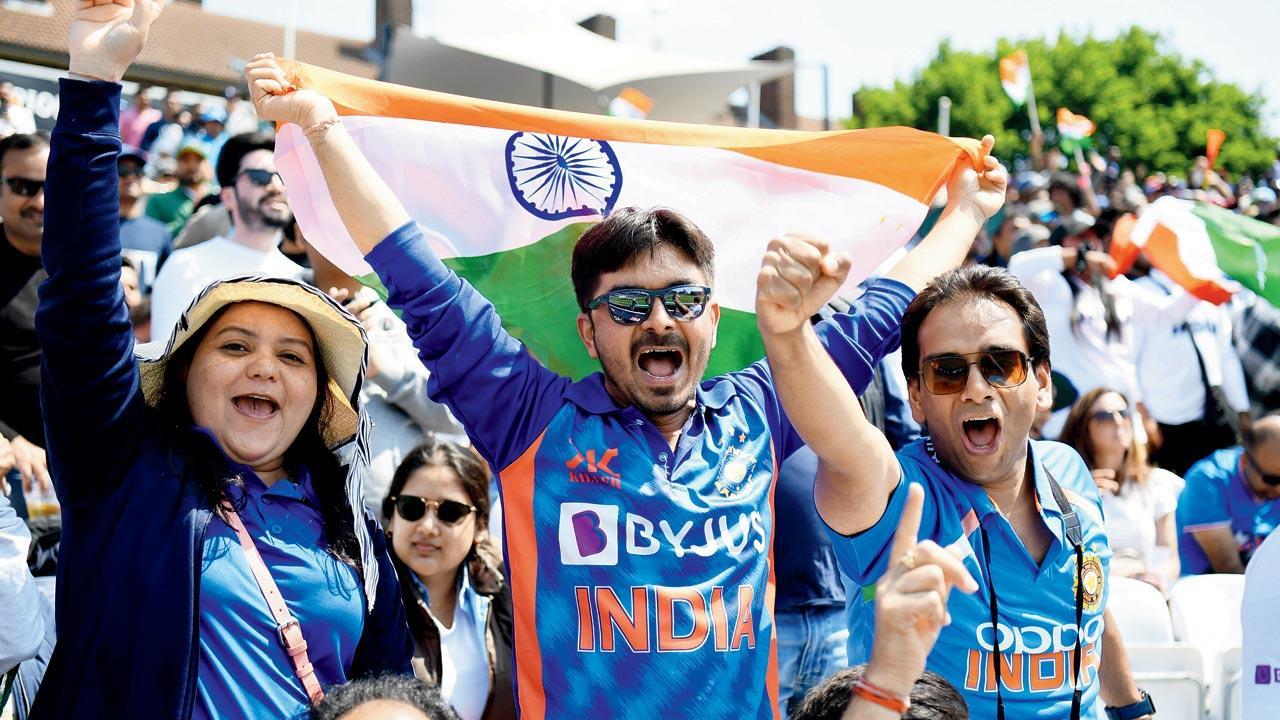 India fans during Day One of the ICC World Test Championship final against Australia at The Oval in London yesterday. Pic/Getty images
One of my favourite what ifs of history is to imagine what would have happened if, instead of British traders coming to India with a begging letter from Queen Elizabeth I to Emperor Akbar to let her subjects trade, the great Mughals had ventured west and conquered England.
That remains a what if, but the first day's play at The Oval gave ample proof of how India has conquered cricket.  True, we did not have Englishmen wearing dhotis and speaking Hindi, but The Oval was packed with Indians making me feel I was back at the Cricket Club of India (CCI) watching cricket.
ADVERTISEMENT
Roars from the crowd  
Even before I got to The Oval, a roar from the crowd told me India had won the toss. Throughout the day's play every time an Indian bowler beat an Aussie batsman or appealed, and they did that quite often in the pre-lunch session, there was a loud roar from the crowd hoping it would be an Australian wicket. 
The Australian fours hardly provoked a murmur. The only difference with the CCI, a difference that reminded me I was in England, was that nobody shouted "bowled" as Mohammed Shami ran up to bowl. In his case they did not need to as he did bowl Marnus Labuschagne, hitting his off stump in an excellent spell of bowling.
But other than that, it was hard to escape Indian power. It was evident from the moment you arrived at The Oval tube station. The walls on either side of the escalators were packed with advertisements by the State Bank of India.
To reflect India's economic power, they were also the effect of the IPL revolution on the field of play.  We did not see a spinner, Ravindra Jadeja, until 2.30 in the afternoon. For my generation of Indians brought up on Tiger Pataudi and Budhi Kunderan opening the bowling, and even Sunil Gavaskar having a bowl, just to take the shine off the ball for the spinners, this was indeed a different India.
True, the Indian pace attack did not put Australia to the sword, but in the first hour, when with the sky overcast in the way it can be in England, this was a pace attack fit to rank with the best in the world. 
India lacked the punch
The only problem was that, unlike the many products advertised by SBI, the Indian attack did not have much new to offer when the Australians, shortly before tea, went on the attack. The Indian bowlers could have taken some lessons from the SBI on how to market their bowling wares. The result was Australia cashed in.
Mihir Bose is an Indian-born writer and author based in the United Kingdom
Also Read: It's Aus versus us again
"Exciting news! Mid-day is now on WhatsApp Channels

Subscribe today by clicking the link and stay updated with the latest news!"
Click here! Do you practice ecotourism?