From personal photos and vintage vignettes to food and poetry, the surprise gifts this column brings remain warm and varied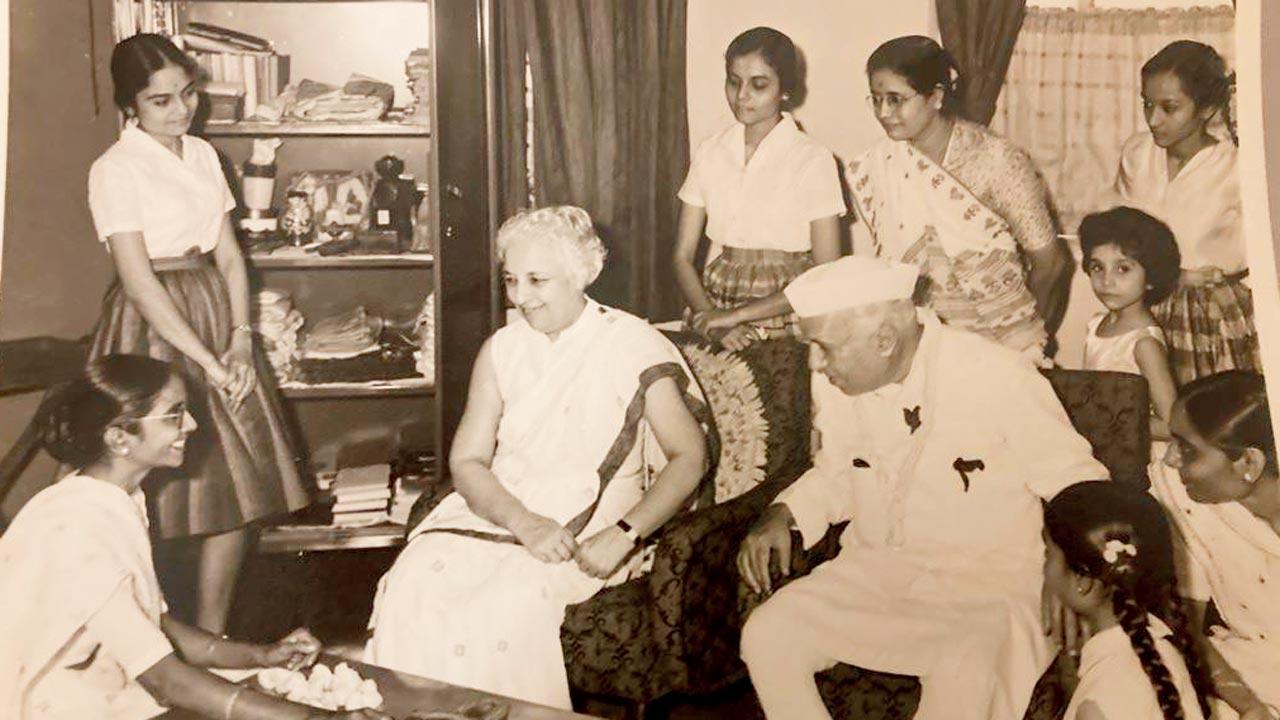 Gandhiji's disciple Manuben showing his hand-stitched slippers to Nehru and Vijaya Lakshmi Pandit

My head swirled in a floral haze from the response to last fortnight's piece on summer flowers about to fall soon to impending rain. The prettiest visuals of readers' favourite blossoms, besides those already printed on these pages, flooded my phone and mailbox. Treated to the sight of trees blooming outside their windows, I delightedly identified clusters of orange gulmohar, violet jacaranda and crepe myrtle—the glorious purplish Pride of India. 
Specific examples offered included the Burmese pink cassia outside PVM Gymkhana. Another told the tale of a copper pod behind the Doongerwadi (Towers of Silence) gate at Kemp's Corner—sprouting steadily luxuriant since it was planted in the 1970s by a sukharwala faithfully watering it as he stood there selling sandalwood every day.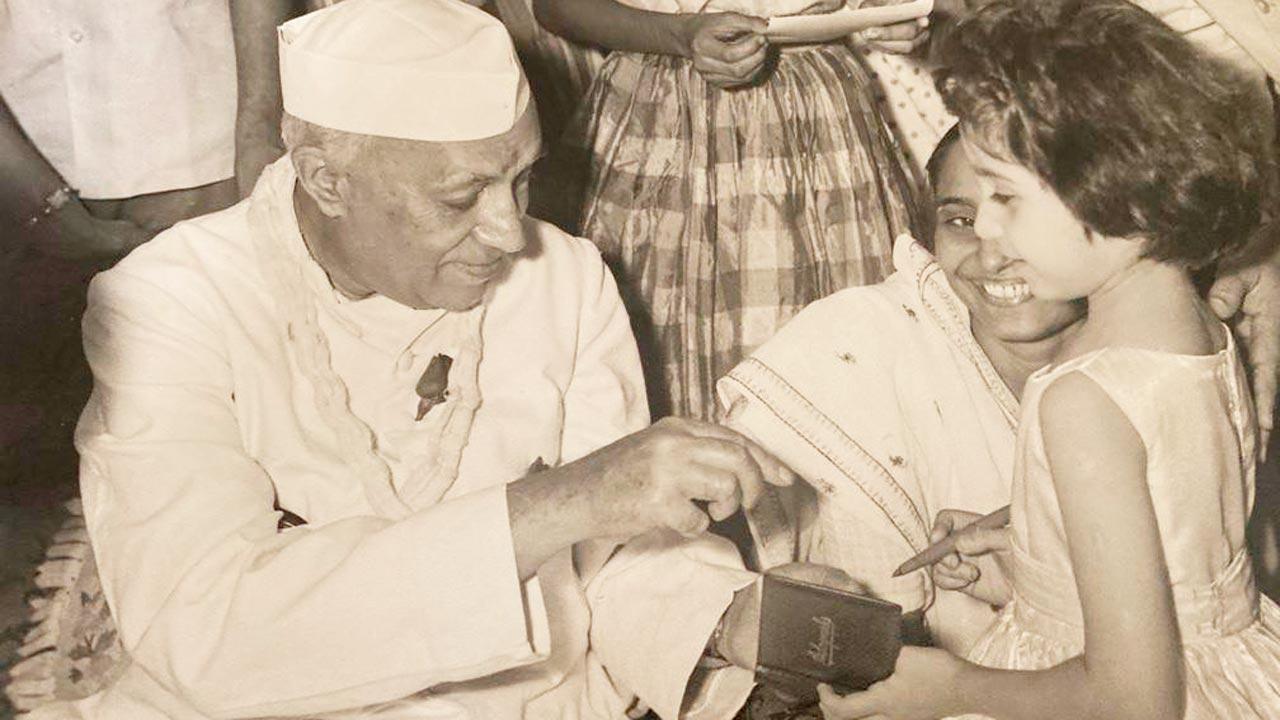 Young Kamal Dotiwalla requesting Nehru's autograph in 1963
The most gratifying reader reactions vitally go beyond mere commendation and congratulations. What they share back is always very welcome. Fresh learning for me is bestowed with quiet grace. Which is both the best compliment as well as complement, validating long hours of research. 
I'm especially blessed with Once Upon a City. It generates energies and synergies that knit close and reach far. Here are some stories behind engaging unpublished photos and other gifts this column has particularly pleasured me with.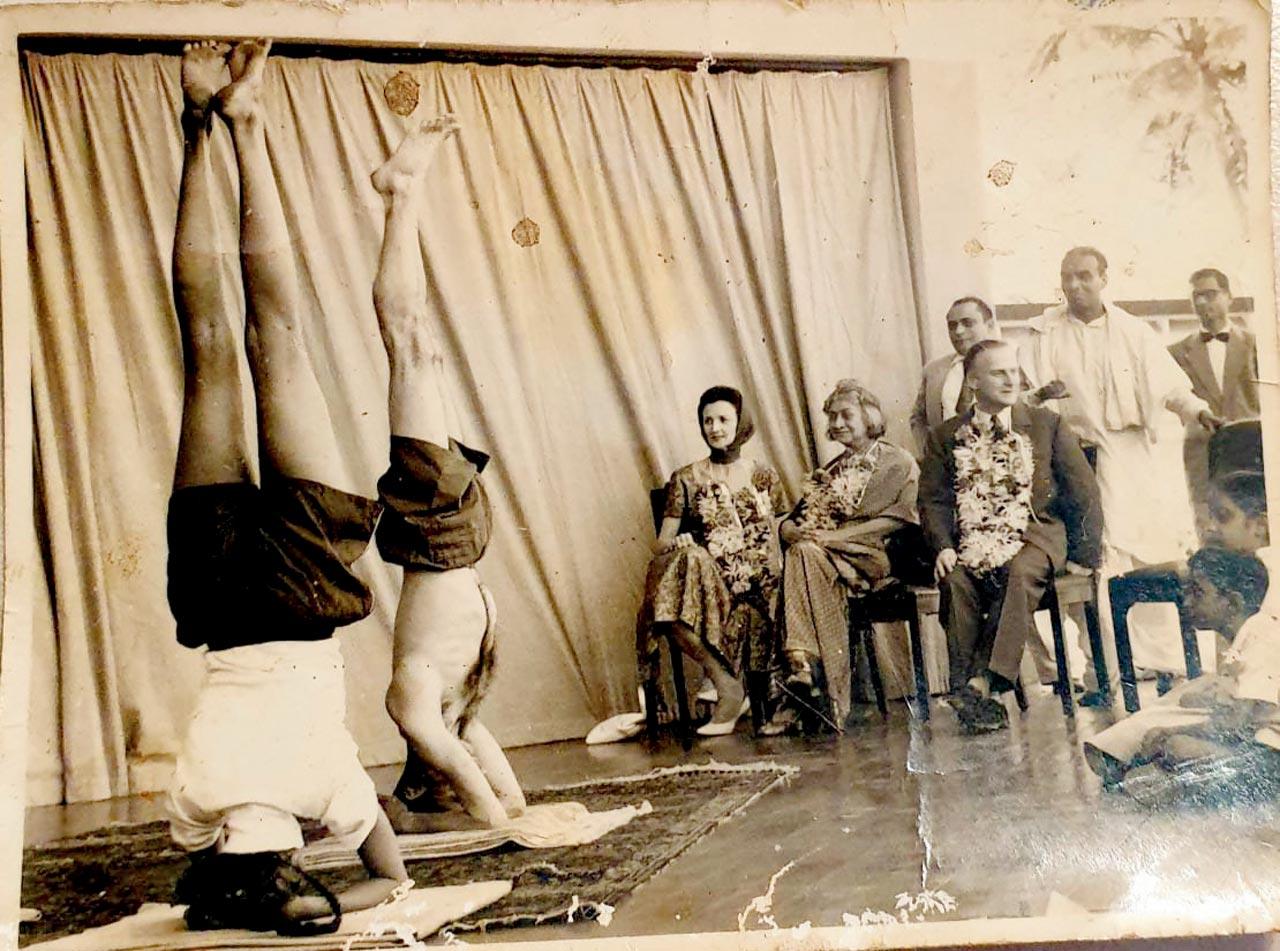 Yehudi Menuhin and wife Diana watching a yoga demonstration at Bhulabhai Desai Institute in 1962, with BKS Iyengar seen behind his violinist pupil
On featuring the Bhulabhai Desai Institute, the mid-20th century crucible of culture at Hasman bungalow on Warden Road, I received a wonderful image from Soonoo Taraporewala. It shows violinist maestro Yehudi Menuhin and his wife Diana appreciating a yoga session by BKS Iyengar's pupils. "From the 1950s, my parents went to yoga classes held by Guruji Iyengar at Hasman, on the terrace stage where musicians and dancers would teach, and artists like Gaitonde and Ara had studios," Soonoo wrote in an attached note. "My little brother and I went along every Saturday afternoon. While our parents attended class, we ran around playing. Guruji taught Mehuhin yoga and became internationally renowned. In early 1962, the Menuhins visited Mumbai. He performed a concert at Birla Theatre and watched this class at the institute. Various asanas were demonstrated by students of Guruji, among them his daughter Gita who later became an eminent yoga teacher. In this shot the Menuhins are sitting with Guruji standing behind. My brother and I are on the floor on the extreme right." 
Another photo has Menuhin accepting a statuette in the compound. "It could have been Krishna or Shiva. I remember him saying, 'Beautiful, beautiful,'" Soonoo said. The institute was replaced by Akash Ganga building, where the National Centre for the Performing Arts was set up before its theatres were constructed at Nariman Point.
Uttara Parikh modelling a silk saree at the Dior fashion show on the BARC lawns in 1961
After recently explaining the origin of an equally iconic institution —the birthplace of the Colaba-tipping TIFR was Kenilworth, the Peddar Road home of physicist Homi Bhabha's aunt—Uttara Parikh sent me a striking picture. In her Government Law College days, she was selected to stylishly sashay down a ramp erected on TIFR's open seaside lawn. In 1961, the BARC management permitted this amazing outdoor locale as the venue of an exclusive fashion event partnered with the Parisian house of Dior. 
"Under a half moon on a breezy April evening 62 years ago, 'The Splendour that is India' displayed special silks to immense applause from the elite audience," she recalled. "I was a saree model. The Dior girls wearing the Western Wear Collection were deeply impressed by the colour, pattern and texture of silk and cotton fabrics the Indians wore. Their professionalism and efficiency impressed us."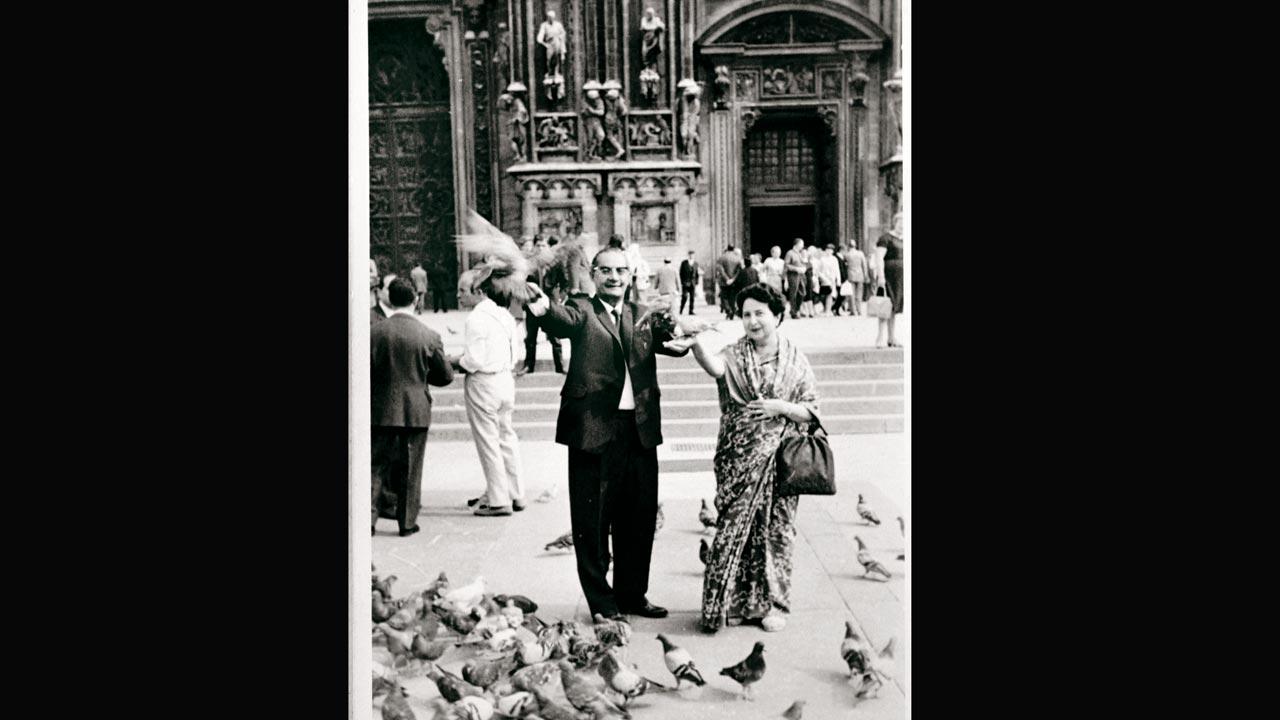 AC Patel and wife Khorshed feeding pigeons at the Duomo Cathedral, Milan, 1966
Uttara added a poignant story from when she was manager of the Taj Art Gallery in the mid-1960s before she joined Air India. "Mr Bhabha was an art connoisseur and collector for BARC which, along with Air India, was among the first corporate art collectors. As he was also an artist, his pencil drawings are in the Air India Collection. A regular at the Taj gallery, Mr Bhabha attended nearly every weekly exhibition. In January 1966, he asked when a certain artist would be exhibiting. I told him it was just two weeks after. 'Good, I'm going to Geneva tonight but will be back in a few days. See you then,' he said. Tragically, that was not to be. His flight that night crashed. I was devastated at the news."
My birth anniversary tribute to Maniba Nanavati prompted Kamal Panthaky to pass on charming childhood photos of herself (then Kamal Dotiwalla) asking Nehru for an autograph when he came to her building, Chaman Chambers near Metro Cinema. "Gandhiji's ashram disciple Manuben was my neighbour Sanyuktaben Shah's sister. In 1963, Pandit Nehru and Vijaya Lakshmi Pandit went to their house to admire Gandhiji's belongings stored in a Godrej senate cupboard. At Nehru's request, they were donated to Mani Bhavan. My mother insisted on having my hair done at a salon for the occasion, something I hated as a kid. Panditji kept smiling at me. We found out he'd noted that I was the only one who properly thanked him for an autograph. He mentioned this to Manuben, who told my mom!"  
           
Ordinary objects can be keys opening doors to discovery. A yellowed visiting card Kashmira Master Jethwa gave me led to the revelation of two Baroda-born "talkie specialist" brothers helming showbiz at the Opera House before the Gondal royals. Her grand-uncle's name, AC Patel, crowned the logo of Ideal Pictures, the company whose director he was at Royal Opera House. The legendary Maurice Chevalier's signature was emblazoned on the reverse of the card. 
Ardeshir (Addie) Cawasji Patel was given Opera House by his older brother Maneck, Kashmira's maternal grandfather, the champion horse trainer MC Patel. At 17, Maneck had worked as a projectionist before managing a Kalbadevi firm distributing dramatic titles like Exploits of Ellen and Perils of Pauline. Addie was adept at shooting short news reels. Inaugurated by King George V in 1911, the Royal Opera House was with Addie by 1924. Amusingly, Kashmira recalled Raj Kapoor pleading with Addie to convince his father Prithviraj to allow him to join the industry. "Raj would clutch him, begging, 'Chacha, pitaji ko bolo na, mujhe filmon mein aney do'." 
Columns can rekindle friendships after decades. When Khetwadi resident Meenaxi Rele went through this series' 2017 article on Borivli, she recognised Bhupen Dalal with whom she sailed aboard the SS Chusan in 1958. Named after a small Chinese island, that P&O cruise liner was dubbed The Happy Ship. Designed for the British regeneration of the Indian and Far East service, Chusan was considered a long-awaited replacement for RMS Viceroy of India, sunk in World War II. 
"We hadn't met since the cruise. After 64 years we speak often. COVID did not let us do so, but we should meet personally now," he said. I enjoyed wonderful conversations with each of the happily reunited friends, plus a generous supply of undhiyu superbly cooked by Rekhaben, Bhupenbhai's wife. 
The gift of food makes the warmest connect. Because bookshops were lockdown casualties, I got acquainted with people interested in Once Upon a City's book edition. Instead of buyers staying anonymous, I could put faces to people coming home for signed copies. Weeks after she picked up a stack of my books, Aditi Parikh of Worli unexpectedly delivered delicious homemade til and nolen gur chikki. And how can I forget the divine flavoured phirni Soraya Postel sent kindly even after I bothered her to take me exploring the length and breadth of Club Road, Byculla?    
As touching is the honour to have interviewees allow a look at their hidden talents. As Amrita Chhabria did, after she and her father Srichand narrated the history of the Apollo Bunder-fronting Sea Palace Hotel. The poems she shyly showed me, jotted from the hotel patio, lyrically observed seagulls circling in the crisp morning air. Her verse resonated alternately lacing a sharp worldview with fragile rhythm and romance. 
     
Writers are unsung therapists. With them rests the privilege and power of choosing words to heal or hurt, to inform and reform or sting and stigmatise. Resulting from what we invest time and trouble finding out, the decisions are our responsibility. To be rewarded by a stimulating exchange of ideas and inferences is pure treasure. 
Speaking for those of this tribe who try to respect the trust reposed in us: Thank you gentle reader, for your care to share. 
Author-publisher Meher Marfatia writes fortnightly on everything that makes her love Mumbai and adore Bombay. You can reach her at meher.marfatia@mid-day.com/www.meher marfatia.com