A coach has a choice of preparing a player for every form of the game by building a solid technique like Virat Kohli or having a batsman imitate the volatile T20-hitting of Suryakumar Yadav; selectors face dilemma too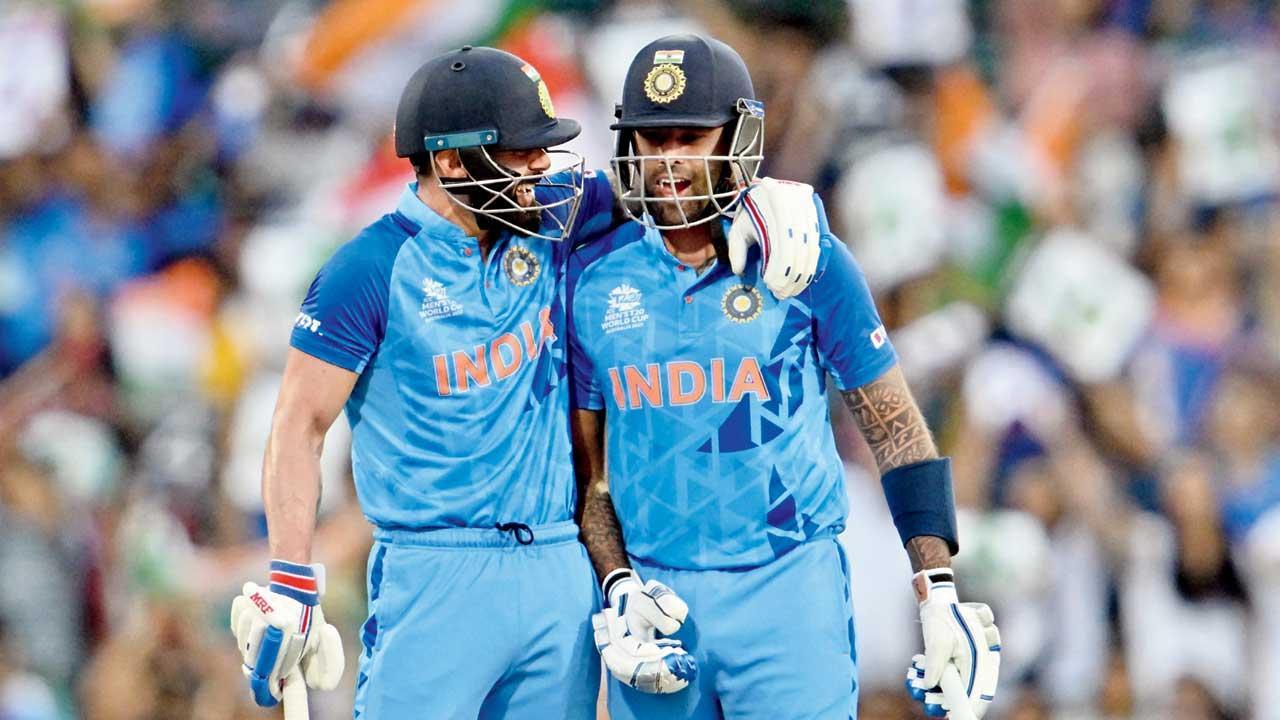 India's Virat Kohli (left) with Suryakumar Yadav during a T20 World Cup match against The Netherlands at the Sydney Cricket Ground in 2022. Pic/Getty Images

There's no point in bemoaning the fact that the game is not like it was previously. If T20 is to shape the future then what lessons can cricket learn so that the game continues to grow in directions that weren't previously visualised?
In particular, what effect will this phenomenon have on players, selectors, curators and even the laws?
ADVERTISEMENT
The England team have dramatically shown by displaying an adventurous spirit under skipper Ben Stokes that Test cricket can still be a turnstile winner. There will be days when England's attacking attitude falls flat on its face but boy when it succeeds (as it has) the opposition faces a stiff challenge.
It'll be interesting to see if England's positive Test attitude flourishes in county cricket.
Aggressive approach
 Will both batsmen and bowlers display a more aggressive approach to scoring runs and taking wickets?
It's likely that county players who possess the ability to adapt will have the most success and thereby put themselves in line for a call to higher duty. For a long time the county game has needed to change its safety-first attitude to one of genuinely trying to win each match.
It would be good for cricket if a positive approach continued to flow through to the game in general.
Up-and-coming players are already focused on whether to slant their future more towards a contract in T20 rather than one in Test cricket. A coach has a choice of whether to prepare a player for every form of the game by building a solid technique like Virat Kohli or having a player imitate the volatile T20 hitting of Suryakumar Yadav. This is a challenging choice.
Selectors are faced with a dilemma in choosing players. If in future, many cricketers are chosen for the Test side straight from a T20 league, will their selection encourage other players to display more aggression?
Will players like David Warner and Suryakumar be encouraged to chase Test selection on the basis of their T20 success?
This makes selection more difficult than in the past. Adding to that difficulty, international players rarely perform in first-class cricket these days, therefore it's more difficult to predict how a young cricketer might handle promotion to a higher level. 
Selectors need to be adept at visualising a player's coping mechanism if they were to reach international level.  
Pitch problems
Then there is a decision on what pitches to prepare for the various forms of the game. Unfortunately, this crucial aspect is not always left solely to the best equipped people - a curator or groundsman. However, wicket-preparation should always prioritise pitches that show cricket at its best when the game is a genuine contest between bat and ball.
Various forms of the game also need consideration when laws are framed. The ludicrous combination of improved bats and shorter boundaries that pervade the T20 game is not the ideal combination for providing a competitive cricket atmosphere.
As England have shown, T20 can positively affect other forms of the game so careful planning for the future is crucial.
Bowlers have had to handle an all-out attacking approach from batting sides in T20 and to a lesser extent in one-day cricket. England are now cleverly making this a factor in Test cricket. Ideally, bowlers will be encouraged to enhance their wicket-taking skills rather than strive purely for an improvement in containment.
Will non-English Test batsmen be encouraged to display their aggressive skills or will the advice still be to mix a solid defence with the ability to play selected shots?
Then, there is programming. Will administrators continue to program more T20 cricket at the expense of the longer game? This is  a distinct possibility as first-class cricket is an expensive exercise which brings little in return apart from the advancement of young players.
Opportunity for youth
These are all valid questions that require well thought out answers, including the crucial input of current players. However, it should never be forgotten that young players deserve the opportunity—if they choose—to experience Test cricket.