Along with that primal scream of the Bhoota Kola dancer, which is also the cry for justice from the tribals—and Aakrosh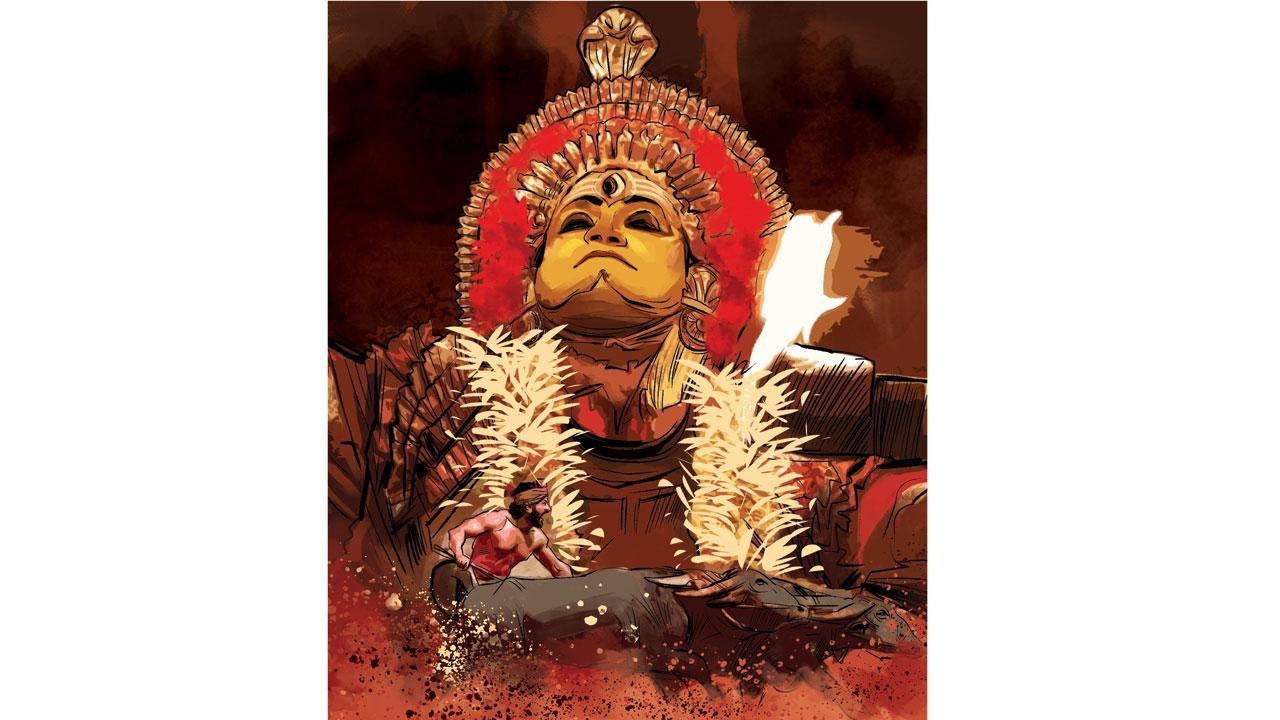 Illustration/Uday Mohite

India lives in several centuries at the same time, as Shyam Benegal once said. Director-actor-writer Rishab Shetty's Kantara (Mystical Forest, Kannada), is a strong mainstream film, yet explores the vital jal-jangal-jameen theme, and how our present is deeply informed by the past, faith and tradition. It is currently still in cinemas, including dubbed in Hindi, and in English subtitled versions.
It is fascinating how the varied strands of mainstream South Indian cinema contrast with Bollywood. If SS Rajamouli's Baahubali and RRR (Telugu) are a reference point in terms of imagination, rootedness, VFX, scale and box office, then Mani Ratnam's Ponniyin Selvan PS-1 (Tamil) showed how you can make compelling historical fiction without overwhelming VFX. In Kannada cinema, Prashanth Neel's KGF 1 and 2 are more in Baahubali/RRR mode, emphasising high-octane action, cinematography and VFX. Rakshit Shetty's Ulidavaru Kandanthe (As Seen by the Rest, Kannada) was fabulous—a mainstream crime drama set in a fishing village, rooted, yet ultra cool in execution, and Raj B Shetty's Garuda Gamana Vrishabha Vahana (Kannada), a crime thriller deeply rooted in the epics and local small town detail, was excellent. Rishab Shetty's Kantara is closer in spirit to the last two, more interested in a rooted story, than flash. Bollywood, obsessed with stars, is less interested in the story, our epics or ordinary lives around us. Rishab Shetty has even courageously produced diverse indie films Natesh Hegde's Pingyao festival winner Pedro and Jaishankar Aryar's Busan festival winner Shivamma.
ADVERTISEMENT
At the heart of Kantara is the question: to whom do the forests belong? To the tribals who live in them, the government that creates forest reserves by evicting tribals, or landlords whose ancestors gave away the lands to gods, and reclaim them today? The story starts in 1847, when a king gave up his lands for a stone deity that brings him peace. In 1970, when a descendant of the king tried to legally grab the family lands, he died on the steps of the court. Cut to today, Shiva (Rishab Shetty), an indigenous forest dweller, who confronts both the forest officer Murali (Kishore Kumar G) assigned to create a forest reserve by evicting the tribals, and landlord Devendra (Achyuth Kumar), who tries to grab ancestral forest land. Despite being full-on mainstream with action, romance, song, dance and broad comedy, the story is layered, and draws from local faith and rituals. Shiva's father, a Bhoota Kola dance performer in a ritual to appease local guardian deities Panjurli and Guliga, disappears into the forest, never to return. Shiva, who resists becoming a Bhoota Kola dancer, is a Kambala buffalo race champion, who enjoys boar hunts and drinking, but has his heart in the right place. Warning: spoilers ahead. There's a spectacular and mysterious climax, in which divine intervention protects the righteous. The last scene is remarkable, in which two key protagonists dance an exquisite dance in the forest in full traditional ritual gear that lingers with you long after. Along with that primal scream of the Bhoota Kola dancer, which is also the cry for justice from the tribals—and Aakrosh.
Writer-director Shetty weaves many instances where destiny, divinities and the people's faith can also make Indian laws seem like Christmas decorations—as when the tree crushes the forest officer's jeep, or in the climax; he also references Lord Vishnu's varaha (boar) avatar in the Varaha roopam song. His skill also lies in making the Bhoota kola dancers and deities seem not just exotica, but part of a powerful living faith. He himself goes into masala hero mode, with politically incorrect, crude machismo, yet with a character arc, destined for greatness. Kishore Kumar G is good as the tough forest officer; Sapthami Gowda is OK as a conflicted forest official and Shiva's lover Leela. Arvind S Kashyap's cinematography is marvelously evocative, free of drone-desperation. Editor Pratheek Shetty could have made a tauter middle portion at 2 hours 28 minutes, but doubtless the film holds. B Ajaneesh Loknath's music brilliantly combines ritual chants, the nadaswaram and rock music, as in the Varaha roopam song—very cool. Sound designer Rajakrishnan MR is meticulous. Kudos to producer Vijay Kiragandur (and Chaluve Gowda) of Hombale Films (which also produced the KGF films). The women's team includes costume designer Pragathi Shetty.
Meenakshi Shedde is India and South Asia Delegate to the Berlin International Film Festival, National Award-winning critic, curator to festivals worldwide and journalist. 
Reach her at meenakshi.shedde@mid-day.com