While a Sachin Tendulkar statue being erected at Wankhede Stadium to mark his 50th birthday is good, MCA should also use this year to honour the late Ajit Wadekar for his 1973 deeds for Mumbai and India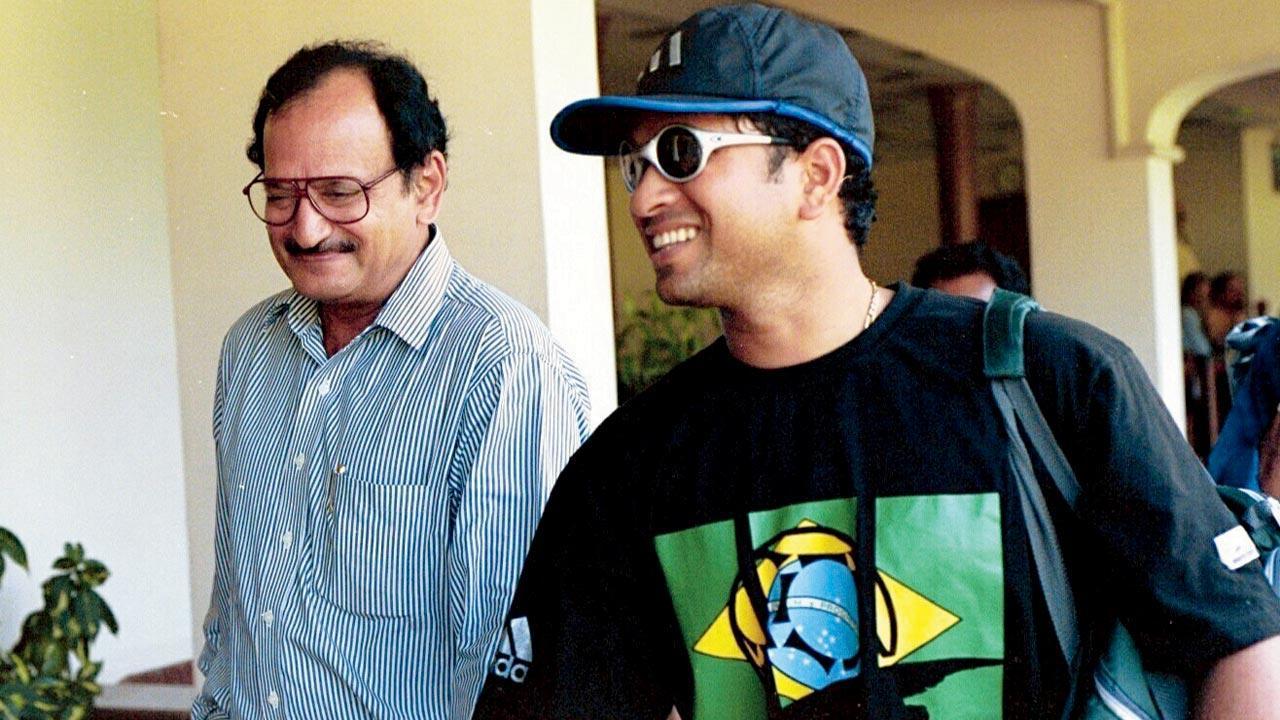 The late Ajit Wadekar, who was also the Mumbai Cricket Association vice-president for a while, with Sachin Tendulkar in 1999. Mid-day Archives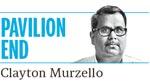 The Mumbai Cricket Association's (MCA) decision to erect a life size statue to honour Sachin Tendulkar as a gift for his 50th birthday only underlines the fact that a half-century is auspicious and must be celebrated in a special way.
The MCA intends to unveil the statue during the ICC ODI World Cup later in the year, and this will be great for spectators visiting the Wankhede Stadium. Even if you can't sit in the Sachin Tendulkar Stand to watch a game, you can take a picture of yourself with the Tendulkar piece of art in the background.
ADVERTISEMENT
Fans at the Melbourne Cricket Ground in Australia enjoy encountering the statues of Shane Warne and Dennis Lillee. Likewise, the Gabba in Brisbane now has an Allan Border statue.
Sachin's association with the Wankhede Stadium runs deep. It was here where he made his debut in first-class cricket and embellished it with a hundred against Gujarat in 1988. Less than a year later, he lit up the ground with a hundred on his Irani Cup debut against Delhi. It was this game that earned him selection for his maiden Test tour—to Pakistan in 1989.
Also Read: Life-size statue of Sachin Tendulkar to be sculpted at Wankhede stadium in Mumbai: All you need to know
Although Tendulkar would have wished for more Test hundreds on his home ground (one in 11 Wankhede Tests—against Sri Lanka in 1997-98), he'd look back happily on some invaluable 50-plus scores and leading India to victory in the 1996 Titan Cup, beating the formidable South Africans in the final at Wankhede. That triumph of course will not come near the fairy tale-like World Cup triumph in 2011, when former champions Sri Lanka were conquered.
The Tendulkar statue will be a good addition to the honours dished out to the city's cricketing greats all over the ground - the Vinoo Mankad and Polly Umrigar gates, the Sunil Gavaskar, Vijay Merchant, Sachin Tendulkar and Dilip Vengsarkar stands, and the Vijay Manjrekar dressing rooms.
However, some kind of honour for Ajit Wadekar is long due. Maybe the MCA administrators have something in mind, but no official announcement has been made. Why Wadekar? Because he was a highly successful Mumbai and India batsman and captain. Veteran statistician Sudhir Vaidya's book on Mumbai in Ranji Trophy cricket reveals that Wadekar scored 4,388 runs in 73 games at 58.51 in the national championships and captained Mumbai to four Ranji Trophy titles across 1968-69 and 1972-73 (he didn't lead the team in the victorious 1970-71 final as he was in the West Indies).
Mumbai take great pride in the fact that they were Ranji Trophy champions for 15 years in a row and it mustn't be forgotten that Wadekar played a huge part in that golden era. He also led the kings of domestic cricket to three Irani Cup titles.
The MCA may be reminded that this is as good a year as any to honour Wadekar. It's 50 years for his series-winning captaincy against Tony Lewis's English tourists. It was a well-contested series, with Wadekar's team coming back after losing the first Test at New Delhi. The 2-1 series win completed a hat-trick of victories for the Wadekar-led Indian team, after West Indies and England were beaten on their home turf in 1971. West Indies were in transition, but England were the best side in the world, having beaten Australia Down Under in 1970-71. And apart from the challenge of combating a fine side, Wadekar's task was to outwit a shrewd opposition captain in Ray Illingworth.
The year 1973 was also when Mumbai, under Wadekar's leadership, won the Ranji Trophy for the 15th time on the bounce.
Dilip Sardesai too has contributed similarly, although he didn't get many opportunities as captain of Mumbai. These two Mumbai heroes shouldn't be forgotten. Sardesai was outspoken, but he always had great respect for players who didn't get a chance to wear the lion-crested Mumbai cap. Often he would stress that Mumbai had a great pool of players and the reserves were as good, if not better, than the playing XI.
Mumbai has been blessed with good, visionary administrators, who were practical. I remember the late Madhav Mantri telling me how he supported the decision to name the gates after Mankad and Umrigar while these two legendary cricketers were alive.
Mantri, who passed away in 2014, deserves to be honoured in some way at the ground too. He led Mumbai admirably in the Ranji Trophy and was a mentor to several players apart from his nephew Gavaskar. He was also president of the MCA. I have often wondered how Mumbai batsmen felt while playing at the Wankhede Stadium with Mantri watching from close range at his customary seat in the first row of the MCA Managing Committee box. I asked Shishir Hattangadi, who played many a fine innings for the city while opening the batting, and he said he didn't remember a game at Wankhede Stadium where Mantri wasn't present. "It was inspiring to bat in front of a person so important and respected in the Mumbai cricket ecosystem. A pat on the back from him was a validation that you are on the right track and you couldn't help noticing him applauding as the players walked back to the pavilion," Hattangadi said. It is important for the current administrators to find ways to keep honouring the greats. The Tendulkar statue idea is good news. Now let's hear some more in the remainder of the year.
mid-day's group sports editor Clayton Murzello is a purist with an open stance. He tweets @ClaytonMurzello
Send your feedback to mailbag@mid-day.com
The views expressed in this column are the individual's and don't represent those of the paper