Victory in Karnataka had Congress offices erupting with the slogan of Jai Bajrang Bali, testifying to the party's successful forestalling of BJP from appropriating Lord Hanuman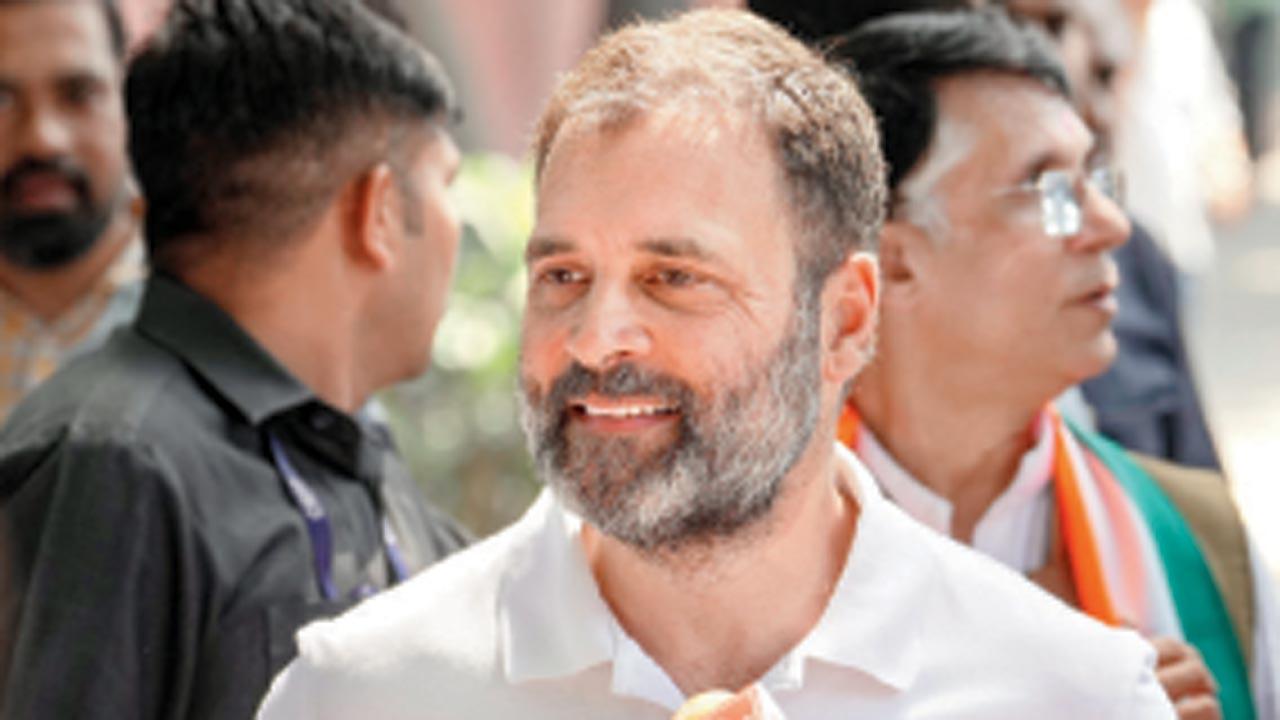 Congress leader Rahul Gandhi addresses the media after the results of the Karnataka Assembly polls were declared, in New Delhi, on May 13. Pic/PTI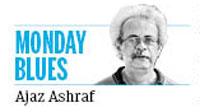 On May 13, as the results of the Karnataka Assembly elections began to trickle in, I was exchanging WhatsApp messages with Kannada writer Vivek Shanbhag, whose last novel Ghachar Ghochar brilliantly spotlights India's post-liberalisation descent into darkness. "Hopefully, the results in Karnataka will be a sign of change happening in the country. All divisive forces were applied in excess before and during this election by the Bharatiya Janata Party. This is why even a single seat less for the BJP than what it got in 2018 means a strong message," Shanbhag wrote.
Karnataka, lately, became India's heart of darkness. Its people bristled over hijab, halal meat, love jihad, religious conversion, cow slaughter, not to forget Tipu Sultan and reservation for Muslims. Karnataka's darkness thickened as Prime Minister Narendra Modi pounced upon the Congress's poll promise to ban the Bajrang Dal, a vigilante group affiliated to the Rashtriya Swayamsevak Sangh, to dub the party anti-Hindu and try to consolidate Hindus behind the BJP.
ADVERTISEMENT
But with every passing hour on May 13, Shanbhag's "strong message" became louder and louder as the BJP could win only 65 seats, down from the 104 seats it won in 2018. Five years ago, Shanbhag had said to me, "[BS] Yediyurappa… does not make divisive comments… People have moved to the BJP because it was moderate in its policies when it came to power in 2008." On May 13, one of Shanbhag's messages was: Did you know that Yediyurappa and his ministers had even celebrated Tipu?
Also Read: Celebrities must clamp down on misuse of image
With Basavaraj Bommai replacing Yediyurappa as the chief minister in July 2021, the BJP pressed hard on the communal pedal, hoping to remake Karnataka in Hindutva's darkled imagination. Indeed, the strong message inherent in the May 13 verdict include the glow of moderation having a greater appeal than the fire of extremism; the light of Hinduism dispelling the darkness of Hindutva; and the politics of polarisation failing to become a camouflage for the Bommai government's corruption.
One dimension of the strong message most people are uncertain about is Rahul Gandhi's contribution to the triumph of the Congress, which won 135 seats, the second-highest tally for any party since 1989, when it bagged 178 seats. It is bewildering why he is blamed for every defeat but never credited for his party's victory, in sharp contrast to Modi, who, even as the BJP slumped in Karnataka, was projected through his polarising tactics to have saved it from an even more ignominious defeat.
Yet, there can be no denying that in making the Bajrang Dal a hot-button issue and still losing Karnataka, Modi has been ideologically defeated by Gandhi, for it was he who had insisted on the proposal to ban the vigilante group, confusing and scaring his party leaders. Karnataka's moderate sensibility required articulation in order for the forces of moderation to have a unity of purpose in their battle against Hindutva, which, despite the defeat, saw its vote-share shrink by just 0.22 per cent from the 36.22 per cent in 2018. Indeed, the Hindu Right has not been uprooted. But Karnataka shows that pushback against it is possible, an echo of how Democrats rallied against the white supremacist supporters of Donald Trump in the US.
Gandhi has acquired an ideological distinctiveness, a far cry from the days he projected himself as a janeu-wearing Brahmin, who went visiting, like a born-again Hindu, Karnataka's temples and mutts in 2018, prompting Shanbhag to dub him as foolish. "He should understand that he cannot counter the BJP with the same narrative," said Shanbhag, who thinks the Congress "still does not articulate and communicate its ideology as clearly as the BJP."
Perhaps the 21th century version of the Congress ideology is still a work in progress. As is also the political persona of Gandhi, whose makeover was forged through his 3,500-km walkathon. He has been sharply attacking the RSS-BJP for dividing India, for its twisted idea of Hinduism, and for invoking the symbol of love to battle the hatred the Hindutva brigade propagates.
No less significantly, he has come out in favour of a caste census, anathema to the upper castes, thus suggesting he is visualising the party's future social base without them. This aligns the Congress with the caste-based social justice ideology of several regional outfits which are opposed to the BJP. Yet ideas such as doles for the educated unemployed or free travel for women in public transport are caste-neutral and inclusive.
Gandhi's ideological commitment will now be on test. Will the Congress government in Karnataka ban the Bajrang Dal without accounting for the repercussions it might have in north India? Will it lift the ban on hijab? Will it release the report of the caste census the Siddaramaiah government conducted in Karnataka in 2015 but chose to sit on, afraid of annoying dominant castes, or order a fresh one, likely to be seen as dilatory tactics? What will be Gandhi's position on the escalating controversy over the Gyanvapi mosque?
With Congress offices erupting, on May 13, with the slogan of Jai Bajrang Bali in Karnataka, Lord Hanuman is one Hindu deity Gandhi forestalled Modi from appropriating. For this and more, Gandhi deserves credit.
The writer is a senior journalist
Send your feedback to mailbag@mid-day.com
The views expressed in this column are the individual's and don't represent those of the paper