K Satyamurthy, who passed away last week, was a prominent member of Mumbai's cricket fraternity. His silent work made him part of an unheralded group, but he was much-revered by those who he mentored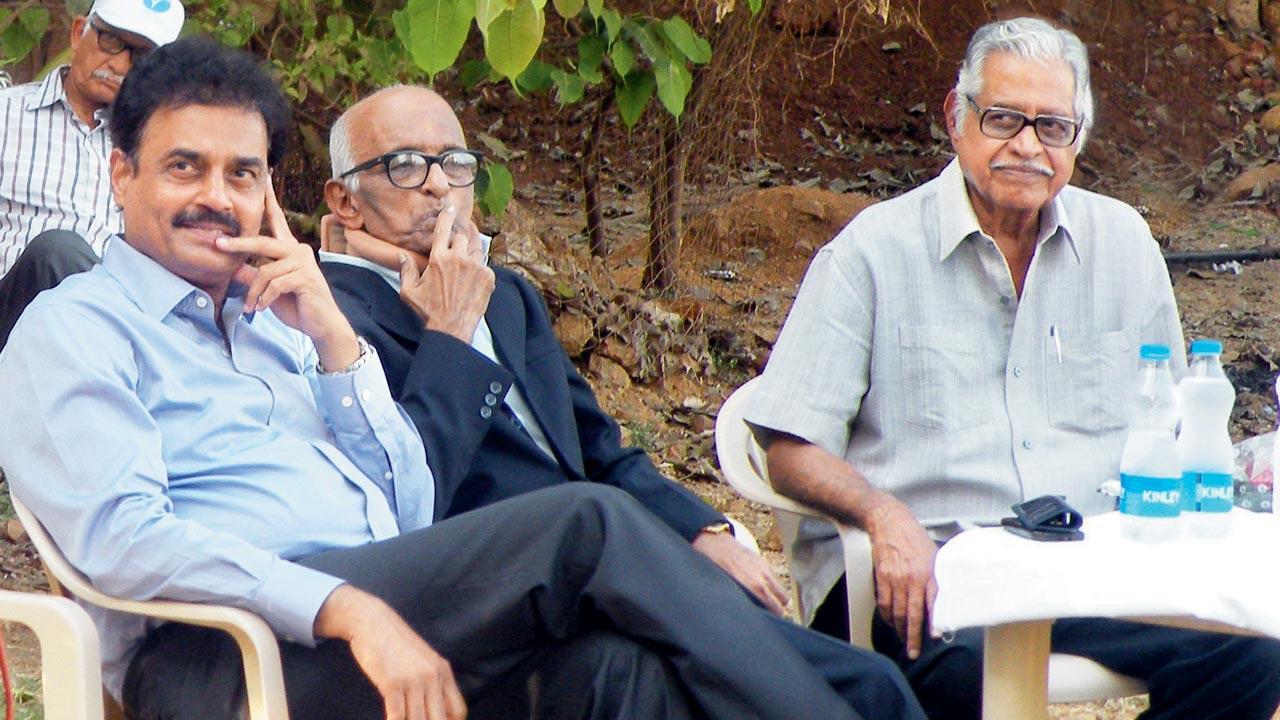 K Satyamurthy (extreme right), Madhav Mantri and Dilip Vengsarkar during a function at Dadkar Maidan, Matunga, on March 14, 2014. Pic/Uday Devrukhkar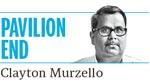 For city basketball lovers, the Ramu Memorial tournament had to be part of any talk revolving around the Indian Gymkhana. And vice versa.
In the case of cricket, conversations within the fraternity about the Matunga institution would rarely be complete without the mention of K Satyamurthy. It was like talking about the glory days of Dadar Union Sporting Club and not bringing up the late Vasoo Paranjape in the discussion. 
ADVERTISEMENT
Incidentally, Paranjape and Satya (as people liked to call him) were thick friends and it was Vasoo's wife Lalita who informed me of Satya's death on May 31 at 86.
"Vasoo and Satya were very close friends right from the time they were coached by Vajifdar Sir at the LR Tairsee nets. They played their club cricket together," said Lalita.
Satya was Indian Gymkhana's Mr Cricket and deserved the lifetime achievement award bestowed on him in 2015.
In a souvenir to mark the occasion, the Gymkhana's president Jayyannt Lapsiaa wrote: "Cricket has been his [Satya's] first and last love. Testimony to this is the fact that he got married to this wonderful game at a very young age, in short, it has been a 'child marriage' of sorts. No wonder, he continues to be dutifully wedded to cricket and no one else! Breaking many hearts in the process!"
All-rounder was an aptly used word by Lapsiaa to describe Satya. He was an integral part of the Indian Gymkhana cricket team in the 1960s and 1970s. It was an era in which the club figured in the senior division of the Kanga League. Satya took great pride in often captaining the side. He had an eye for talent and was happy to let young players into the Gymkhana set up. In later years, when his cricketing days ended, he managed things from the sidelines. He would never tire of talking about how first-class players like Suresh Shastri (Rajasthan) and Avadhoot Zarapkar (Mumbai) took their first steps at the Gymkhana. 
Left-arm spinner Shastri told me on Monday how he was included in the team for the Purshottam Shield as a 12-year-old in 1968. The Gymkhana's opponents were New Hind SC for whom famed coach Ramakant Achrekar played. It was after this match that Achrekar started his coaching journey, offering to coach Shastri's school Dayanand Balak for free. Satya's interest in Shastri's career caused him to watch his Harris Shield and Giles Shield matches. "When there was a break, Satya would call me aside and advise me on how to bowl at a particular batsman and what field placements I should have," said Shastri.
Indian Gymkhana had this great tradition of inviting the Tamil Nadu  Cricket Association Colts team to play a series of matches in Mumbai during the summer. Shastri recalled how one of the visitors' batsmen—Lawrence Edmonds—scored big runs against all teams on one of their Mumbai tours. "Two days before the TNCA Colts game against our Gymkhana, Satya suggested that our pacer VR Vishwanathan bowl a bouncer to Edmonds. We would have a square leg in place to grab the hook. We got Edmonds out through that strategy. Satya was an intelligent captain who would bring me on first change and give me a hard 
ball," revealed Shastri.
Zarapkar, like Shastri, joined the Gymkhana ranks while in school. The Kolhapur-based former off-spinner told me on Monday: "I always looked at Satya and his band of cricketers in high esteem. He was very friendly, humble and dignified. He was ever ready to help, guide and mentor 
young cricketers. 
"I made it a point to visit Indian Gymkhana in the evenings and would meet Satya, Rajan Bala [cricket writer], sometimes Vasoo, PK 'Joe' Kamat and others. Those evenings were filled with cricket anecdotes and knowledge."
Celebrated writer Bala, who passed away in 2009, was a long-time friend of Satya's. He took great pleasure in featuring Satya in his columns during his stint with The Afternoon Despatch & Courier in Mumbai. In a 1998 piece, he rightly pointed out how Satya would have been a great administrator for the then Bombay Cricket Association. Bala wrote: "A salt-of-the-earth character, Satya identifies a humbug very quickly. And having done so tells the person that he is one. Bombay cricket's administration, I believe, has lost an articulate, knowledgeable and no-nonsense administrator. Of course, he would dismiss such a view with a wave of his hand and his characteristic Churchillian rhetoric, 'Not my loss, but Bombay cricket's.' But I think he would have loved to have been 
asked to serve."
Apart from helping Indian Gymkhana set up its academy, Satya also encouraged women's cricket there. Through his association with a NGO, free kits and coaching were given to cricketers from poor backgrounds. 
Satya didn't get the credit he deserved for serving Mumbai cricket in his own silent way, but he enjoyed the reverence from those he helped. At his 80th birthday party in 2017, Shastri got the urge to greet his mentor by falling at his feet. He wondered how many more years he would live. He lived for six more years, taking bouts of ill health in his stride. At the Sion crematorium last week, memories of those early years came flooding through 
for Shastri.
"As you know, Satya was a bachelor. He had no relatives here. His friends did everything with regards to the funeral. He had so many of them," said an emotional Shastri. Indeed. And Satya was a great friend of this game. It is hoped that Indian Gymkhana will perpetuate his memory in the 
best possible way.
mid-day's group sports editor Clayton Murzello is a purist with an open stance. He tweets @ClaytonMurzello
Send your feedback to mailbag@mid-day.com
The views expressed in this column are the individual's and don't represent those of the paper
"Exciting news! Mid-day is now on WhatsApp Channels

Subscribe today by clicking the link and stay updated with the latest news!"
Click here! Do you practice ecotourism?