Shefali Bhushan is co-director, co-writer and producer on the series, and his wife.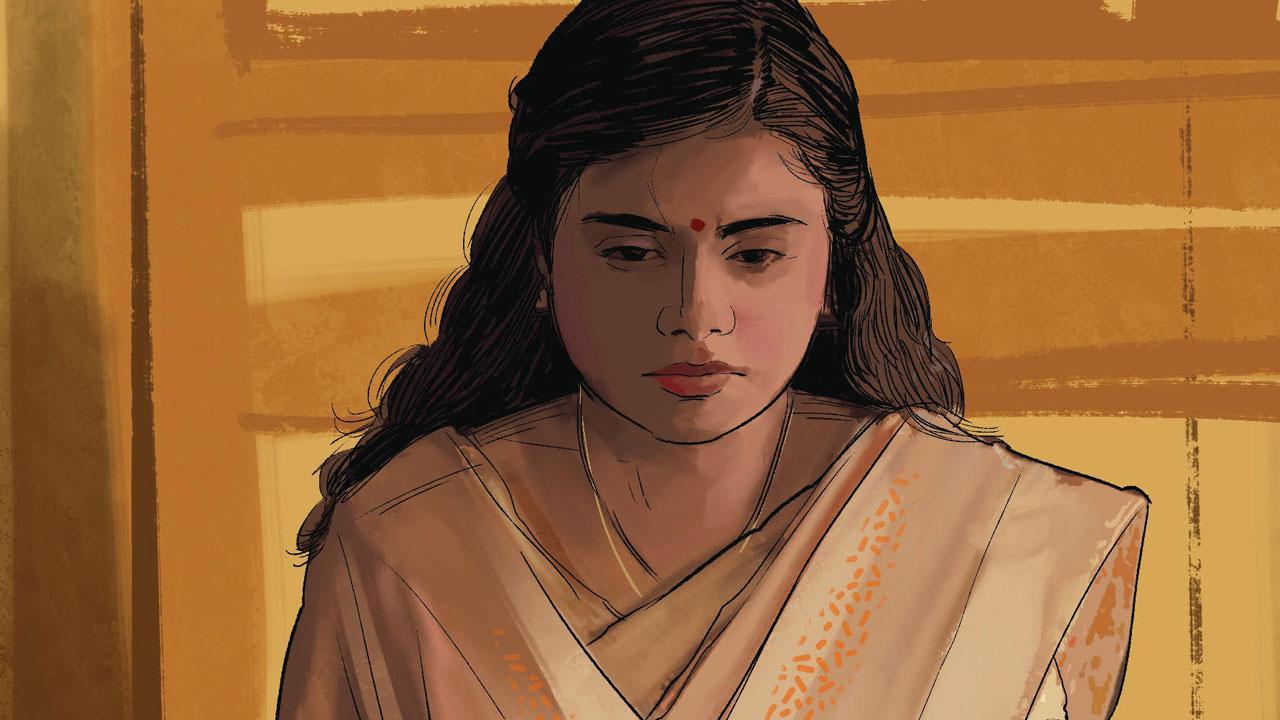 Illustration/Uday Mohite

Jayant Digambar Somalkar's Sthal (A Match, in Marathi), which has been selected in the Toronto International Film Festival (TIFF), is a solid, raw and powerful film. It plays in the Discovery section of TIFF, in a record-making year, when 14 Indian, South Asian and South Asian Diaspora films have been selected at the festival. In fact, this is Somalkar's debut feature, after his strong short Iyatta (Class) and the TV series Guilty Minds, a legal drama series on Amazon Prime, 2022. Shefali Bhushan is co-director, co-writer and producer on the series, and his wife.
Sthal comments on a tradition that continues to be common in many Indian communities—where a girl is routinely paraded before a series of potential grooms, scrutinised like an object to be bought and sold. Name? Mother's clan? Date of birth? Height? Studies? Subject? Can you cook? Hobbies? etc. But the boys are never asked a single question that would enable the questioner to gauge his worthiness for marriage. The gender equation here is an owner-slave relationship. After the humiliating quiz, she has to serve them a snack (usually one she has cooked, like batata pohe), or water, then touch all the men's feet, including her potential suitors. The boy's side promise to get back to the family about their decision—but rarely do, and if they do, in the case of Savita Daulatrao Wandhare of Dongargaon, it's rejection after rejection. Savita herself is studying for her final year BA in Sociology and preparing for her MPSC exam that would enable her to become an officer, but the boys in the village, including her brother Mangesh, are mainly loutish, no-hopers, yet her parents obsess over her marriage. Her mother can't understand her need to study further, "as she will get married anyway".
ADVERTISEMENT
The film has a telling authenticity, and many comic moments laced with vitriolic satire. Indeed, the screenplay, by Somalkar himself, was born of personal family experiences and observations, and the film was shot in the house where he was born, in Dongargaon, Chandrapur district, in the Vidarbha region of Maharashtra state. The direction is assured and confident. The film opens with a most delicious scene of role reversal: a boy has come to see the girl: he sits alone on a stool, surrounded by a gaggle of women while three young girls, led by Savita, grill him with the marital quiz—name, height, studies, hobby, etc. The screenplay is strong and steadily ratchets up the tension. It uses the repetitive 'marital interview' motif to underline the devastating impact that the institution of marriage can wreak on a family—both financially and psychologically. The story is also rooted in a deeper socio-economic milieu, commenting on how "no one wants to marry their daughter to a farmer" and the scenes where a key character, a cotton farmer, attempts suicide by drinking pesticide, are heartbreaking, and like the best scenes in cinema, without words. But the powerful screenplay is finely observant: while Savita Wandhare is rejected because she is dark ("did you see her elbows?"), her family is encouraged to overlook a potential suitor being a drunkard, simply because he is an only son and has a government job—while another good boy with a good job is dismissed outright because he's not of the right caste.
There is levity too: Savita has a crush on a sociology professor Kapse who discusses women's empowerment, and every time their eyes meet, Western symphonic violins swell in a romantic waltz, in an ardent tribute to Wong Kar Wai's In the Mood for Love: her aspiration in love, like her aspiration to be an officer, soar far above the petty horizons of the villagers. With an empathetic, feminist gaze, the film packs a wallop, especially in the climax.  
The non-actors and villagers bring a marvellous authenticity and Nandini Chikte as Savita Wandhare is terrific, as is the father Daulatrao. Manoj Karmakar's cinematography is sensitive—repeatedly watchful of the soapdish, towel, footwear and rangoli each time a prospective gang shows up. There's a reference to social reformer Savitribai Phule, and after Savita scornfully dumps a cowardly suitor, the camera loyally and decisively swings up to Ambedkar's picture exhorting us to educate, agitate and organise. And it's marvellous how the subjective camera gets jittery before the memorable climax shot. Abhijit Deshpande's edit keeps the film engaging and at a taut 103 mins. Madhav Agarwal and Tamara Kazziha's music catches local and folk flavours marvellously, including wedding songs and the nankhatai band. The producers are Shefali Bhushan, Karan Grover, Riga Malhotra and Jayant D Somalkar, and we are delighted that Somalkar-Bhushan have made an auspicious beginning for their film careers. Naral phoda, break a coconut!
Meenakshi Shedde is India and South Asia Delegate to the Berlin International Film Festival, National Award-winning critic, curator to festivals worldwide and journalist. 
Reach her at meenakshi.shedde@mid-day.com
"Exciting news! Mid-day is now on WhatsApp Channels

Subscribe today by clicking the link and stay updated with the latest news!"
Click here!