City lovers who started mapping Bombay's oldest houses in recent years, pick their favourite neighbourhood homes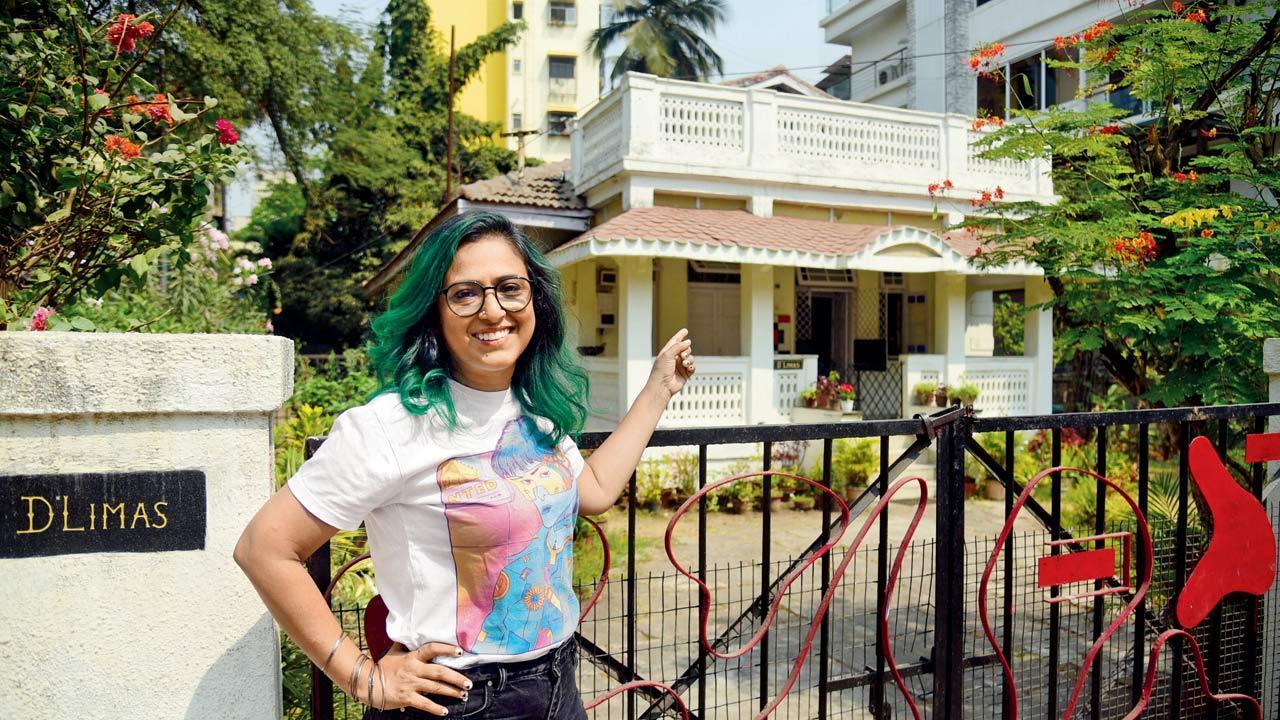 Shormistha Mukherjee outside the D'Lima home, Bandra. Pic/Pradeep Dhivar
Shormistha Mukherjee: Bandra
She believes she has lockdown to thank. The excitement of being able to observe homes on beckoningly clear streets took Shormistha Mukherjee cycling—from Nagpada to Parel to Dadar and Umerkhadi—easier spotting otherwise missed details. Slowly, it became something she had to do. "In order to make documentation accessible to anyone loving houses and this city as much as me, I started the Instagram account, Bombay Pincode. As we emerged from the pandemic, I realised that redevelopment was going to change everything soon. Now I feel I'm running against time."
ADVERTISEMENT
With life and work—she is the co-founder of a digital agency—to catch up on, post-pandemic she stuck to strolling in her neighbourhood and introduced Houses of Bandra. "This is special because of the people I meet. Like the D'Limas at 14, St Roque Road of Ranwar village, in an over 80-year-old bungalow built by their grandfather who worked with the BB&CI Railway. I was fascinated by a bench in their backyard. A vintage railway bench whose headboard flips around, so its seat faced the correct side of the platform. From them, I also heard about the Christmas Saving Fund, which started in 1865 as the Bandra Ranwar Railway Pass Fund." 
Walking daily, Mukherjee revisits people who take time to warm up before being ready to share stories. She likes returning to the same lane or house at different times of the day, to see how it interacts with the street and the light. Noticing Koli home embellishments inextricably linked to their seaward livelihood (pomfret or shrimp patterns moulded into doors, waves on exterior walls), what stands out in East Indian cottages are their boundary walls—low enough to look in and speak to someone in the porch or garden. "That's how communities are fostered. Bandra is losing this fast. Bungalows take up their walls and new buildings shut everyone out with forbidding gates."
Paresh Soni: Borivli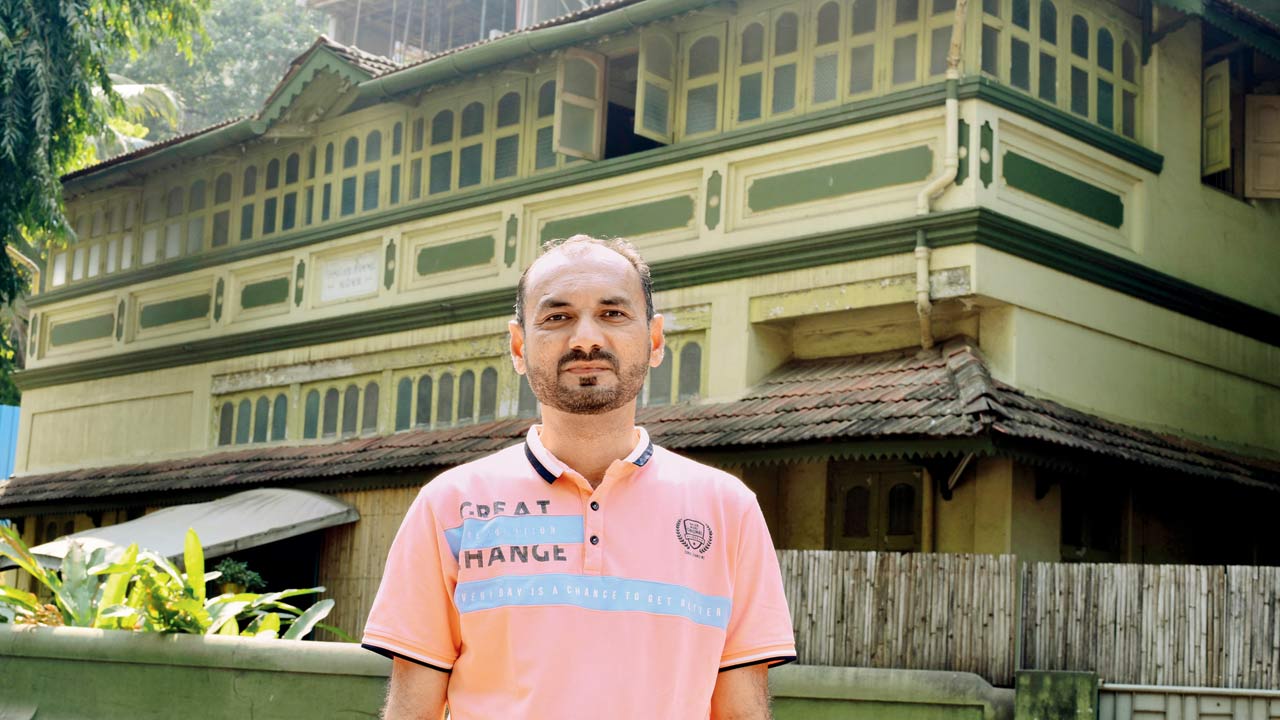 Paresh Soni outside the Lathiwala bungalow, Borivli. Pic/Nimesh Dave
Financial analyst Paresh Soni's ongoing journey of mapping heritage homes (on the Instagram page My Weekend Odysseys) leaves him partial to Borivli and Mahim—"What appeals to me is how these adapted to the prevailing climate, with Mangalore tiles on sloping roofs, wood for frames, brackets, balconies and doors. And how well-ventilated they are with multiple windows."
Not many bungalows remain in Borivli, with exceptions like the Chogles, whose forefathers migrated with 13th-century Raja Bhimdev, to establish the capital of Mahikhavati in present-day Mahim. Their descendants settled at Chogle Wadi, supposed to be 250 years old. Two Chogle residences depict a beautiful wada style of architecture.
"Diverse in terms of communities, with the Chogles, Borivli has the Christian neighbourhood of IC Colony from the 1950s, when employees of a particular company settled amid architecture with Art Deco elements trending in that era. Then there are the Kutchi Bhatias, with most of their homes lost to urbanisation. "I love the home of the Ismailji Kareemji Lathiwala family here, well maintained for 88 years. Shades of green on the bungalow amalgamate effectively with Ashoka and other trees surrounding it. The arterial Chandavarkar Road, connecting the station to the Link Road, has cut through the courtyard. Else this could serve as the perfect example of a Borivli family home 50 to 80 years ago, ringed by open gardens with tall trees spreading abundant shade."
Andre Baptista: Khotachi Wadi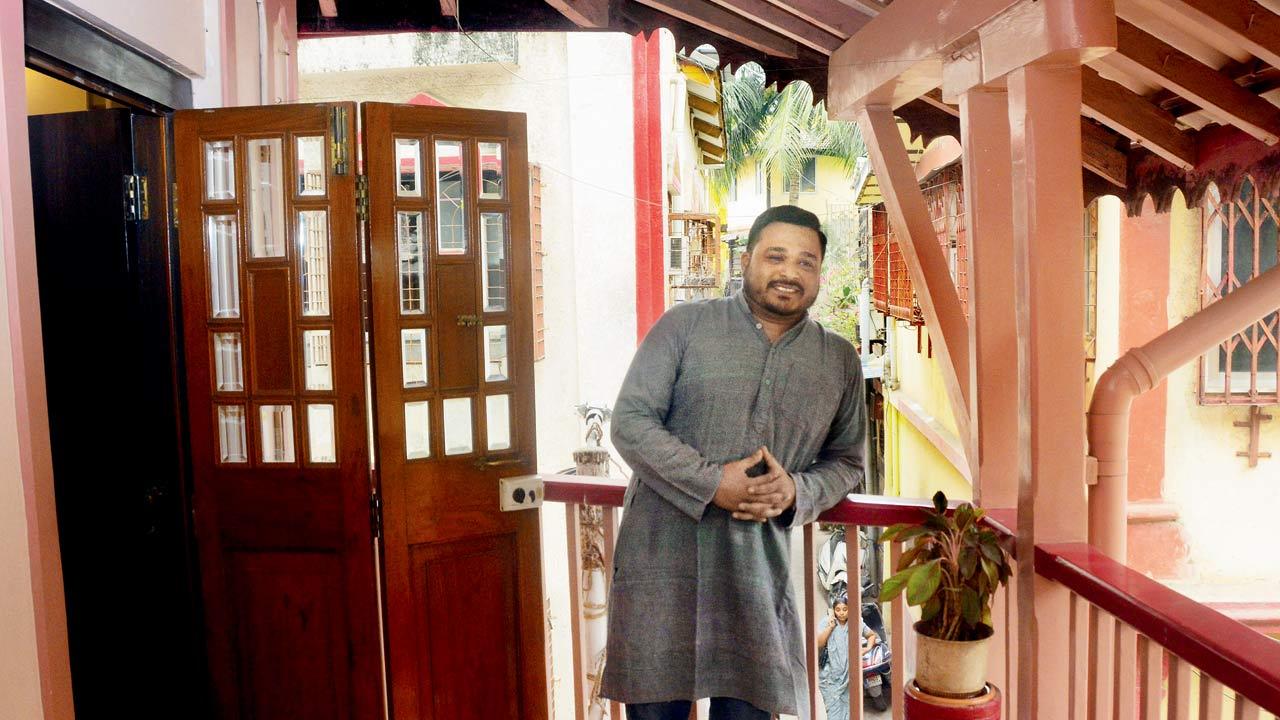 Andre Baptista at Baptista House, Khotachi Wadi. Pic/Satej Shinde
This is where North Konkan meets South Mediterranean and regional architecture segues with an Iberian sensibility, suggests Dr Andre Baptista, lecturer and consultant in ancient Indian history and archaeology. Preferring the word "home" to "house", his view embraces a vaster ethnic sweep than popular impressions of quaint Portuguese villas dotting the wadi. "The notion of 'home' is a nuanced and multi-dimensional concept. It goes well beyond the confines of 'house', extending to the street, community and locality," he says.
Highlighting the relevance this precinct holds in shaping the island city, last year he co-curated the exhibition, This Ground, Plus: Khotachiwadi in Design Context. Born and raised in this neighbourhood with oral history accounts narrated by his grandmother's friends, in 2018, Andre began using his formal training to delve into personal and family histories. To which 27, Baptista House is central. It became the residence, from the 1890s, of his great-grandfather, Pedro Mariano Baptista of Vasai, a Small Causes Court bailiff who bought the property from the D'Penhas, a Karachi family settled in Khotachi Wadi. Adding two floors to the ground level structure, Pedro Baptista ensured its staircase and verandah mimicked those of the Vasai home.          
Andre's fourth generation-resident status in Khotachi Wadi is evident from constantly waved hands, nodding heads and smiling faces greeting us at every turn we tread. Gazing up at Juliet balconies one literally imagines lovers' whispers that might have progressed to tinkling wedding bands and christening parties. 
At a table laid with pretty platters of fan biscuits and lemon tarts from Yazdani and Ideal bakeries nearby, he traces the vibrant Marathi culture embedded in genealogies of families like the Warlikars and Edwankars, co-existing with four to six lines of Baptistas, Ferreiras and Crastos. "Nothing operates in stasis," he says. "Architecture—form, design, colour—initially lure underinformed visitors. However, dynamism is rendered when one considers the hearts that beat within built form. Collective and individuated memories contribute to early cognition, our experiences and the foundation of our identities."
Kaustubh Joshi: Matunga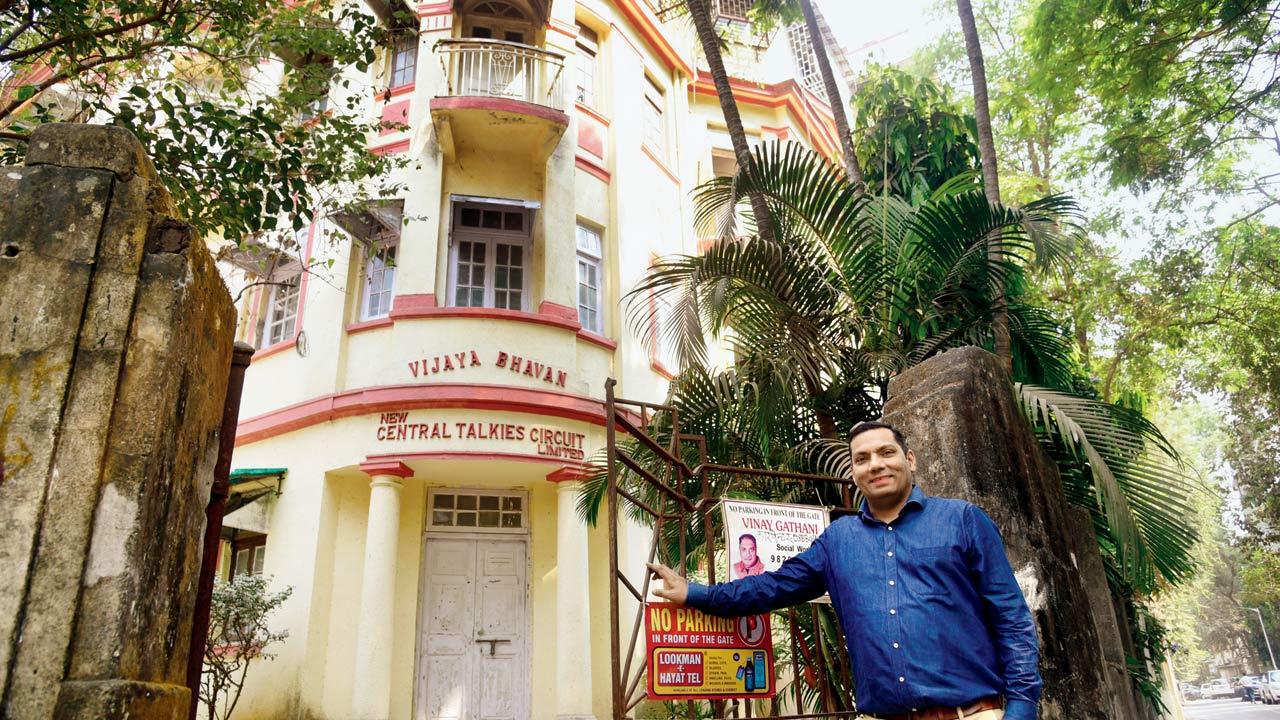 Kaustubh Joshi at Vijaya Bhavan, Matunga. Pic/Atul Kamble
For Kaustubh Joshi, a human resources professional who has authored Bombay Unmapped (also his Instagram handle), the city evokes childhood memories of independent houses in army cantonments across India, including Shillong. "Most had colonial architectural influence and we took their beauty for granted. Moving here almost 20 years ago, I was fascinated with the city's vibrancy, but at the same time knew it kept certain secrets, untold stories tucked away in little houses." 
Exploring Matunga, Dadar, Prabhadevi, Shivaji Park and Chembur, he was pleasantly surprised to find many homes reveal  a distinctive architectural language and elegance. "I try showcasing houses that tend to get overlooked by city inhabitants and tourists. What attracts me is the ordinariness of a house. Metaphorically it's akin to discovering a 'hermit in simple clothes' surrounded by 'robots dressed in fashionable costumes'."
Matunga houses exude such a strong South Indian influence that you smell freshly brewed filter coffee while walking past. Even before understanding the nuances of Art Deco, Joshi realised there was some commonality among them. "Hidden in by-lanes, Vijaya Bhavan, on a corner plot, has a very attractive feature: a curvilinear facade not common to find these days. The idea of sitting in the silent companionship of Vijaya Bhavan is soothing and nostalgic. 
"I may never find my Shillong home in Bombay, but the closest is Vijaya Bhavan. Despite differences, there are similarities. The pines have been replaced by coconut trees, the verandah by balconies, the Edwardian architecture by Art Deco, the fireplace by equally beautiful awnings. Yet, Vijaya Bhavan reassures us of the pleasant existence of a city within a city. Incidentally, Vijaya, translates as 'victory' and Bhavan is 'house'. This building is a subtle reminder that despite all the fuss of redevelopment and demolition, some houses won't be razed too soon— that would be victorious."
Debasish Chakraverty: Santa Cruz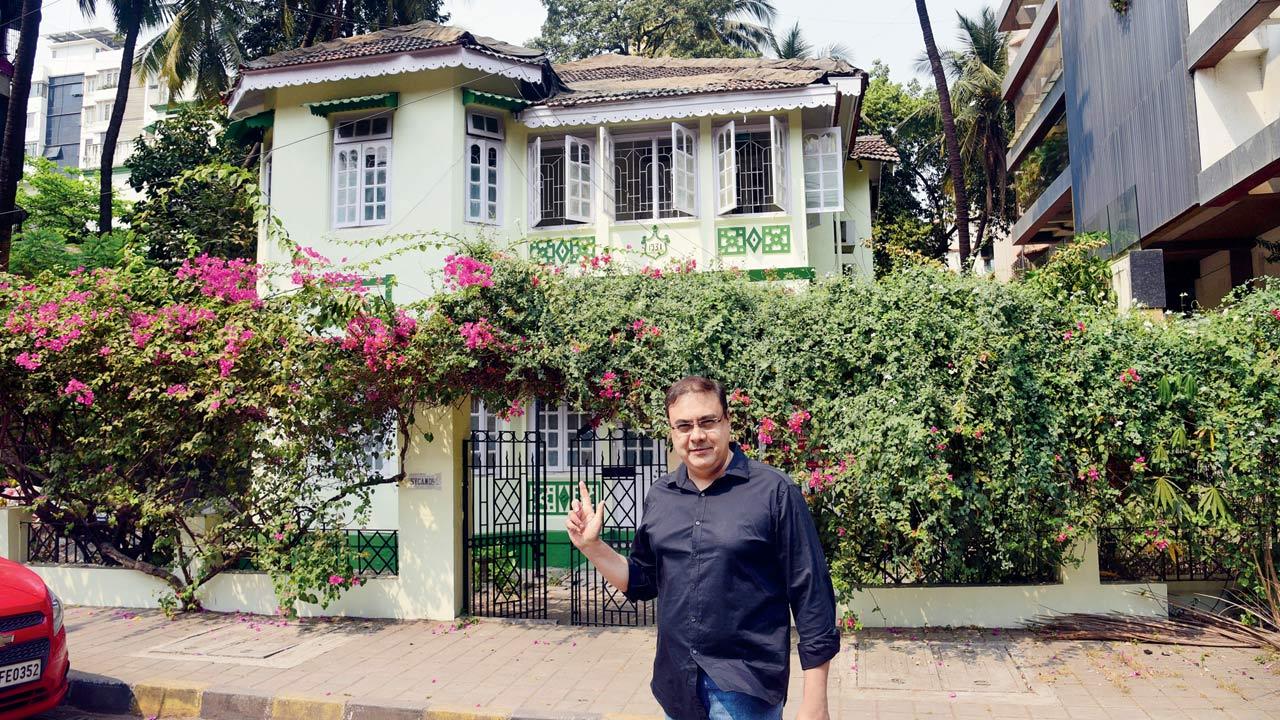 Debasish Chakraverty outside Sycamore, Santa Cruz. Pic/Pradeep Dhivar
In 2015, while compiling old photographs related to the history of Santa Cruz and Bandra for his Facebook pages, Santa Cruz That Was and Bandra History, finance professional Debashish Chakraverty grew increasingly aware "of the importance of documenting the present rapidly converting into the past". Three years later, he started studying still extant old homes in both suburbs on Instagram. 
"My favourites are Manor-style homes, stately with spiral staircases and oculi—circular windows on the upper facade, likely to never be seen again locally. Sad how these vanish quickest to redevelopment, due to their size. The recent loss of the century-old Edwardian mansion on BJ Road in Bandra, accommodating the original Bai Shirinbai Cama Convalescent Home and 97-year-old Beach Manor on Chimbai Road, is irreplaceable. With them disappear stories and history if not documented." 
Chakraverty references pre-Independence homes in the Santa Cruz-Khar-Bandra belt, explaining the varied architectural genres they display. In Santa Cruz, old homes from the early-to-mid 20th century appear British. Bandra is peppered with villas sporting 19th-century "Indo-Portuguese" features. In Khar, the majority of homes belong to the Sindhi and Gujarati communities and consequently bear an "Indic" approach to design, perhaps found in structures in the first residents' regions of origin in undivided India.
"My pick is Sycamore on South Avenue, once called the Broadway of Santa Cruz. The avenues of Santa Cruz had the most beautiful single-level bungalows in the Santa Cruz-Khar-Bandra belt. Sycamore, from 1931, is among the last at the grand age of 92."
Jervis Alvares: Thane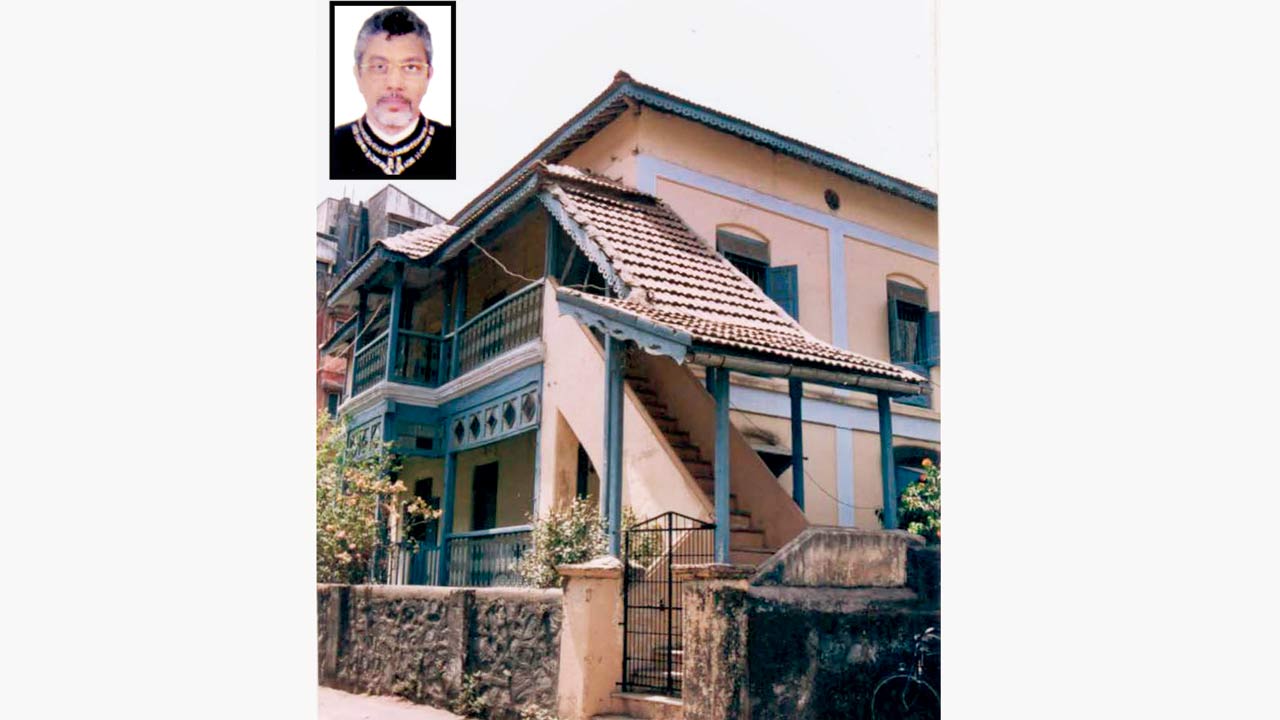 "Few houses have survived the commercial onslaught in Thana," says Jervis Alvares who has explored the roots of the area's first families. "It had about four-five villages—Cherai, K-Villa, Kolbad, Uthalsar and, to a great extent, Horta and Majiwada, with the landscape dotted with homes owned by Catholic East Indians with a fair mingling of Hindu Brahmins/Prabhus and Parsis." 
Registering a keen awareness of individual residences replaced by warrens of cookie cutter blocks, Alvares chooses to describe the splendidly preserved Pimenta House in Cherai. "The visual delight this home presents in 2023 is exactly as it was when built, about 150 years ago, in the mid-1880s. The 'load bearing' structure, with solid basalt rock foundation up to the plinth level, has fully wooden rafters and trusses, fascia boards and a loft in immaculate condition, with no repairs needed to date."
Family members who enjoyed its interiors furnished with hexagonal marble-top tables, rocking chairs and dragon-embossed ceramic Ming vases have included the highly decorated officer PF Pimenta. Born in this home in 1889, he joined the British Territorial Army and received a gun salute when his mortal remains were carried to the Church of St John the Baptist by soldiers of the Bombay Phantom Rifles Corps.
Nachiket Joshi: Chembur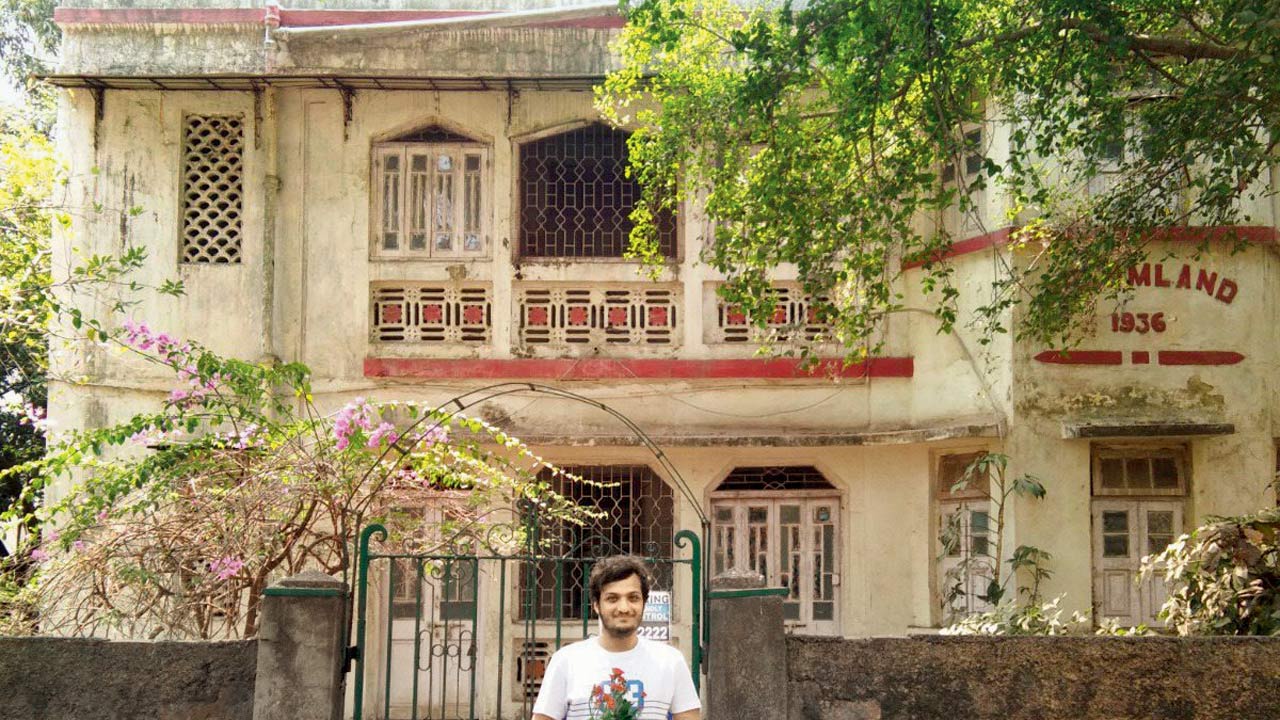 Nachiket Joshi fronts Dreamland building, Chembur
Long struck by Chembur's distinct urban and architectural character, literary scholar Nachiket Joshi recalls, "Even as a kid I could tell there was something fairly unique about the streets branching out from Central Avenue, Diamond Garden and around Our Lady of Perpetual Succour Church." 
Beginning to systematically photograph and publish pictures of residences on these roads in 2018, Joshi created Houses of Chembur on Instagram, "to showcase the low-key cosmopolitanism, linguistic and religious pluralism, and general idiosyncrasies of houses of Chembur". Less architecturally informed, his effort is "a native amateur's attempt to celebrate the local and mundane". 
Intrigued on sighting an unusual tile embossed with a black and white print of a man's face outside Vishrant, a three-storey building on 13th Road, he found himself invited by a kind resident for a chat on her balcony upstairs. The picture was of her father who had the house erected.
"Homes named for people or those combining names—Clem Cot, Pierreville, Frank View, Sadhan Kutir, Joseph Haven—humanise structures. Each resembles an individual, possessing its own personality, attributes and oddities," says Joshi. He separates names that comfortably encompass foreign words from new gated enclave poseurs with absurd allusions. "Apartment buildings in the city evoke exotic destinations like the French Riviera or Manhattan, for their aspirational value. Chembur home names are tied to complex histories with detours in foreign countries. They talk of cosmopolitan pasts in the deeply local and particular in Bombay. There's a Casa Lima, a Memorare, as well as a Karibu, meaning 'Welcome' in Swahili—some family member had spent time in East Africa." 
Besides the idyllic name, Dreamland gets his vote for ranking as one of Chembur's more classical houses. Unlike the simple modernism of its neighbour, Homeland, the stained-glass windows, jaalis and capacious backyard of Dreamland seem to echo another era of the suburb's evolution.
Author-publisher Meher Marfatia writes fortnightly on everything that makes her love Mumbai and adore Bombay. You can reach her at 
meher.marfatia@mid-day.com/www.meher marfatia.com
"Exciting news! Mid-day is now on WhatsApp Channels

Subscribe today by clicking the link and stay updated with the latest news!"
Click here!