Climate change is real and, the sooner we accept it, the faster we can come to terms with what our cities will look like
A couple of years ago, a report stated that Bombay could witness a 25 per cent increase in the intensity of flash floods by 2050. Representation pic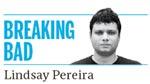 This isn't about people dying of heat at a political rally because I had a feeling the title of this column could compel a few readers to recall that incident. In fact, I would like to reiterate that there has been no incident involving the death of any Indian resident at any political rally in our country's history. Any report alluding to that possibility has inadvertently come from some gullible uncle on WhatsApp and must be ignored the way our government has taught us to. To reiterate, political rallies are great, and no one dies at any of them.
No, this column is about the heat wave sweeping through large swathes of our country, making it harder for us to imagine what the coming century is going to look like. Will our cities and towns by the sea disappear a few decades from now? Will cities that lie far from water bodies be rendered uninhabitable? Will there be mass migration from rural India to urban hubs in a few years? Will our current resources be able to cope with the strain of what is to come? Will ground water levels drop to worrying levels?
ADVERTISEMENT
These are some of the questions that ought to be on most of our minds because of this heat wave and, thankfully, are not. It's why I am grateful to the government, as I usually am, for doing its best to make sure things stay that way. A lot of governments in other countries have been spending significant amounts of time, energy, and money on addressing these issues. I have no idea what they hope to accomplish by doing this. I am firmly on the side of our government's approach though, which is to ignore these questions or issues altogether and pretend they don't matter. It's a sensible thing to do.
Also Read: Animals should be better-behaved
The smart thing about this is how the government wants us to move on with our lives and focus on more important things, such as what buildings should be renamed or what part of our textbooks need to be edited for authenticity. I think the implication is that we will all just acknowledge that climate change is real, and that we must prepare for the future the way we have dealt with the past or how we cope with the present: by saying and doing nothing.
If we look around, the approach has already begun to pay off without anyone noticing. Look at how our views of the sea have slowly changed, for instance, moving further away from us. Look at how the residents of cities like Bangalore have moved on from time-consuming issues such as the pollution of Bellandur lake and gone back to focusing on what students should or shouldn't be allowed to wear in school. Back in 2017, a panel of experts predicted a water crisis that would make that city uninhabitable by 2025. We are two years from that deadline, and everything there seems to be normal. All because the government did the right thing by ignoring those experts.
A couple of years ago, a report stated that Bombay could witness a 25 per cent increase in the intensity of flash floods by 2050. A few months ago, the World Meteorological Organization issued a warning to countries with vast coastal populations and indicated that ours could be among the cities most affected. It mentioned water insecurity due to salinity and a decline in fish production among related risks. There are probably some amazing plans being put into place by the government of Maharashtra to tackle all these potential emergencies, and we just haven't heard of them. Until they choose to share them with us, in their own time, we should refrain from asking too many questions and go about our business with the same nonchalance that has made us such a powerful, resilient city.
I strongly believe we should be celebrating this heat wave, rather than complaining about it. We should have advertisements in newspapers and hoardings on the street, thanking the sun for its extra warmth and coming up with new and exciting ways to beat the longer, more relentless summers that inevitably lie ahead of us. We should also have more political rallies in these coming months as a way of reassuring everyone that the climate can change all it wants to, but it will be business as usual here in India. 
Political rallies are safe, after all. It's not as if anyone has ever died from attending one.
When he isn't ranting about all things Mumbai, Lindsay Pereira can be almost sweet. He tweets @lindsaypereira
Send your feedback to mailbag@mid-day.com
The views expressed in this column are the individual's and don't represent those of the paper