A peep into the psyche of Uttar Pradesh, where caste and community animosities overshadow the perils of misgovernance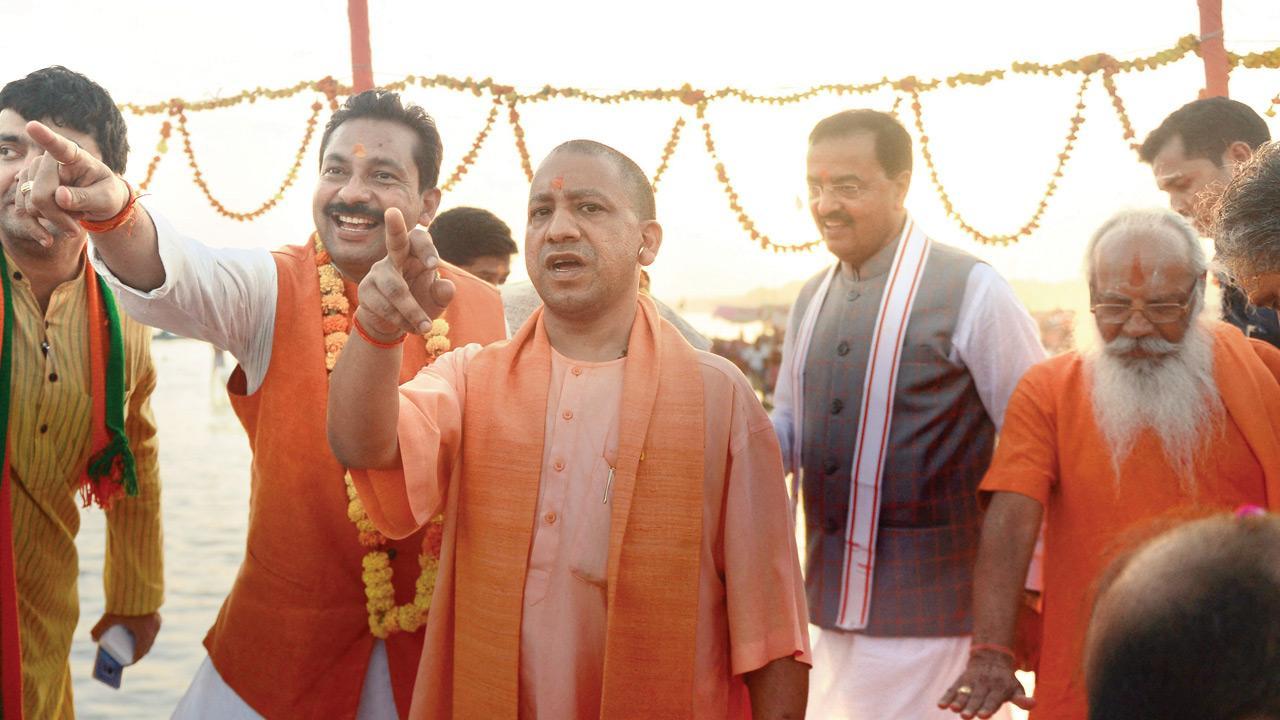 Adityanath's fate, to a great extent, depends on using the media to alter perceptions. He has to do heavy weightlifting on several counts. Pic/AFP
It is inelegant to begin an article with a question. But the only way to fathom Uttar Pradesh's psyche is to ask: Why does the Bharatiya Janata Party feel Chief Minister Adityanath is its best bet to win the 2022 State Assembly elections? It would seem the BJP presumes the people of UP will forget, in a few months, the images of bodies floating down the Ganga, the scramble for hospital beds and oxygen cylinders, and stories of villagers who died burning with fever.
Adityanath did not seem perturbed by these images in his recent media interviews. He credited his policies for the sudden ebbing of the brutal second wave of Covid-19. The subtext of these interviews was that UP's plight would have been worse without him. In days to come, media outlets will feature advertisements hailing Adityanath. Social media biggies are accused of exploiting data of users to influence their choices. In contrast, Indian media perceive government advertisements as a legitimate revenue stream—and not as a tool for mass indoctrination.
Adityanath's fate, to a great extent, depends on using the media to alter perceptions. He has to do heavy weightlifting on several counts. The Reserve Bank of India figures show that UP's Gross State Domestic Product, between 2011 and 2017, grew at an average annual rate of 6.9 per cent. This came down to 5.6 per cent between 2017 and 2020. Remember, Adityanath became the chief minister on March 19, 2017.
In Adityanath's years of governance, Uttar Pradesh's expenditure in the social sector grew at an annual average rate of 14.3 per cent, down by 2.6 per cent than what the State had been spending between 2011 and 2017. Might this have contributed to Uttar Pradesh's Covid-19 woes? On August 1, 2020, Uttar Pradesh issued a full-page advertisement in a national daily, with the headline, Leading the way to create an excellent Covid-specific network. The State administration had not known then that Covid-19 viciously exposes creaking health infrastructure.
Forty-one out of every 1,000 people in urban Uttar Pradesh were unemployed in 2011-2012. This figure grew to 97 in 2017-2018 and 106 in 2018-2019. In 2011-2012, only nine out of every 1,000 persons were unemployed in rural Uttar Pradesh. This figure ballooned to 55 in 2017-2018—and came down to 43 in 2018-2019. Wow! Uttar Pradesh Labour Minister Swami Prasad Maurya said that as on February 7, 2020, 33.94 lakh people were registered as unemployed, a whopping 58.43 per cent jump over the 21.39 lakh unemployed registered until June 30, 2018.
The August 2-8, 2020, magazine pull-out of a national business daily screamed, The Transformer. The strapline said, "Murder and mandir politics dominate headlines from Uttar Pradesh. In the din, it's easy to miss CM Yogi Adityanath's unlikely recasting of the state as a business-friendly destination." On September 30, the same business daily had a full-page ad: India's New Business Destination. Which State? UP, obviously. Talk about being prescient!
But let us talk about murder—of, say, George Floyd. That would have been classified as "Encounter"—aka engagement and extra-judicial killing—in India. The murder of Floyd sparked protests across the United States, a significant reason why Donald Trump lost the presidential election. In December 2019, the Uttar Pradesh Police tweeted that 103 "criminals" were killed and 1,859 injured in 5,178 police engagements in less than three years. The number of deaths-by-encounter grew to 125 in August 2020, of which Muslims comprised 37 per cent against their share of 19 per cent of the state's population, according to a daily.
The UP Police's boastful tweet presumes that, unlike in the US, encounters could enhance Adityanath's chance of being re-elected as chief minister. It is only the community of the fatally encountered which gets agitated, as was true of Brahmins when gangster Vikas Dubey was gunned down last year. That was seen as the most eloquent symbol of Adityanath, a Rajput, persistently discriminating against Brahmins. The induction of Congress leader Jitin Prasada into the BJP is aimed at mollifying the community.
As for the Muslims, their display of anger proportionately enhances Adityanath's popularity. That is why they do not question why the National Security Act is invoked in alleged cow-slaughter cases. A beef-national security link is black humour. It is mostly Dalits who agitate against caste atrocities, evident when the Hathras gang-rape case dominated headlines. By the way, the rate of all crimes against Dalits in UP increased from 27.7 per cent in 2017 to 28.6 per cent in 2019.
It does seem like UP was better off under the chief ministership of Akhilesh Yadav than that of Adityanath. So, why would the BJP back Adityanath? Poet Robert Frost said: "Home is the place where, when you have to go there, they have to take you in." Likewise, when an upper-caste chief minister, as Adityanath is, spearheads his party in the elections, then the upper castes "have" to vote, in significant numbers, for him, overlooking his performance.
They and others will also be offered the "opium" of the Hindu-Muslim conflict. On the indicator of polarisation, few can trump Adityanath. Still, for a peep into UP's psyche, it must be asked, Why should it vote him?
The writer is a senior journalist. Send your feedback to mailbag@mid-day.com
The views expressed in this column are the individual's and don't represent those of the paper.