One aim of a good cricket team is to make the opposition change tactics. England achieved that, but made some poor selection choices—Bairstow over Foakes—and Moeen, who never relished playing against Australia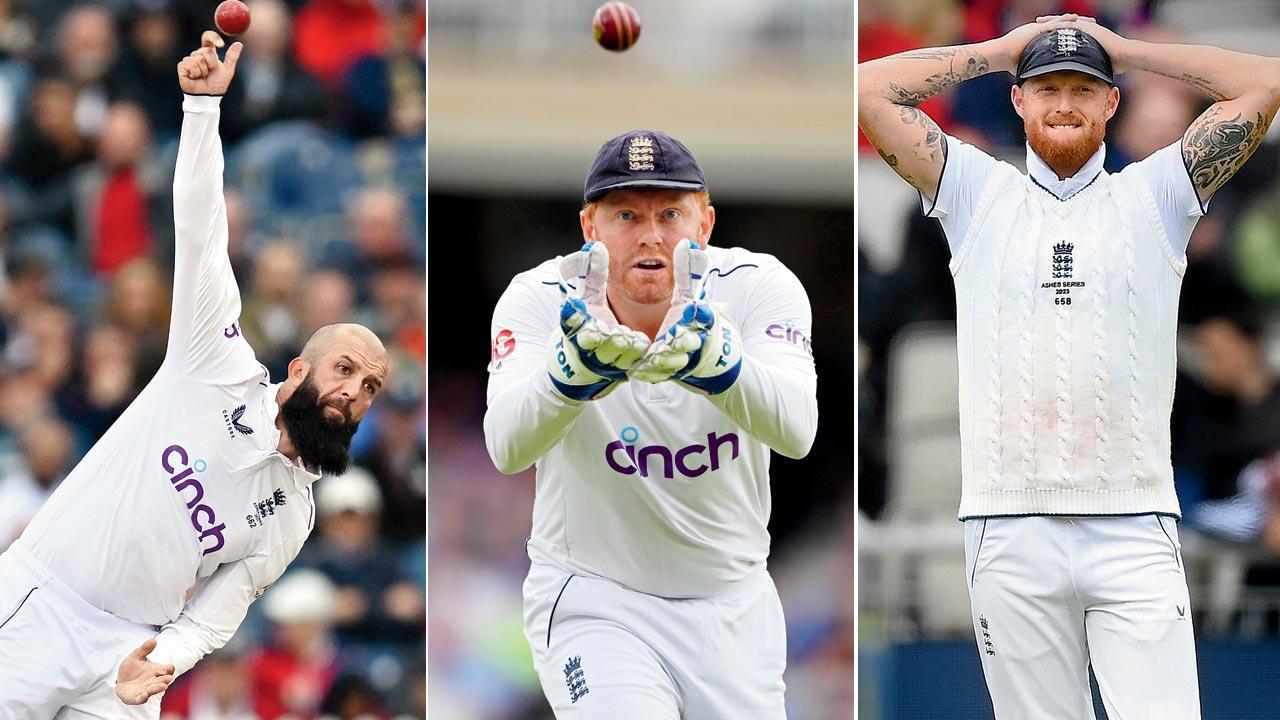 England's Moeen Ali during the fourth Ashes Test in Manchester recently. Pic/AFP; Jonny Bairstow; England skipper Ben Stokes on Day Four of the fourth Ashes Test recently. Pics/Getty Images
Listen to this article
Will they live to regret it?
x

Pat Cummins and Ben Stokes utilise different captaincy styles but they both possess the same admirable trait by seeking victory from the opening delivery.
One of the big differences is Stokes's desire for his batsmen to attack which has forced Cummins to employ some defensive strategies. It's not desirable to give good players an easy single at the start of an innings and you are trusting luck's fickleness by trying to dismiss a sensible batsman via a bouncer barrage.
ADVERTISEMENT
These were tactics Cummins employed at different times during the series and while they were dubious ploys, the question still applies, "Why did senior players allow him to continue using such repetitive tactics that weren't working?"
One aim of a good cricket team is to make the opposition change its tactics, whether it be a team strategy or an individual option. England achieved that aim but because they made some poor selection choices they still trail in the series.
Correct tactics by Stokes 
There were critics of Stokes's decision to declare at Edgbaston and bat on at Old Trafford. These are smokescreens as his tactics were right and both are aligned with the captain's stated desire to push for victory. Any captain who calculates a declaration according to a weather forecast—as was suggested of Stokes at Old Trafford—is asking for trouble.
What has to be queried is England's poor record at the selection table. This series they've mistakenly plumped for Jonny Bairstow, a recognised batsman, ahead of the far superior wicketkeeper Ben Foakes. They opted to court Moeen Ali, an off-spinner who bats, but even at his peak didn't relish the challenge of playing Australia. England also preferred a seam attack that lacked variety before belatedly unleashing a genuine speedster against Australia in the third Test. England then failed to give Mark Wood the advantage of using a hard new ball.
Also Read: Cricket, quite the gentleman's game?
These are all culpable errors that are difficult to overcome even when accompanied by an admirable desire to prioritise run-scoring and taking wickets. This is especially the case when England's captain and coach have a considerable say in selection.
Defensive fielders
Defensive fielders highlight a desire among modern captains to protect boundaries, thereby allowing easy singles. There are times when this is a questionable policy despite the dramatic improvement in modern bats. If a batsman hits a boundary he's still facing the next ball but a single frees him from the strike and he enjoys the safety of the non-striker's end.
A captain who disperses the field with no close catching men and the bulk of the fielders on the boundary is greatly reducing the effectiveness of an attacking bowler. If a captain places nine men on the boundary, any self-respecting bowler is entitled to say, "You want that field then you bowl to it."
Captaincy is subjective; there's never universal agreement on tactics, especially when a game is lost. A captain must hold his nerve and expect good, positive suggestions from his senior fielders. I liken captaincy to a computer; others can provide an input but it's the skipper who has to make the final decision.
Both Cummins and Stokes were the right choice as respective leaders. In Cummins's case, he's a good captain and deserves to retain the position. However, he may be listening to too much advice, not all of it from people qualified for the job.
Critics would do well to recall that under Cummins's captaincy Australia hold both the World Test Championship mace and the urn.  
Cummins displays his worth
Cummins displayed his worth in the Oval Test by learning from past mistakes. After sending England in on a pitch that had some life for the bowlers, Australia dismissed their opponents for a reasonable total despite some sloppy fielding.
The Test is now poised to end in a one innings shootout with the series finishing—as it began—in a sprint for victory. Whatever the respective merits of the two skippers, the teams have provided ample entertainment and a series to be remembered.
"Exciting news! Mid-day is now on WhatsApp Channels

Subscribe today by clicking the link and stay updated with the latest news!"
Click here!