At least 1,541 people have been reported killed in Turkey, according to Vice President Fuat Oktay, and 9,733 people were reported injured in the quakes that destroyed dome 3,471 buildings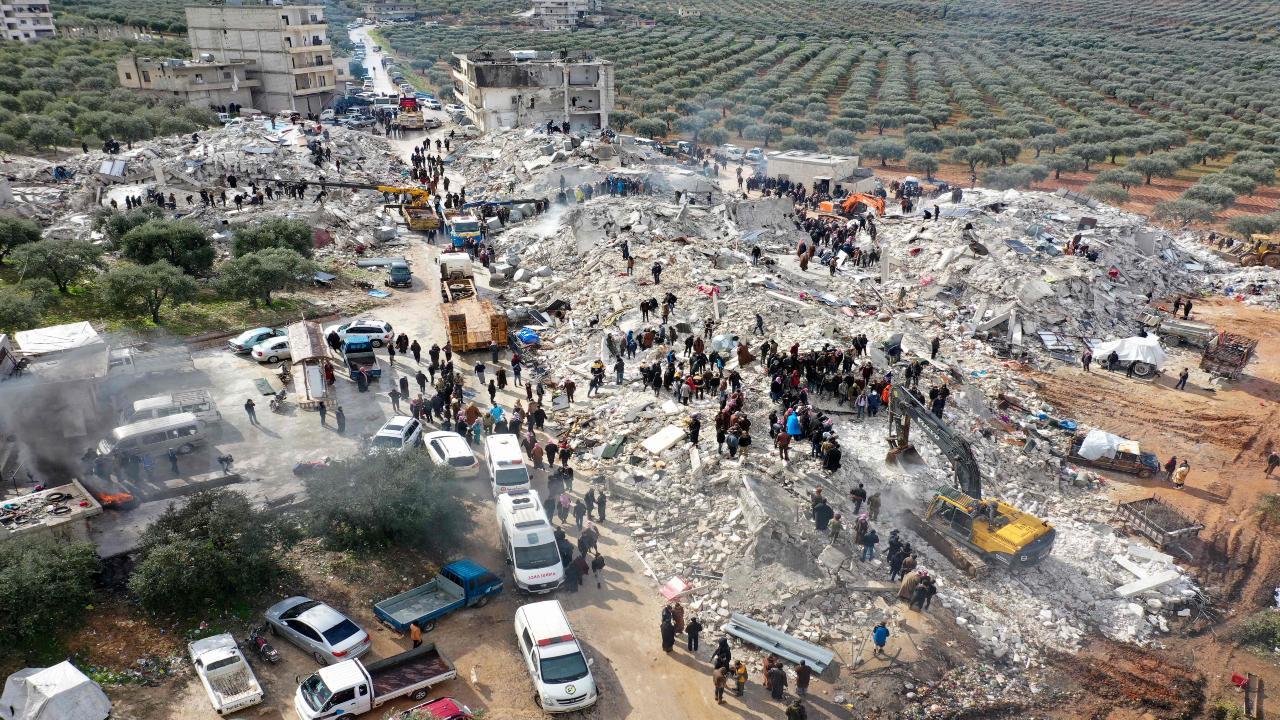 This aerial view shows residents, aided by heavy equipment, searching for victims and survivors amidst the rubble of collapsed buildings following an earthquake in the village of Besnia near the town of Harim, in Syria's rebel-held noryhwestern Idlib province on the border with Turkey, on February 6, 2022. Photo AFP
A powerful earthquake struck Turkey's southern provinces and neighbouring Syria, leaving at least two thousand people dead as buildings collapsed, triggering a search for survivors trapped in the rubble.
Turkey's Disaster and Emergency Management Presidency (AFAD) said that the 7.7 magnitude quake struck at 4:17 am (0117 GMT) and was centred in the Pazarcik district of Kahramanmaras province on Monday.
At least 1,541 people have been reported killed in Turkey, according to Vice President Fuat Oktay, and 9,733 people were reported injured in the quakes that destroyed dome 3,471 buildings.
Also read: As earthquake wreaks havoc across Turkey & Syria, a timeline of major deadly earthquakes in the past two decades
In Syria, the latest numbers from the regime's health ministry and Syrian Civil Defence showed at least 783 people were killed after the quake in Türkiye jolted the wider region.
Here is what to know about the big quake that hit Turkey and Syria
WHAT HAPPENED?
The quake hit at depth of 18 kilometers and was centered in southern Turkey, near the northern border of Syria, according to the US Geological Survey.
Many aftershocks have rocked the area since the initial quake. In the first 11 hours, the region had felt 13 significant aftershocks with a magnitude of at least 5, said Alex Hatem, a USGS research geologist.
Scientists are studying whether a magnitude 7.5 quake that hit nine hours after the main shock is an aftershock. Hatem said it appears to be the case.
"More aftershocks are certainly expected, given the size of the main shock," Hatem said. "We expect aftershocks to continue in the coming days, weeks and months."
WHAT TYPE OF EARTHQUAKE WAS THIS?
Researchers said the earthquake was a strike-slip quake, where two tectonic plates slide past each other horizontally, instead of moving up and down.
In this case, one block moved west while the other moved east grinding past each other to create the quake, Hatem said.
The quake occurred in a seismically active area known as the East Anatolian fault zone, which has produced damaging earthquakes in the past.
Turkey had another major earthquake in January 2020 of magnitude 6.7 that caused significant damage.
WHY WAS THIS EARTHQUAKE SO DEVASTATING?
The earthquake was powerful and one of the biggest strike-slip earthquakes that has hit on land, Hatem said.
"On top of that, it's located near populated areas," she said.
Building collapses were reported in cities including Diyarbakir, Turkey, and Aleppo, Syria.
Rescue efforts were also hampered by freezing temperatures and traffic jams from residents trying to leave quake-stricken areas.