"We did pretty dang good," McCarthy, R-Calif., said afterward. Amid deep discontent from Republicans who said the spending restrictions did not go far enough, McCarthy said it is only a "first step"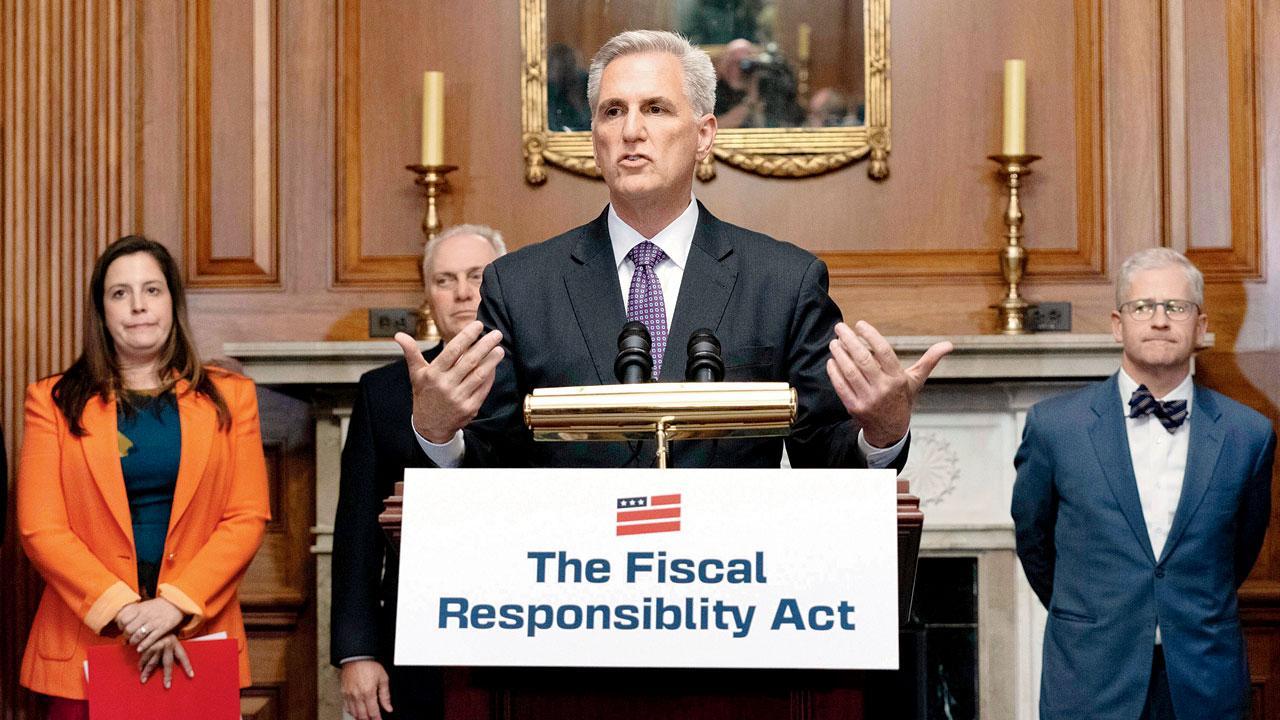 House Speaker Kevin McCarthy of Calif. along with Republican members of the House, speaks at a news conference after the House passed the debt ceiling bill at the Capitol in Washington Wednesday. Pic/AP
Veering away from a default crisis, the US House overwhelmingly approved a debt ceiling and budget cuts package, sending the deal that President Joe Biden and Speaker Kevin McCarthy negotiated to the Senate for swift passage in a matter of days, before a fast-approaching deadline.
The hard-fought compromise pleased few, but lawmakers assessed it was better than the alternative — a devastating economic upheaval if Congress failed to act. Tensions ran high as hard-right Republicans refused the deal, but Biden and McCarthy assembled a bipartisan coalition to push to passage on a robust 314-117 vote late Wednesday.
ADVERTISEMENT
"We did pretty dang good," McCarthy, R-Calif., said afterward. Amid deep discontent from Republicans who said the spending restrictions did not go far enough, McCarthy said it is only a "first step." Biden, watching the tally from Colorado Springs, phoned McCarthy and the other congressional leaders after the vote. In a statement, he called the outcome "good news for the American people and the American economy."
Washington is rushing after a long slog of debate to wrap up work on the package to ensure the government can keep paying its bills, and prevent financial upheaval at home and abroad. Next Monday is when the Treasury has said the U.S. would run short of money and risk a dangerous default. Biden had been calling lawmakers directly to shore up backing. McCarthy worked to sell skeptical fellow Republicans, even fending off challenges to his leadership.
A similar bipartisan effort from Democrats and Republicans will be needed in the Senate to overcome objections. Overall, the 99-page bill would make some inroads in curbing the nation's deficits as Republicans demanded, without rolling back Trump-era tax breaks as Biden wanted. To pass it, Biden and McCarthy counted on support from the political center, a rarity in divided Washington. Raising the nation's debt limit, now $31 trillion, ensures Treasury can borrow to pay already incurred U.S. debts.
314-117
The vote that pushed the debt ceiling and budget cuts package
This story has been sourced from a third party syndicated feed, agencies. Mid-day accepts no responsibility or liability for its dependability, trustworthiness, reliability and data of the text. Mid-day management/mid-day.com reserves the sole right to alter, delete or remove (without notice) the content in its absolute discretion for any reason whatsoever