The US and South Korea have been expanding their drills as North Korean nuclear threats have been growing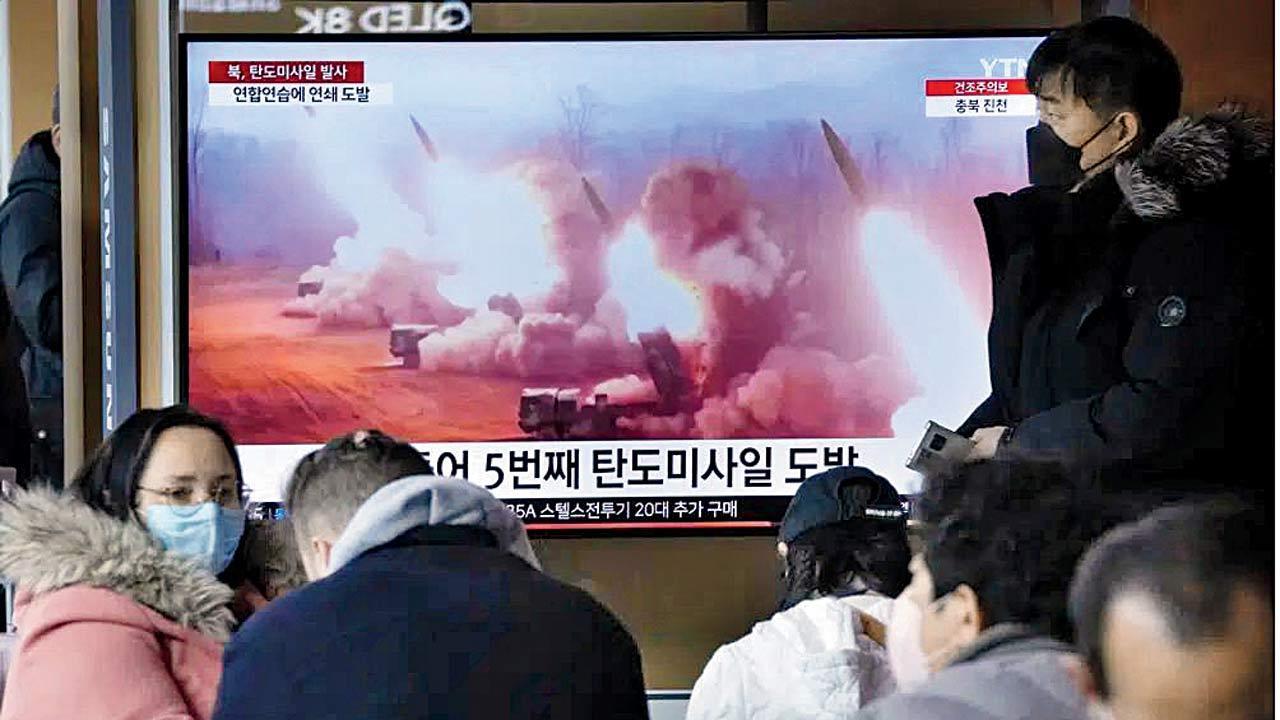 A TV screen shows a file image of North Korea's missiles launch during a news programme at the Seoul Railway Station Tuesday. Pic/AP
North Korea test-fired two short-range ballistic missiles in another show of force Tuesday, a day after the United States and South Korea began military drills that Pyongyang views as an invasion rehearsal.
The missiles launched from the southwestern coastal town of Jangyon flew across North Korea before landing in the sea off that country's east coast, South Korea's Joint Chiefs of Staff said in a statement. It said both missiles traveled about 620 kilometers (385 miles). The reported flight distances suggest the missiles target South Korea, which hosts about 28,000 U.S. troops. South Korea's military called the launches "a grave provocation" that undermines stability on the Korean Peninsula.
ADVERTISEMENT
The U.S. Indo-Pacific Command said Tuesday's launches don't pose immediate threat to its allies. But it said the North's recent tests highlight the "destabilizing impact" of its unlawful weapons programs and that U.S. security commitment to South Korea and Japan remains "ironclad."
Also Read: North Korean leader Kim calls for intensified drills in case of 'real war'
Pyongyang could further escalate its weapons tests over the coming days in a tit-for-tat response to the allies' military drills, which are planned to run until March 23. U.S. National Security Adviser Jake Sullivan said Monday that North Korea has been refining its submarine-launch capabilities since its first test in 2016, and the United States was studying Sunday's launches to assess the North's capabilities.
"But of course, we're not going to let any steps North Korea takes deter us or constrain us from the actions that we feel are necessary to safeguard stability on the Korean Peninsula," Sullivan said. The two countries have been expanding their drills as N Korean nuclear threats are growing.
Kremlin on AUKUS submarine deal
Russia said on Tuesday that a joint plan by the United States, Britain and Australia to create a new fleet of nuclear-powered submarines raised questions about nuclear proliferation. The leaders of the three countries on Monday announced details of the plan as part of their "AUKUS" partnership pact. It would provide Australia with nuclear-powered attack submarines from the early 2030s to counter China's ambitions in the Indo-Pacific. Kremlin spokesman Dmitry Peskov told reporters, "There are a lot of questions here related to the problem of non-proliferation. Here we need special transparency, and we need to answer the questions that arise." China has previously argued that supplying Australia with the submarines, which are conventionally armed but powered by very highly enriched uranium, amounted to an act of nuclear proliferation.