Australia's star pacer once again looms as the biggest threat to India's hegemony at home, even if the Chennai strip for today's deciding ODI sticks to its reputation and plays slow; left-armer uses the air and not surface to inflict damage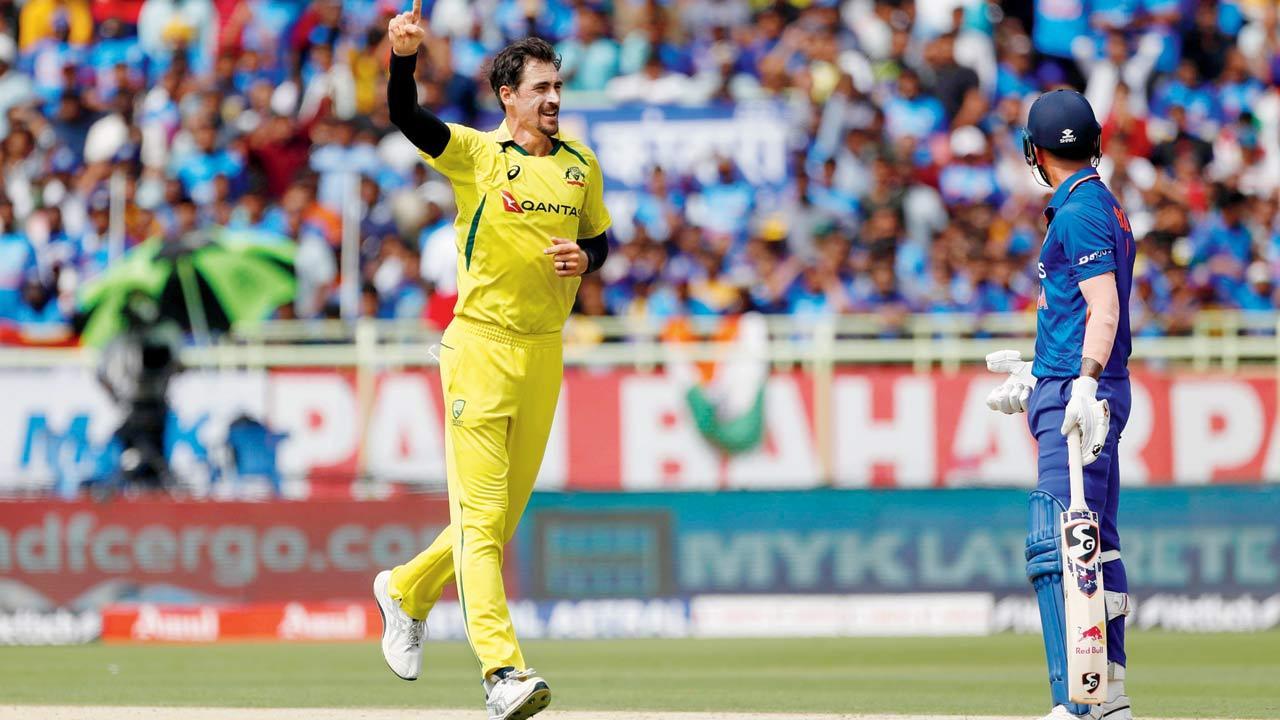 Australia's Mitchell Starc celebrates the dismissal of India's KL Rahul during the second ODI in Vizag recently. Pic/Getty Images
Since the beginning of 2016, India have lost just one out of 14 bilateral One-Day International series at home, 2-3 to Australia in February-March 2019. Four years on, Steve Smith's men are in a position to ensure that history repeats itself as the teams face off in the series-deciding third ODI at the MA Chidambaram Stadium here on Wednesday.
Contrary to norm and expectations, this short white-ball showdown has been dominated by the ball, and by the pacers specifically. If India rode on the heroics of Mohammed Shami and Mohammed Siraj to fire Australia out for 188 in the opener in Mumbai, then Mitchell Starc paid them back in the same coin two nights later in Visakhapatnam in a telling exhibition of left-arm furious allied with late swing into the right-hand batsmen.
ADVERTISEMENT
Having taken three quick wickets to briefly derail the Indian chase at the Wankhede, Starc was practically unplayable on Sunday in a first spell that knocked the stuffing out of the hosts. Starc's five-wicket haul sent them plummeting to 117 all out, their lowest total at home against the Aussies, and reopened an old debate revolving around their vulnerability to high-quality left-arm swing.
The disturbing regularity with which batsmen were pinned in front wouldn't have gone unnoticed by Rohit Sharma and Rahul Dravid, no matter if the captain sought to publicly dismiss those concerns in the immediate aftermath of the 10-wicket hammering in Visakhapatnam. Starc once again looms as the biggest threat to India's hegemony at home, even if the Chennai strip sticks to reputation and plays slow, because he uses the air—and not the surface—to inflict maximum damage.
Just how wonderfully he has got the white new ball to swing in, and out, has made for fascinating viewing, except if one is in the Indian dressing room. Various theories have been propagated on how to nullify his early threat and while one size can't fit all, a studied approach towards playing as straight as possible when the ball is at its newest and most potent won't be the worst option.
Also read: IND vs AUS 3rd ODI: Focus on Surya as Indian top-order burn midnight oil to tackle 'Mitchell The Menace'
While India's top order as a whole is understandably under the microscope—as Powerplay scores of 39 for four and 49 for five iterate—there is particular scrutiny of Suryakumar Yadav, the T20 behemoth whose 50-over career has been less than electrifying. Coming off two successive golden ducks—he was trapped leg before in almost identical fashion by Starc on both occasions —Suryakumar will inevitably be feeling the heat. He is probably only in the XI because of Shreyas Iyer's back injury and while Rohit has thrown his weight behind his beleaguered colleague, Suryakumar must be aware that with so many snapping at his heels, he can't afford any more slip-ups.
3-49 & 5-53
Mitchell Starc's performance in the last two ODIs v India