How did Japan up their game to beat two elite European teams and top their group? They learnt from their women counterparts!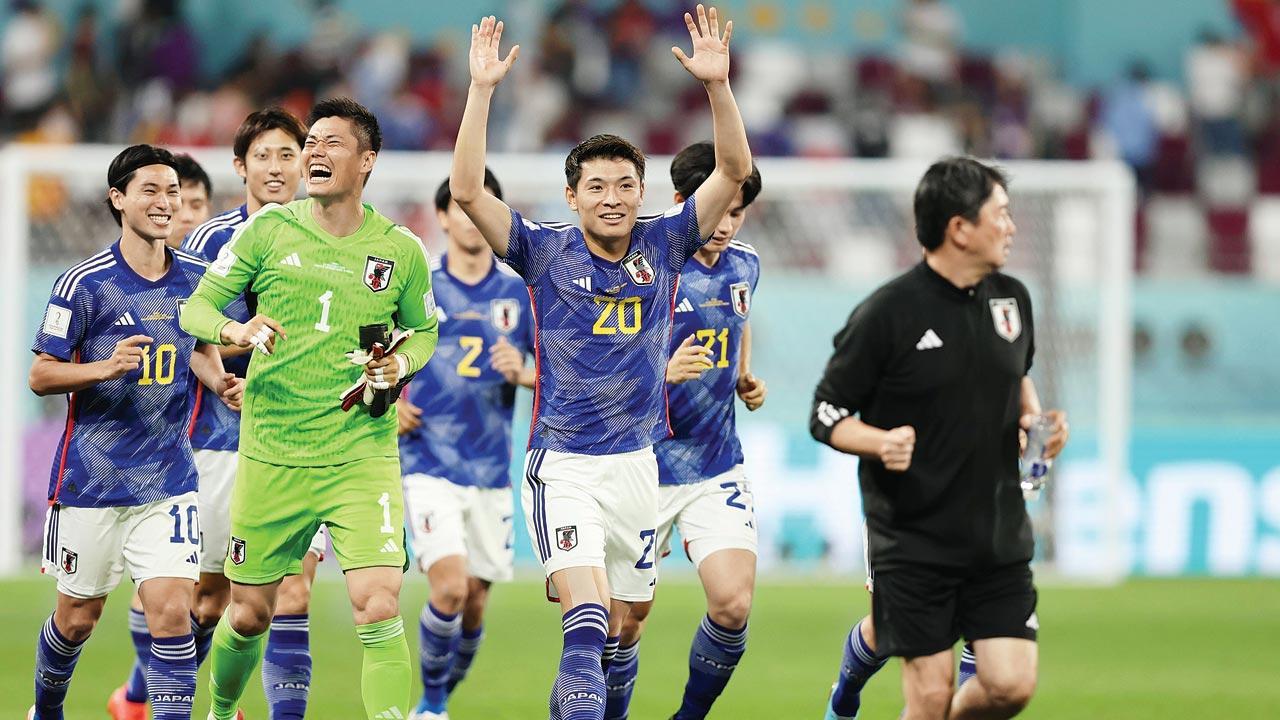 Japanese players celebrate their win on Thursday. Pic/Getty Images
Behind every successful man there is a woman! And the giant-killing Japanese football team had no qualms in admitting that they have borrowed and learnt from the tactics of their highly successful women's national side  after their shocking 2-1 win over Spain in their last league match at the Khalifa Stadium on Thursday night to top Group E.
For those who believe that men's football is far superior to the women's version, Japan coach Hajime Moriyasu made a stunning revelation after his team shocked Spain 2-1 in their last league match at the Khalifa Stadium on Thursday night to top Group E and progress to the next round. "We have been influenced by our women's team a lot. 
Also Read: FIFA World Cup 2022:Scintillating Switzerland oust Serbia 3-2, advance to Round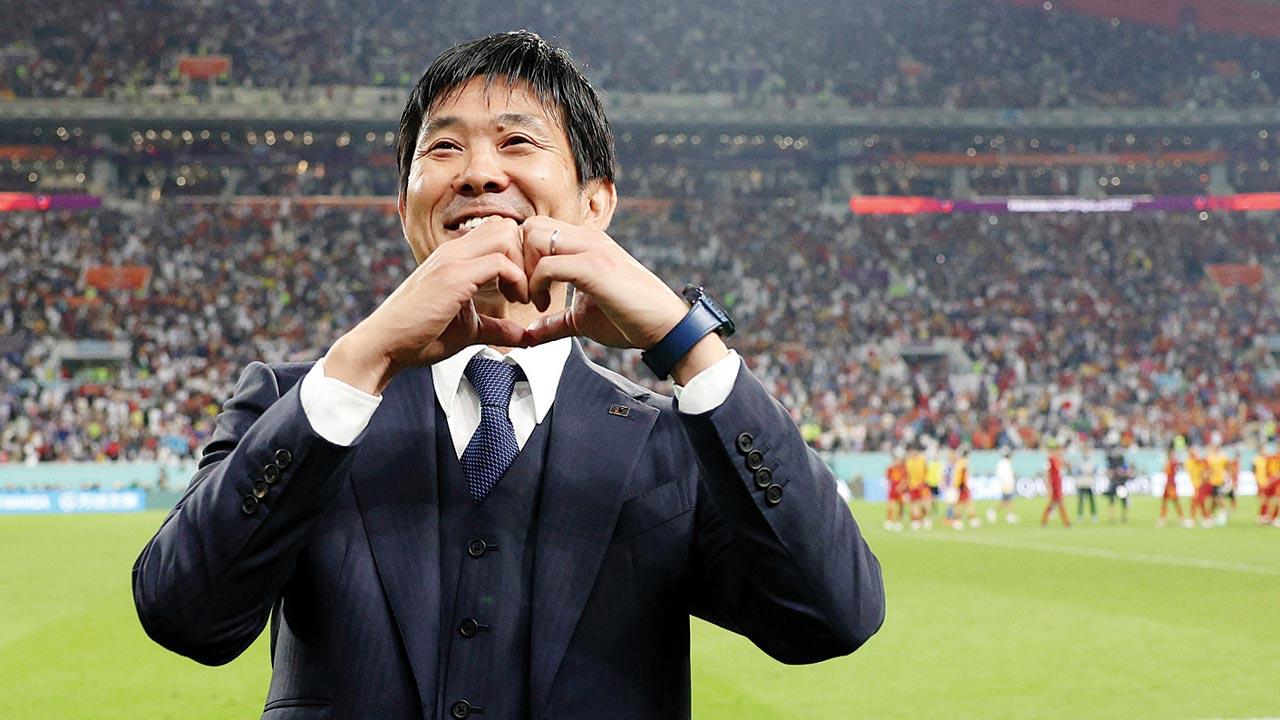 Hajime Moriyasu
We learnt [from the women's team] that Japan can make use of their own techniques to win against the world," said Moriyasu. 
Moriyasu even went on to explain a few things his men have picked up from their women counterparts which they employed successfully in their match against Spain. "We had to fight hard as a team while neutralising the opponent's strength. Spain is not the type of team to attack in the air, so each individual had to fight their duels with responsibility. We had to respond quickly to loose balls and make them our own. We learnt all of this from our women's team. Even when we attack, we have to co-operate as a team, so that then we are able to counter-attack and enjoy some more possession. This is also information that the women's team learnt after winning the World Cup [in 2011] and then passed on to us," added Moriyasu.
Also Read: FIFA World Cup 2022: Uruguay beat Ghana 2-0 but fail to qualify for last 16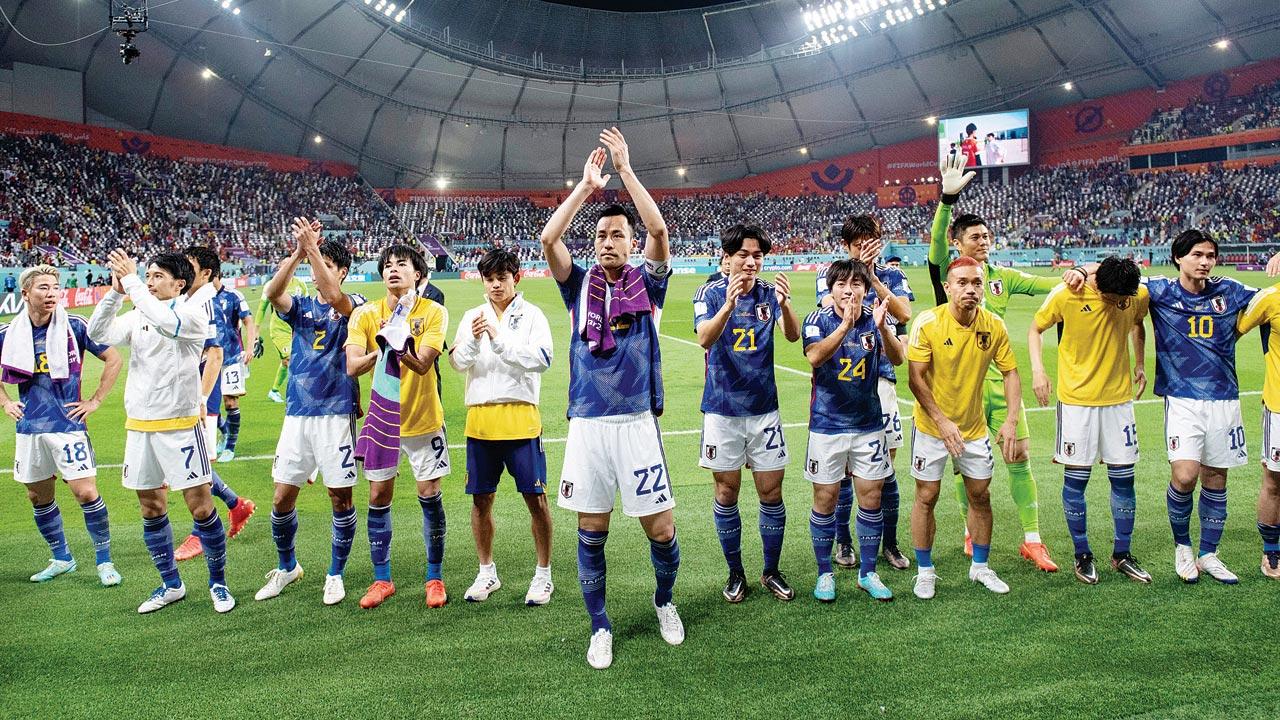 Japanese players acknowledge the crowd after their win over Spain on Thursday. Pics/Getty Images, AFP
Controversial goal
Alvaro Morata opened the scoring for Spain in the 11th minute before four minutes of breath-taking action saw Japan first equalise through Ritsu Doan (48th min) and then take the lead, in rather controversial circumstances, through Ao Tanaka (51st min). Japan's Kauro Mitoma appeared to have pulled the ball back into play after it crossed the byline, however, VAR adjudicated otherwise and Tanaka got to the end of the move to score the all-important goal to help them qualify as group toppers. 
Moriyasu played safe when questioned about the controversial goal.
'We worked hard to win'
"We made that goal happen, we worked hard to win the game. If the current technology decided it was out, it would have been a goal kick. We respect the referee and were ready to accept his decision. Since he decided on the goal, we accept that we scored the goal," said Moriyasu, who was proud however, that his team continued to keep the flag of Asian football flying high at the world's biggest stage. "We have beaten Germany and Spain, two of the world's top teams. Today, I hope everyone involved with Asian football can gain confidence from this and rejoice together," added Moriasu, whose Blue Samurais take on Luka Modric's Croatia in their Round-of-16 match on Monday.
Women's team's achievements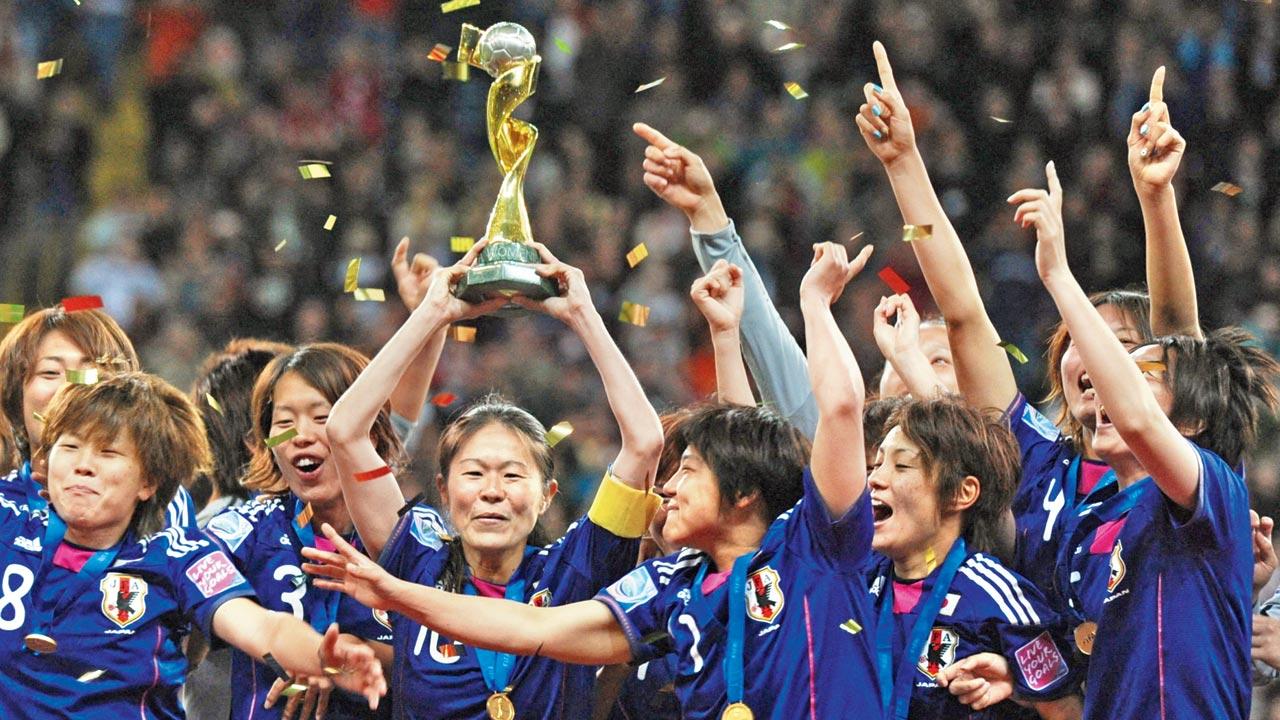 Japan's women team celebrate after winning the 2011 FIFA WC in Germany
2011 World Cup: Champions
2012 Olympics: Silver medallists
2014 Asian Cup: Champions
2015 World Cup: Runner-up