Hosts India beat South Africa 5-2 in classification match to finish forgettable tournament on a winning note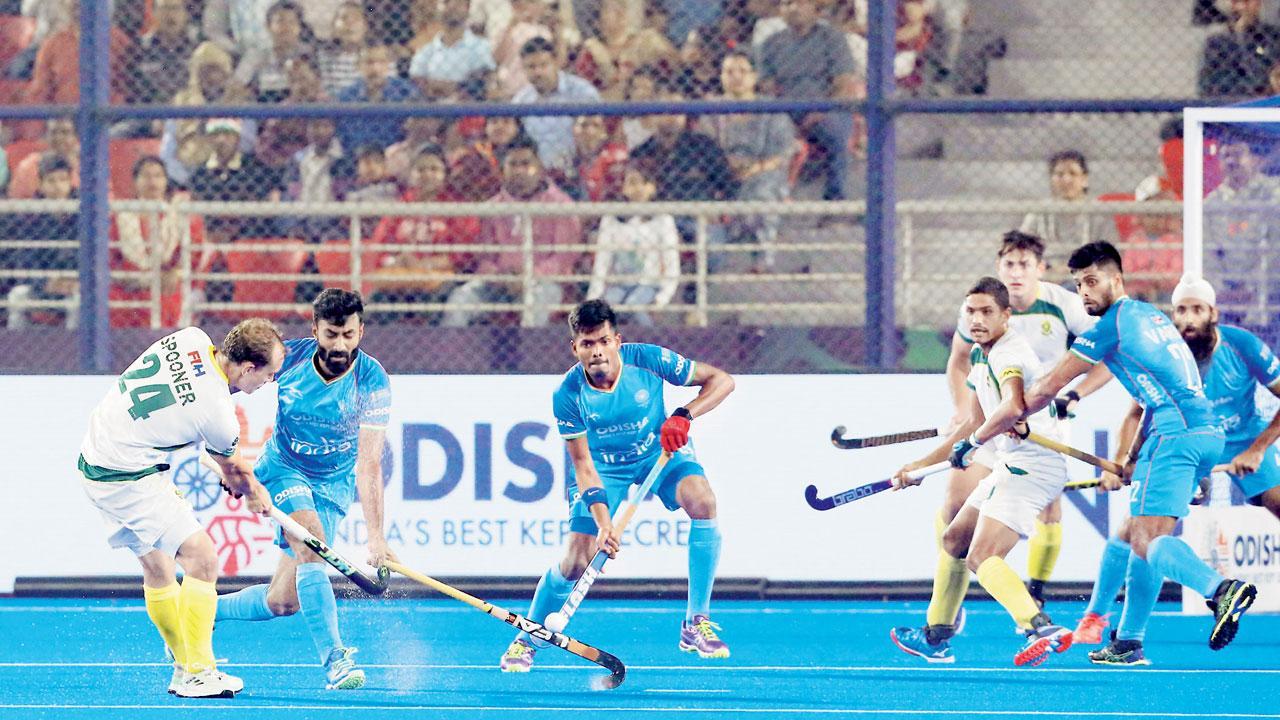 South African and Indian players fight it out at Rourkela on Saturday. Pic/Hockey India
Team India beat South Africa 5-2 in front of a jam-packed Birsa Munda Stadium here on Saturday to clinch the ninth spot, but understandably Harmanpreet Singh & Co were not all smiles despite finishing both their classification matches with victories. Clearly, their target was the podium or a semi-final finish, least of all a Crossover exit. There were high-fives in the India camp after the win, but no big hugs or wild celebrations that are otherwise seen.
Senior player Manpreet Singh admitted that the [4-5] New Zealand defeat in the Crossovers, leading to their early ouster, still hurts. "We had a good tournament except for that game against New Zealand so obviously we still feel bad about it. But it's great to have scored so many goals in the classification matches [India beat Japan 8-0 in the 9th to 16th place match before this]," Manpreet told mid-day.
Veteran goalkeeper PR Sreejesh could not agree more with his senior colleague. "I think except for the New Zealand match we have played a good tournament. But even that defeat is a lesson and I think the younger players should never forget the pain of that loss as that will keep them in good stead for their future matches," he said.  
On Saturday, Abhishek (4th minute) opened the scoring for the hosts with a field goal after which skipper Harmanpreet (11th min) scored off a drag flick. Shamsher Singh (44th) then made it 3-0 off a field goal before the South Africans came roaring back four minutes later with a goal of their own. Mvimbi Samkelo controlled an aerial ball inside the India striking circle and slammed home, beating Sreejesh all ends up. Akashdeep Singh's (48th min) delicate tap-in saw the hosts get a three-goal cushion again followed by Sukhjeet Singh's (58th min) diving effort that made it 5-1. The South Africans however had the last play of the match, earning a stroke thanks to a faulty tackle by Sreejesh. Cassiem Mustaphaa (59th min) made no mistake from the spot.
Also Read: Hockey World Cup 2023: Same two shame!