Then, in a fast-paced final, he set up the opening goal and scored the second as the young CTC side rallied to a fine win.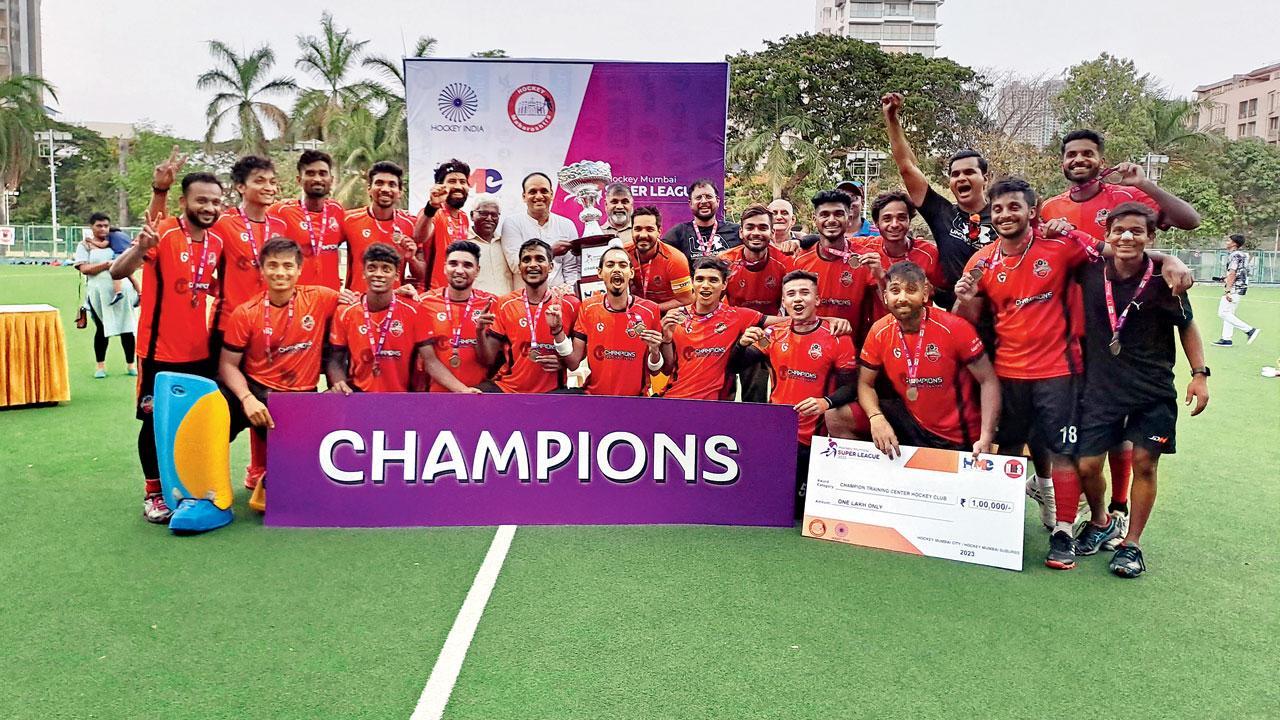 The victorious Champions Training Centre team with the Mumbai Hockey League trophy at Don Bosco, Matunga, yesterday
Olympian Devindar Walmiki, 31, was at his inspirational best as he helped Champions Training Centre (CTC) beat Central Railway 4-3 in a thrilling final of the Mumbai Hockey League, organised by Hockey Mumbai City and Hockey Mumbai Suburbs at Don Bosco High School, Matunga, on Sunday. 
Hardworking midfielder Walmiki, 31, who landed in the city on Friday morning, after playing a tournament in the USA, scored the same evening in CTC's  semi-final win over Western Railway. Then, in a fast-paced final, he set up the opening goal and scored the second as the young CTC side rallied to a fine win.
ADVERTISEMENT
CTC opened the scoring in the 13th minute when Walmiki salvaged a poorly executed penalty corner with a crisp reverse hit across the CR goal, only for teammate Akshya Avhad to tap in from close range. 
The railwaymen fought back and earned a well-deserved equaliser through Pankaj Singh (21st min) and then went ahead through Mohammed Nizamuddin (29th min) to step into half time with a 2-1 advantage.
On resumption, CTC immediately earned a penalty corner and Walmiki smartly executed a drag push through CR goalkeeper Mujahid Khan's pads to restore parity (35th min). It was CTC's turn to go ahead this time, through Chavan (41st min). 
CR, though, weren't done yet. A defensive lapse from CTC saw the ball fall to CR's Irshad Mirza (56th min) inside the CTC striking circle, and the CR striker slammed home to ensure the scores were level once again with the crowd cheering from the makeshift stands. 
A minute later, CTC were rightly awarded a penalty stroke by international referee Javedh Shaikh after a goalmouth melee led to an infringement on the CR goalline. CTC's Talib Shah made no mistake from the spot. 
"We [CTC] are a relatively new club. We launched in 2020, but began operations only in 2021 due to the COVID-19 situation. Almost all our boys are betweeen 18 and 22 years of age, so emerging as Mumbai's best hockey team in such a short span is indeed a special achievement," Walmiki told mid-day.
Chief guest and president of Hockey Mumbai District, Sachin Ahir, awarded CTC the winner's trophy and cash prize of Rs 1 lakh while CR received the runner-up trophy and a cheque of Rs 50,000.
Also Read: Hockey Women's Junior Asia Cup: India look to continue winning run against Malaysia