While India's love for roti and naan is centuries old, the recent flirting with flatbreads is all set to become a rage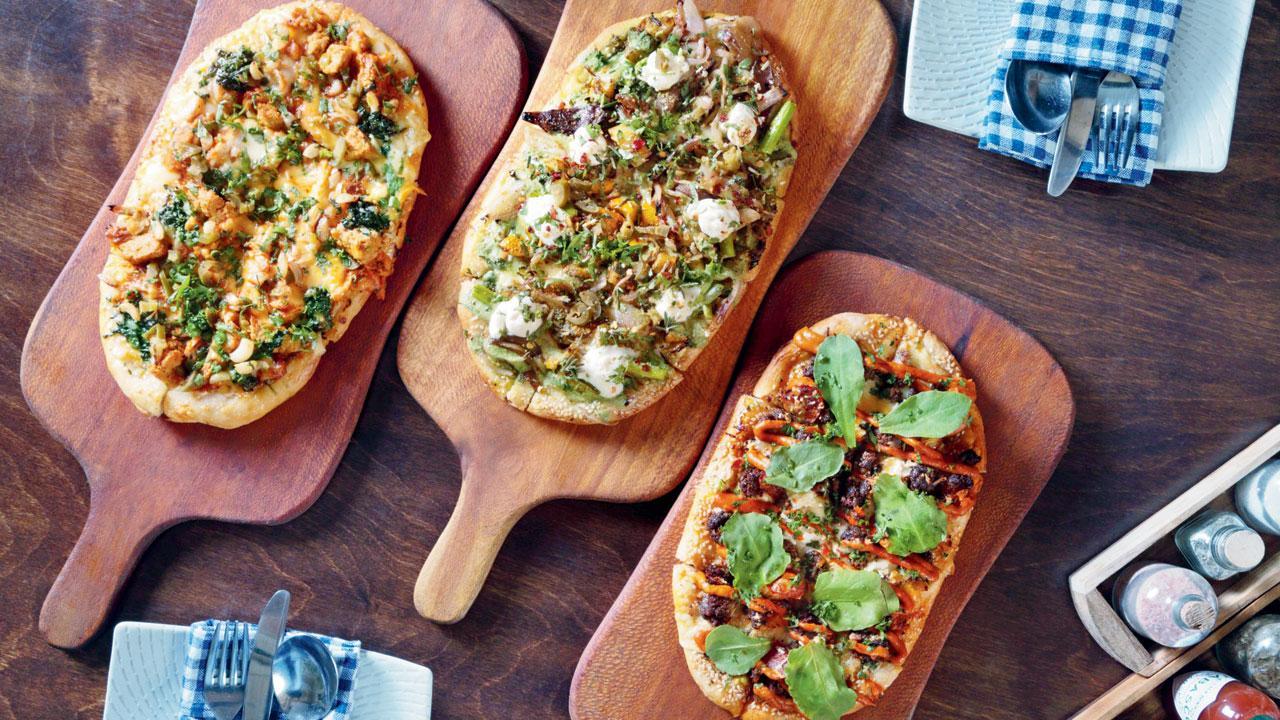 Asian style spicy smoked chicken flatbread
A few days ago, while lunching at The Bandstand Pantry in Bandra, mindfully eating Turkish-style flatbread with sundried tomato pesto, kalamata olives, caramelised shallots and boccocini, we watched the mild sunrays hit the (surprisingly) clear waters of the Arabian Sea. The lady at the table next to ours had ordered a portion too. "I have flatbread on my cheat days when I crave a pizza," she explained to her girlfriend who was picking on salad, whose quick pretentious reply was, "Pizza is so last season and unhealthy."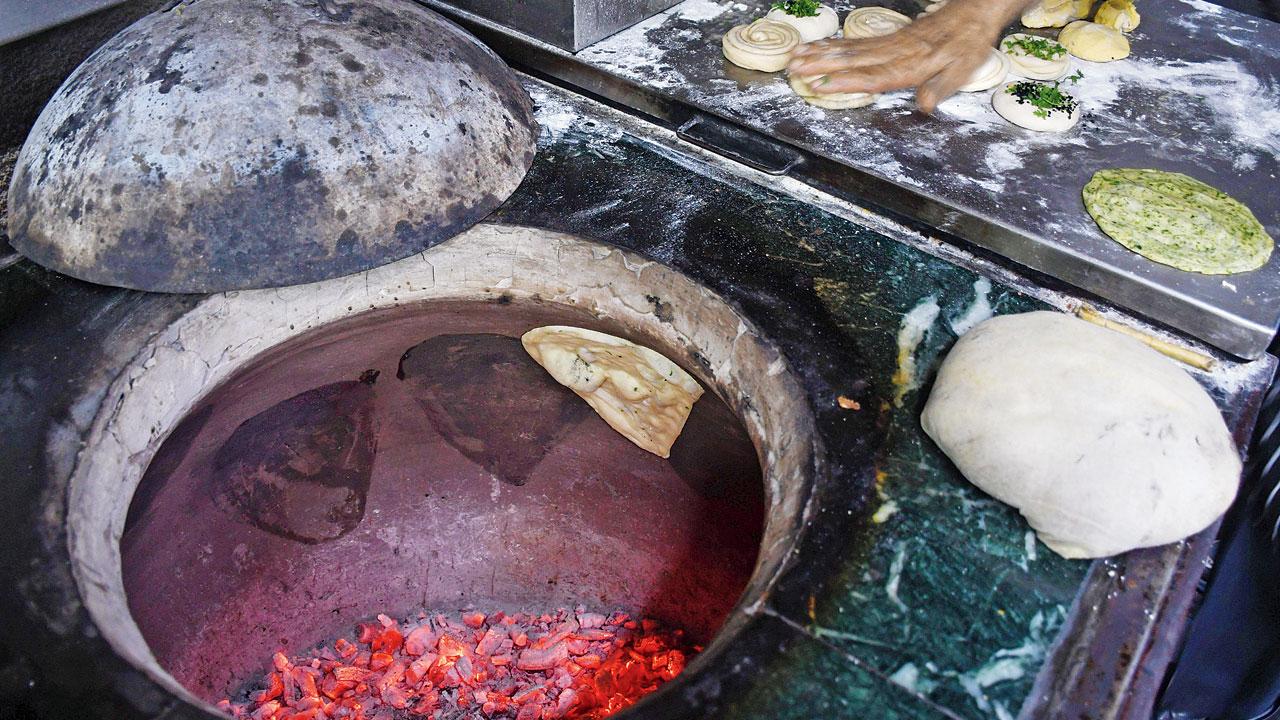 ADVERTISEMENT
Interestingly, the table opposite ours had ordered another version of flatbread too. Recent surveys have confirmed the rise in popularity of this accompaniment. According to Global Flatbread Market Opportunities and Forecast 2019-2026, the flatbread market is growing at a compound annual growth rate of 6.2 per cent and is expected to reach $62.8 billion by 2026. 
It's no  surprise that flatbreads are a hit, given the long Indian tradition of grilled naan, kulcha, and roti. Chapati is a staple in almost every home; how far the naan's history dates back in India is under debate. It  comes from Persia for sure—noon is Persian for food. Some researchers believe that it arrived on the subcontinent with the Egyptians,  along with yeast. Others attribute it to the Mughals.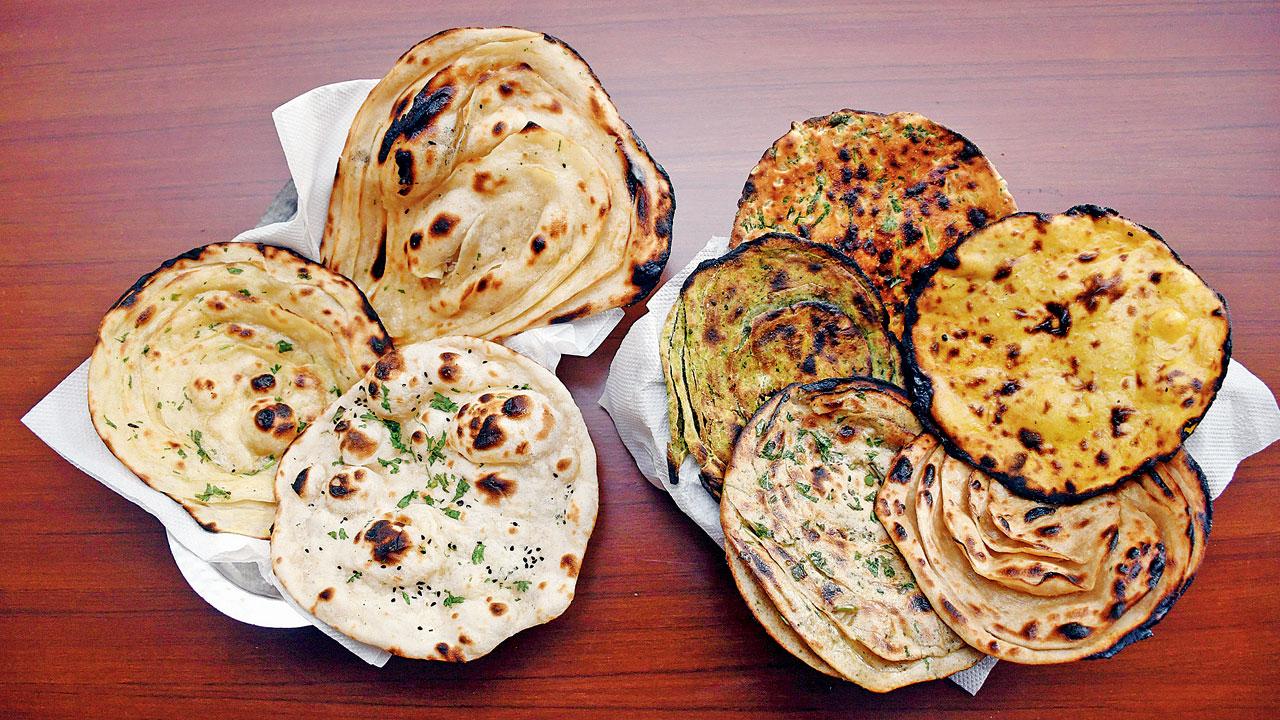 One of city's oldest dhaba-style eatery, Pritams has served paratha, roti, naan and kulcha for decades and they saw a rising demand during and post the pandemic. Pics/Ashish Raje
Flatbread in India has endless variants, stemming from modifications in terms of ingredient, method, and quality. For instance, whether it is made from wholemeal (atta) or superfine white flour (maida), millets or cereals, fermented or unfermented, leavened with yeast, baking powder or bicarbonate of soda, baked in a tandoor or tawa pan or deep-fried in a wok, stuffed, rolled or folded. Globally, ranging from Scandinavian flatbrots to tortilla in South America to the piadina in Romagna, Italy, flatbreads have enjoyed acceptance across regions and cultures.
We've tried contemporary avatars at Cafe Panama (pulled lamb, mint and parmesan), Toast & Tonic (smoked chicken with housemade BBQ sauce, balsamic onions and black sesame seeds) and Loci & Toot (skinny avocado flatbread).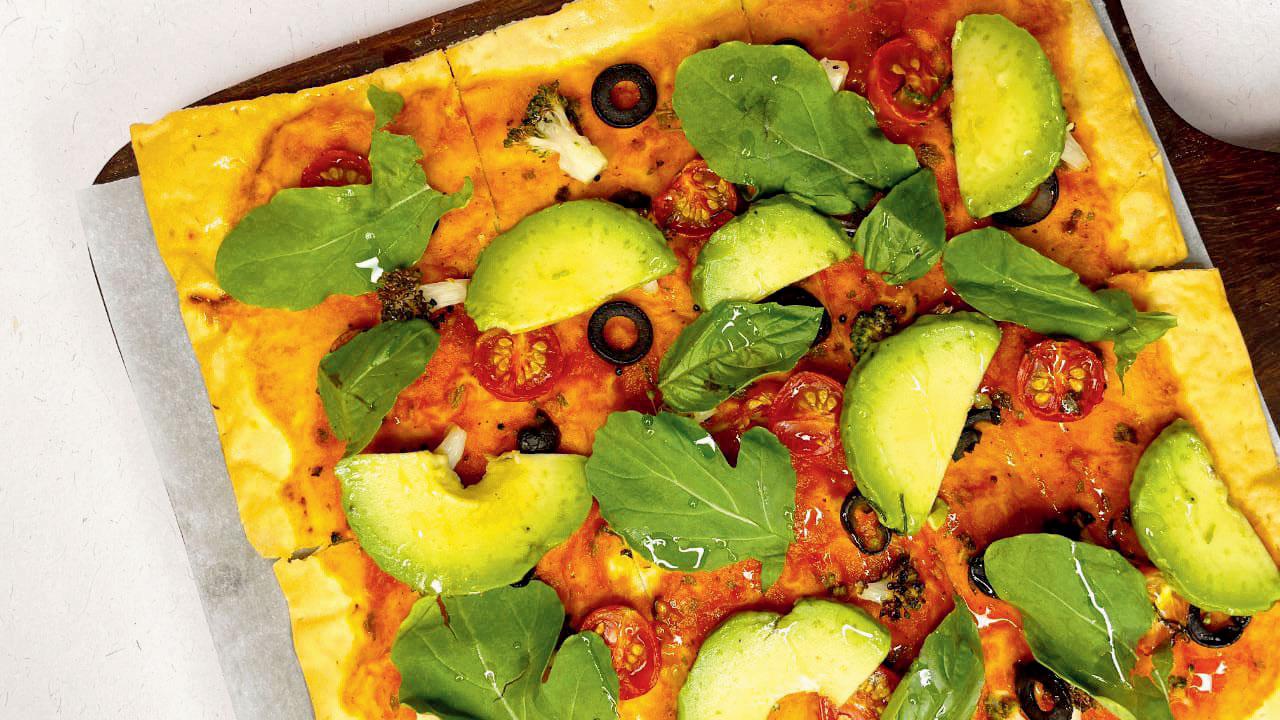 Skinny Avocado Flatbread
Chef Gresham Fernandes credits its popularity to its accessibility and ease of cooking. Flatbreads are a lot thinner than common bread, and have a high crust-to-crumb ratio leading to a low specific volume. Generally unleavened, they are a wonderful companion to most side dishes. "Our flatbreads are premade in-house with atta, maida, flaxseeds, ragi, nachni, sesame seeds, and melon seeds," he says, "so it is easier to just top them with customised ingredients. Like a pizza, just that here, you take off the tomato sauce and add anything you like. We add slow-cooked onions, kalamata olives and feta—the flaxseeds add a nuttiness—it's a flavour punch. I also like the parma ham and seasonal fruit one. The best part: a flatbread has half the calories of a pizza."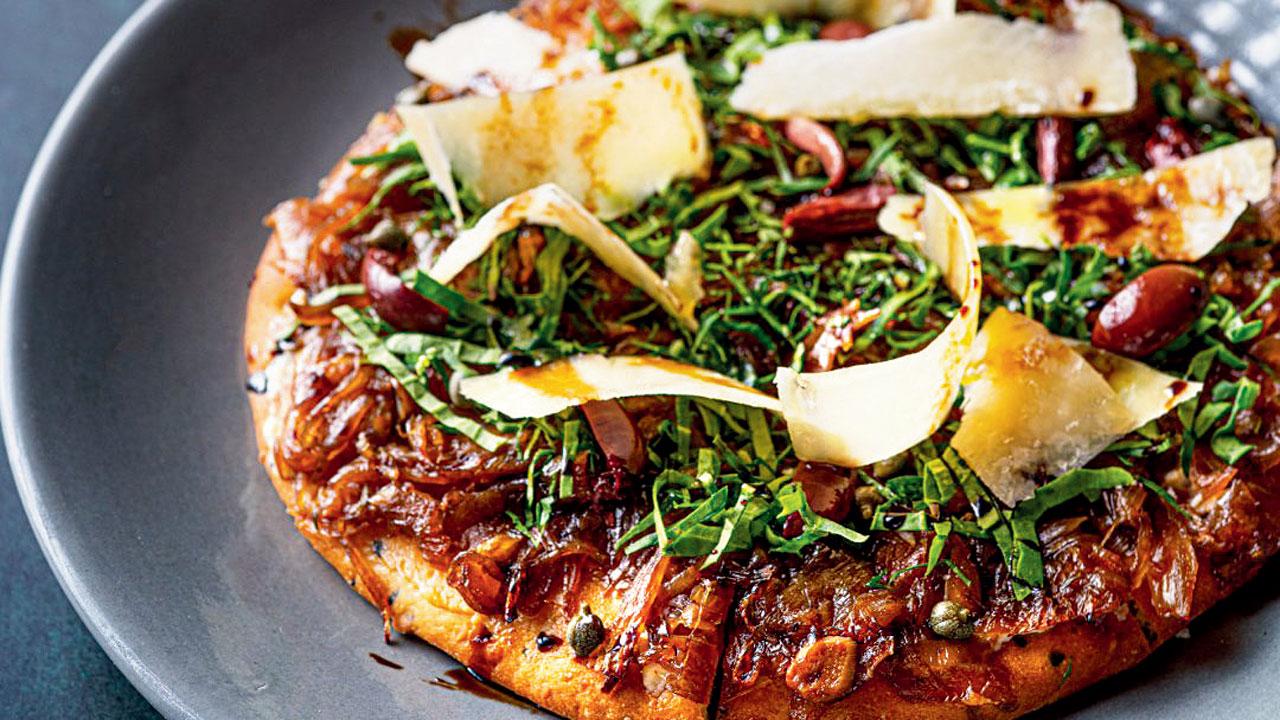 Goat's Cheese Kalamata Olives Flatbread
The flatbread craze is not restricted to restaurants. One look at the commercial bread aisle and you will realise that it doesn't look the same anymore. There is a wide variety, especially after the pandemic, with people willing to experiment with ingredients in the kitchen or try new, quick and easy dishes. Flatbreads make the task easier. Nine-year-old bread brand, The Baker's Dozen, uses corn, barley, millets and buckwheat. "This makes flatbreads versatile, high in dietary fibre, great for gut health and a good source of thiamin, riboflavin and niacin," says owner Aditi Handa.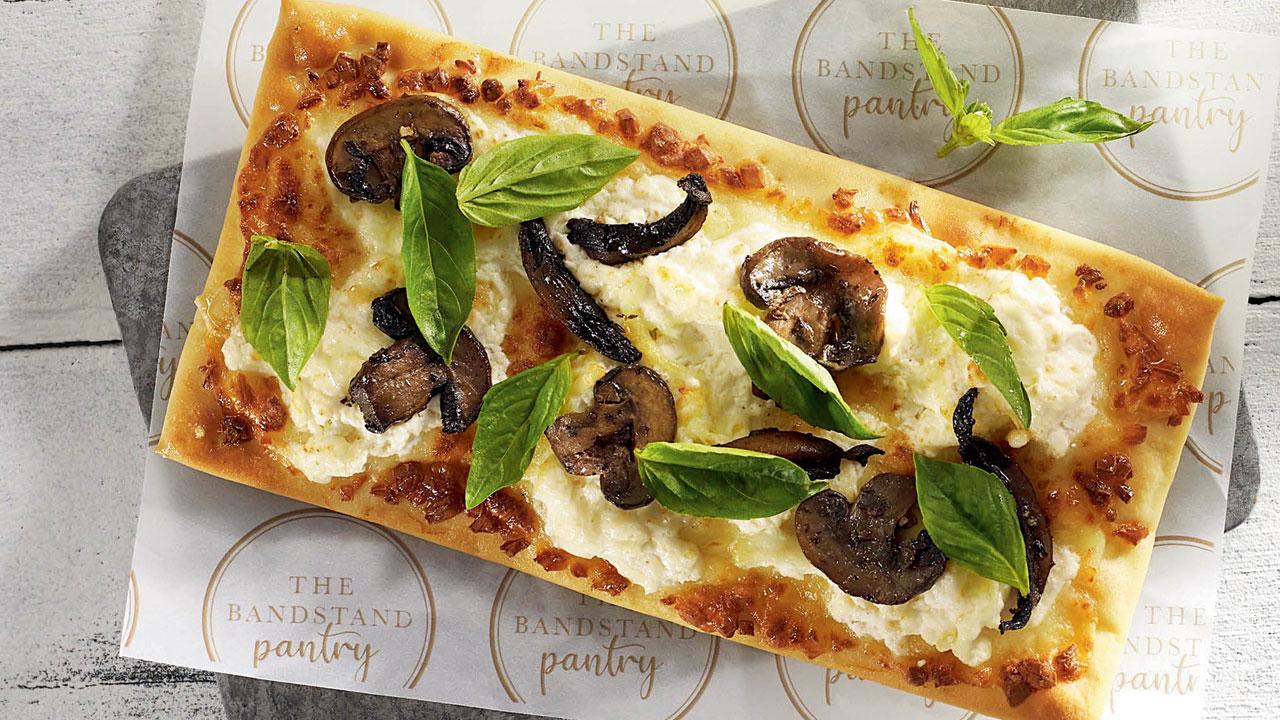 Turkish Flatbread
Going off the gluten radar, start-up brands such as Sprinngfoods have had their gluten-free pizza base has been a star product since inception. It has a thin crust and is healthy compared to the regular maida-variety available in the market, Tarun Khanna, its founder, explains. "After we successfully launched our gluten-free bread, we were flooded with requests for launching gluten-free products that would mimic the original kulcha and suit the Indian palate," he says. "That pushed us to introduce gluten-free kulcha; they are doing fabulously. We now supply the to restaurants."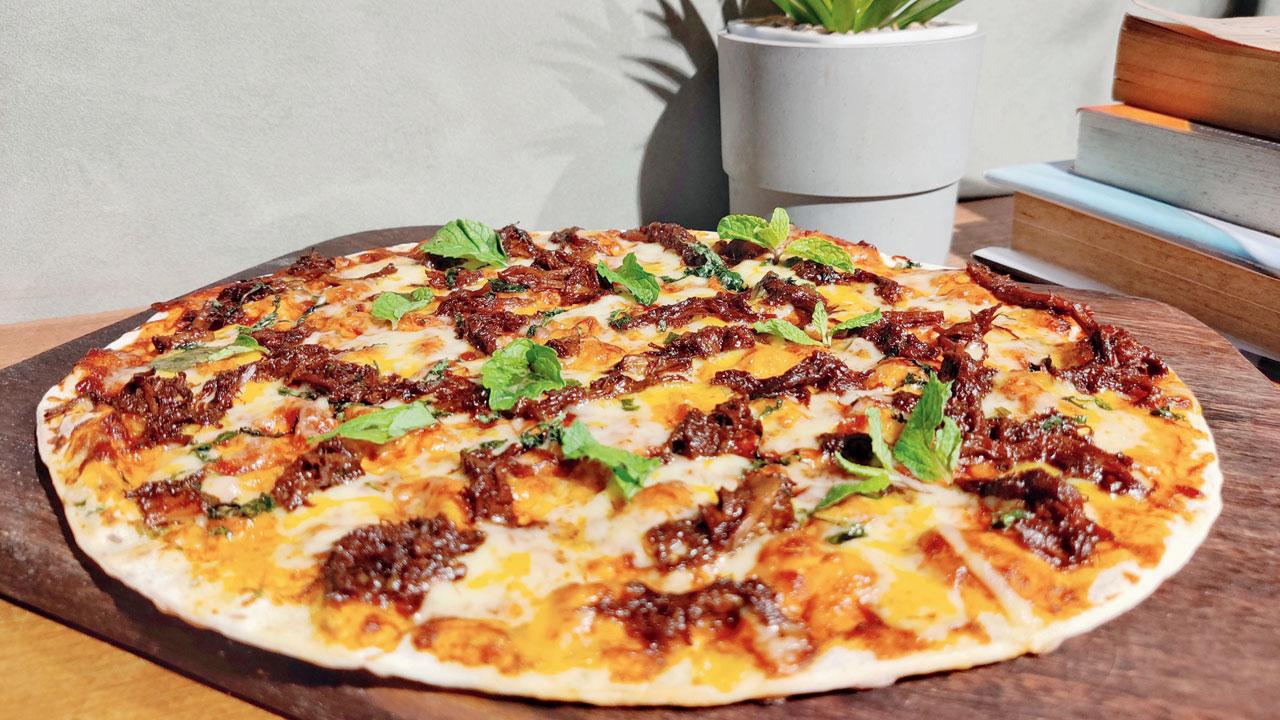 Pulled lamb, mint and parmesan flatbread
Handa's favourite flatbread to work with is lavash—it is the perfect solution for anytime cravings and the best companion to flavourful dips and sauces. "Lavash is enriched with the goodness of black and white sesame, making it a healthier option," she says. "Along with the other nutritional properties associated with the eat, it is also a good source of protein. The fun part of baking this flatbread is that we can play around with various shapes and sizes, making the process interesting."

Glutenfree pizza base
Sprinngfoods has also added lavash to its roster of gluten-free mid-meal snacks. Speaking of the desi version, Handa says she is fond of golden-brown, flaky and layered parathas for breakfast and occasionally, ones stuffed with boiled potatoes, cauliflower, garlic, ginger, chilli, paneer, or radish. While it is time-consuming to make these, brands such as Shahi, ID and Switz have made life simpler with their heat-and-serve variants that can be frozen until use.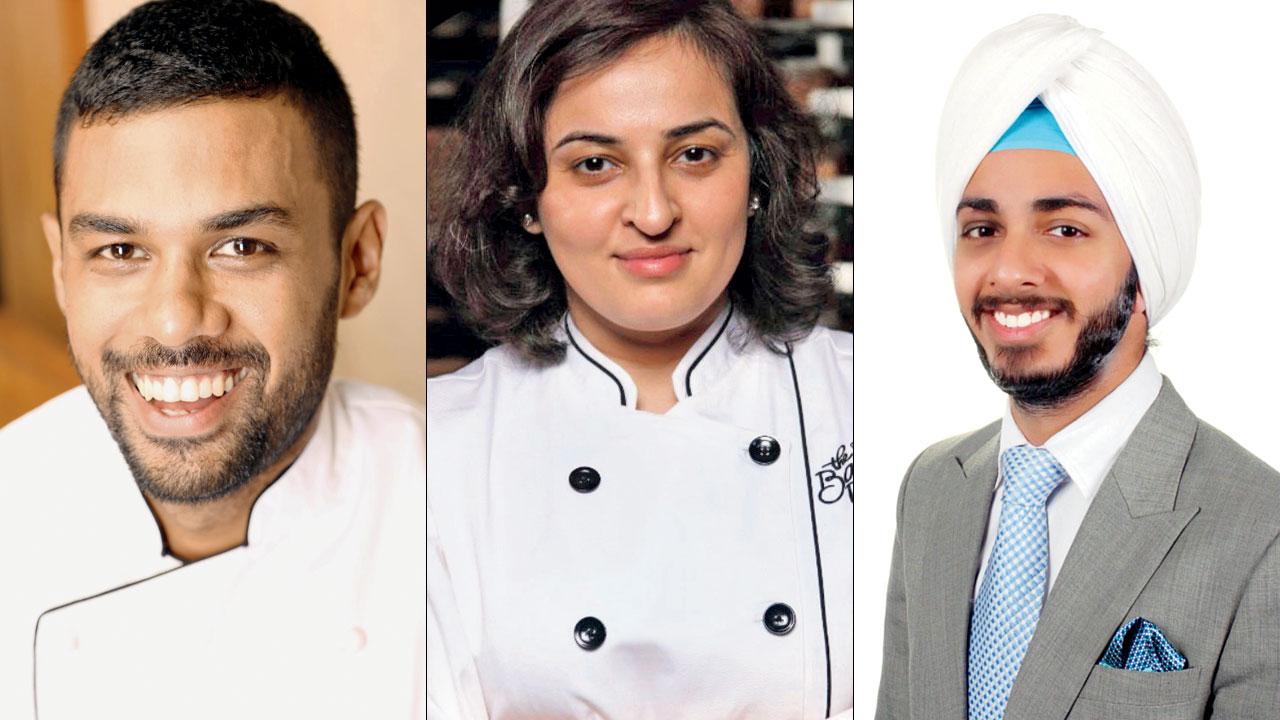 Gresham Fernandes, Aditi Handa and Jaibir Singh Kohli
According to Indian Flat Breads: A Review, in recent years, many researchers have tried to improve ingredient level, baking properties, organoleptic characteristics, nutritional value and extension of the shelf-life of flat bread. They are usually produced from a simple recipe consisting of flour, salt, and water in varying proportions, however, sometimes the manufacturers also use optional ingredients such as yeast fat, skim milk powder, and certain additives such as emulsifiers, hydrocolloids, enzymes, and preservatives for quality improvement and shelf life enhancement.
Jaibir Singh Kohli, Director, Pritam Group of Hotels and Restaurants, says his 80-year-old Dadar dhaba-style eatery has served paratha, roti, naan, and kulcha for decades, but they saw a rise in demand during and post the pandemic. Guests have been enquiring about mixed flour and millet versions, hoping to eat healthy. Pritam now let's them choose their base and toppings. Kohli tells mid-day that he plans to offer open-faced shawarma and naan tacos at his upcoming food truck.
Naan, once a delicacy in royal households, is a must-have with creamy gravies across north India. Traditionally, the dough is slapped onto the inner wall of a clay tandoor oven and baked around coal. During the pandemic, home chefs and cooking enthusiasts experimented with at-home versions, especially inside a pressure cooker or ulta tava (reversed pan). Contemporary versions are available across eateries, including naan bombs and chips that customers are being encouraged to replace potato chips with. Pritam Da Dhaba is running trials of truffle and mushroom naans  for their upcoming restaurant in Juhu. 
"It's turning out to be a huge hit already," Kohli says. "Indians love their naans; they are so versatile. I am particularly fond of the blue cheese kulcha at Indian. Accent in Delhi and feel that it's important to understand and experiment with Western ingredients if we are to give naan its credit." However, he disses attempts to give indigenous recipes fancy names: "We can't call jowar ki roti a millet flatbread."
To order flatbread home
Fitness Bakery, Bandra (7718918188)
Ellipsis Bakery, Worli (66164653)
The Baker's dozen (thebakersdozen.in)
Sprinng (sprinngfoods.com)