His dishes are an expression of his feelings and experiences, slathered with dollops of nostalgia. Frenchman Gregoire Berger, UAE's most innovative chef, brings his culinary theatrics closer home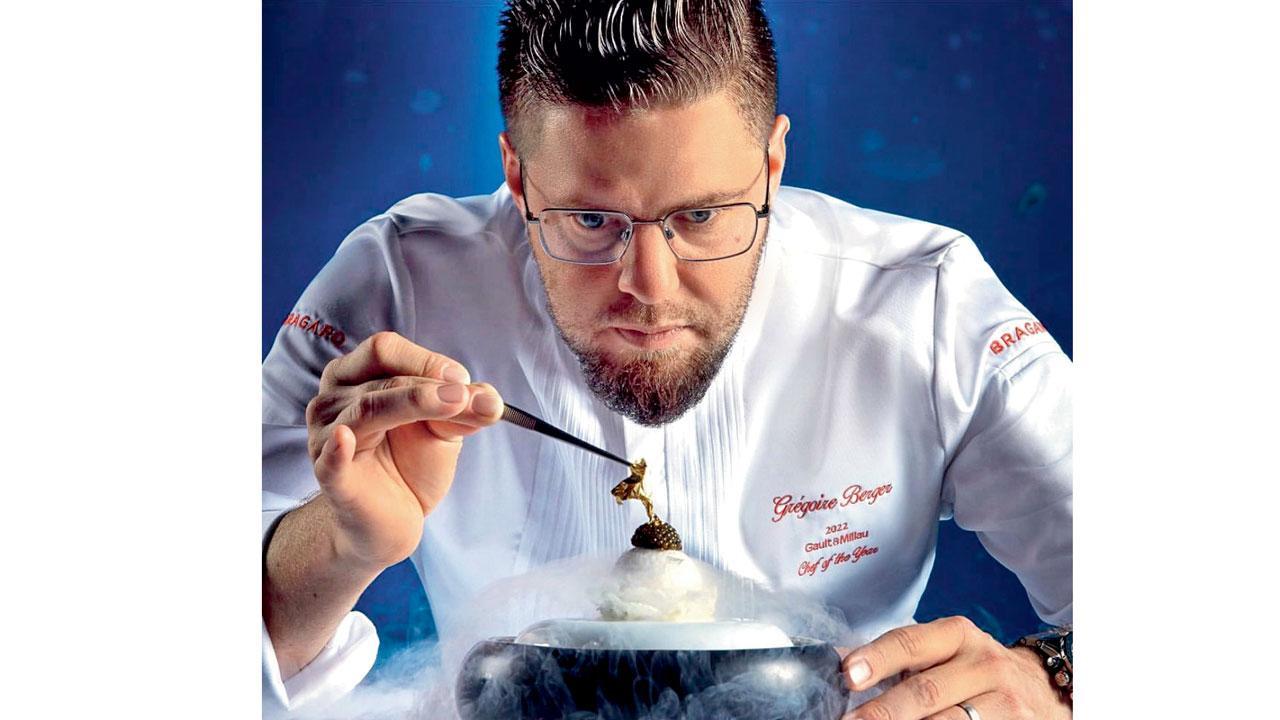 French chef Gregoire Berger
In Chef Gregoire Berger's world, always expect the unexpected. Like when you taste Euphoria of a New Departure, shaped like a tomato and placed on a bed of tomatoes, thinking it would be tomato-esque, the burst of hamachi and bell pepper tacos and crab takes you by surprise. And that's just the first course of Berger's famed 11-wave tasting menu hosted by Culinary Culture at the Four Seasons, Mumbai.
Heading Ossiano, Dubai's famed underwater Michelin star seafood restaurant at the Atlantis, the Palm, Berger's dishes are largely focused on the sea, blissfully plated to offer a multifaceted, multisensory experience, artfully interwoven with his memories and experiences, including those of growing up in Brittany, sunsets in South America, and his wife's Middle Eastern heritage. The presentation is integral to the stories he is trying to tell—from bowls shaped like oversized crabs to cauliflower leaves mimicking the movement of corals and potatoes disguised as lumps of charcoal. The plating is sculptural and almost too pretty to eat.
ADVERTISEMENT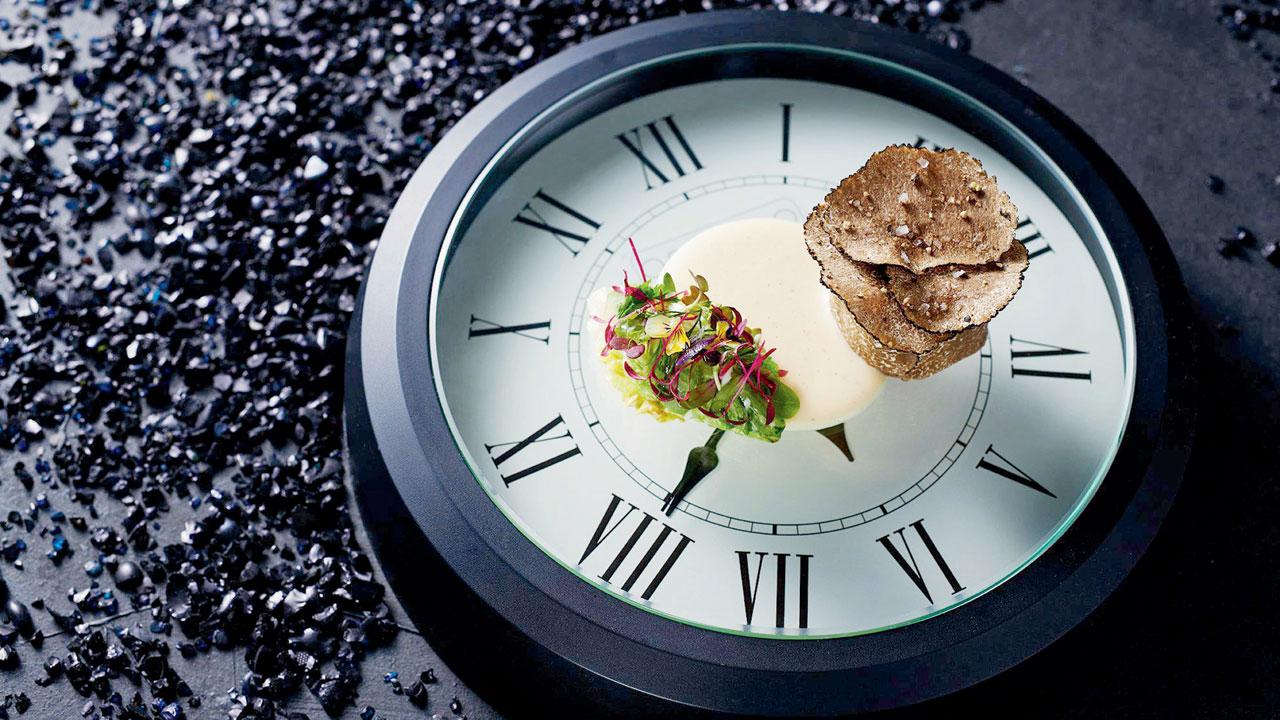 On the Path to Nostalgia
"It is not just a matter of creating a dish—it must provoke emotions," says Berger, who at 36 is the youngest and only chef in the UAE to be featured in the top 100 of the Best Chef Awards for five consecutive years. "I'm at no level at all," he says nonchalantly. "We're all always at level one, in the race for the next level, trying to reach the 10th level, which is impossible," he says philosophically. "It's just food after all. When chefs take concepts too seriously, they end up distancing themselves from the food they make. And when titles and awards are attached, you are too afraid to lose them and you end up losing the magic of simplicity of food," he adds.
Speaking of his most talked about dish, On the Path to Nostalgia, Berger tells us how during ideation, he reflexively started playing with his wristwatch, when it occurred to him that "time" is a more common element of nostalgia. So he thought of a dish, served on a clock that goes backwards in time. An artist at Atlantis was asked to put together the mechanics of a such a clock. "He said 'that's not possible'. I told him, you are an artist, you make it possible. So he broke about 20 clocks before he got the mechanics right. Now when the dish is served on a plate, which is a clock going back in time, it subconsciously puts the guest into nostalgia mode. Adding to it is my own nostalgia for croque monsieur sandwiches [traditionally made with ham and cheese] that I used to eat as a young chef back home. Then I go on to explain to the guest that this is not about going back in time for them; instead, I invite them to go back in time with me, with the stories associated with the dish. It becomes an emotional moment where they become a part of my nostalgia," says Berger, who feels it's imperative to make people "pause and think" because "that is something we are not doing anymore".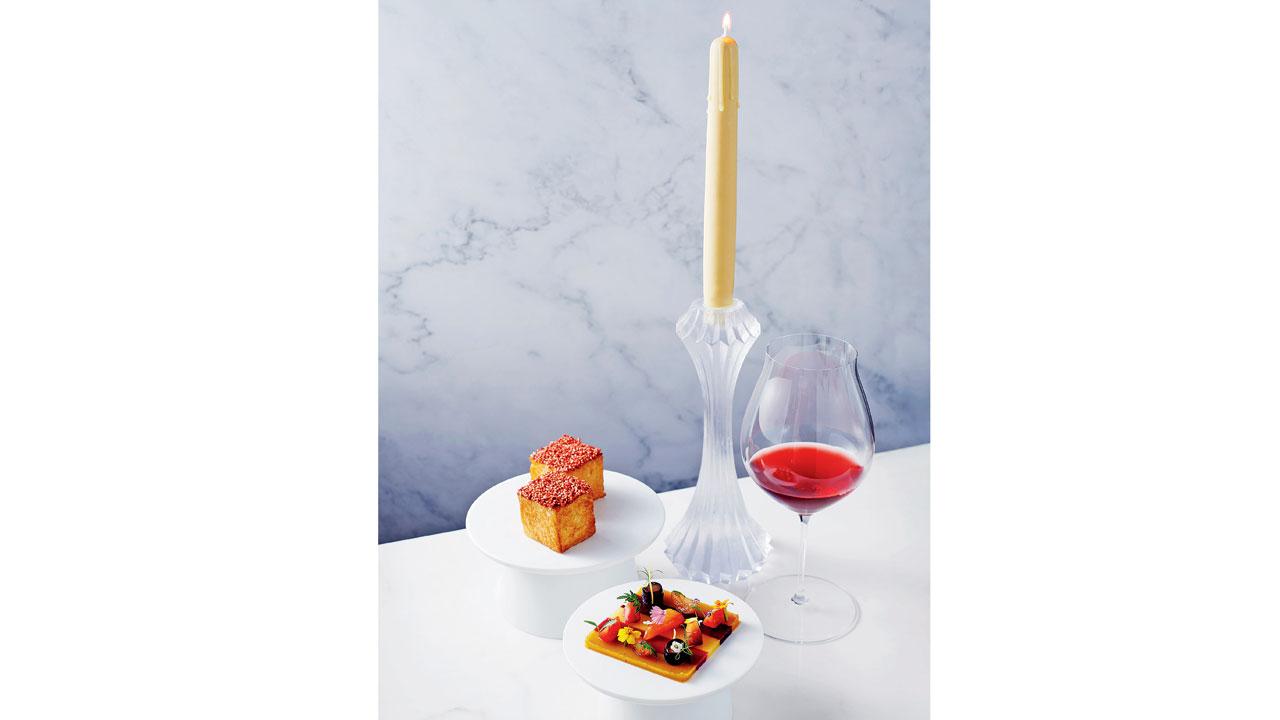 Candle
Catering to almost 17 nationalities in the UAE, Berger relies heavily on experience and inner feelings to create masterpieces, menu after menu, picturing in his mind what the guests are going to eat. "When I talk to the guest, this is the moment of separation from the kitchen. I tell them to imagine my first job—of picking fruits during the hot summer, starting early in the day and being exhausted by 3 pm. To cool off, I'd go to the barn of the owner of the field, drink wine and enjoy a moment of celebration. On the plate, this scene translates into a dish called 'Candle'. It is lit too, but when you slice through it, there is foie gras inside; the wax of the candle is also made from the fat of the foie gras. There's a small garden of fruits and we bring on the wine at this time. So in the mind, guests are in the field, in the barn, experiencing the heat, and the cold, and then they drink the wine, before eating the dish," he explains.
For Berger, if something is being done already, he doesn't want to do it. "Coco Chanel said, 'take my ideas, and I will have another'," he shares, adding, "If you are creative, you must create constantly. I left Oceano, Dubai, because I was doing the same things. When I quit, people said, 'why would you want to leave, you have a good salary, and you are with one of the most beautiful restaurants in the world'. But I wasn't happy, and if you're not happy, you can't grow. I read The Alchemist that spoke of the power of knowing things by essence. When you're a kid, you look at things the way they are. You are not polluted by plenty of thoughts. I do the same, when trying to imagine a new experience with  food. Some dishes work, some don't, especially if I start getting too technical about it," says Berger, who is thinking of ways to tell the sommelier to change the way wine is served at the restaurant. "It should be with oil on the top," he says.
They may shoot you in France for this blasphemy, we say. "True that; besides, I'll need a bicycle to run," he laughs. Before we know it, the afternoon melts into evening and behind the facade of a Frenchman—often mistaken for being German—we see a side of a chef who wants to keep the kid inside him alive, only so that he can serve heartwarming food and stories, one course at a time.