Among the memorabilia that Kalyan resident Vijay Surwade has collected of BR Ambedkar over 50 years, the rarest finds are of him having a laugh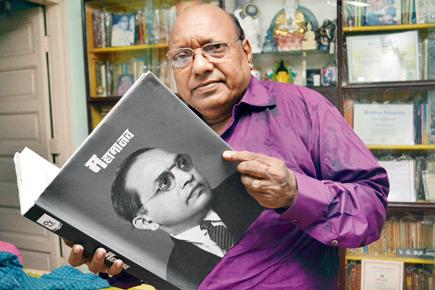 Vijay Surwade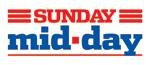 If there's one thing that 62-year-old Vijay Surwade wishes could have played out differently in his life, it's the time of his birth. "Born in June 1953, I was only three years old on December 5, 1956, when BR Ambedkar passed away," he says. "Had I been born 10 or 15 years earlier, I could have met him."
ADVERTISEMENT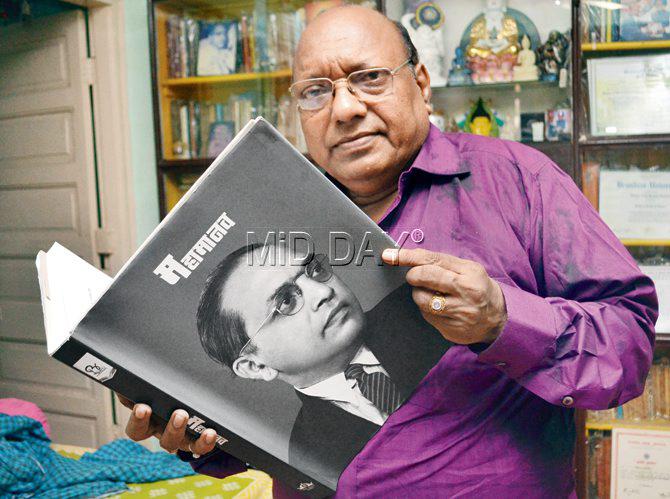 Last year Vijay Surwade self-published a pictorial biography of Ambedkar. Five thousand copies of these were acquired by the Babasaheb Ambedkar Research Training Institute. PIC/Datta Kumbhar
Surwade, who retired two years ago from IDBI Bank as a deputy general manager, has spent most of the last 50 years trying get to know the man better. "I feel drawn to his personality, and there's also a great sense of gratitude for what he has done for the community," he adds, while talking of Ambedkar, who launched political outfits — All India Scheduled Caste Federation and the Indian Labour Party — to allow representation to the country's suppressed communities. Since the 1970s, the obsession has led him to collect photographs of and letters by Ambedkar.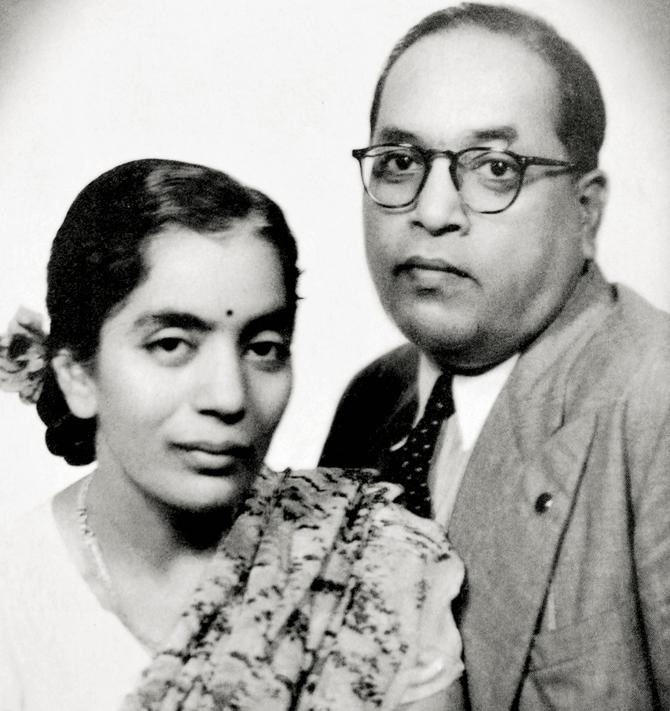 Ambedkar with wife Savita in 1948
"Some time in school is when I began cutting out pictures of Ambedkar from newspapers or wedding cards that often carried his photographs. At the time, I didn't recognize what a real photograph was," says Surwade. Born in Bhusaval of Jalgaon district, Suwade completed his SSC from Thane and later studied law at Fort's Siddharth College.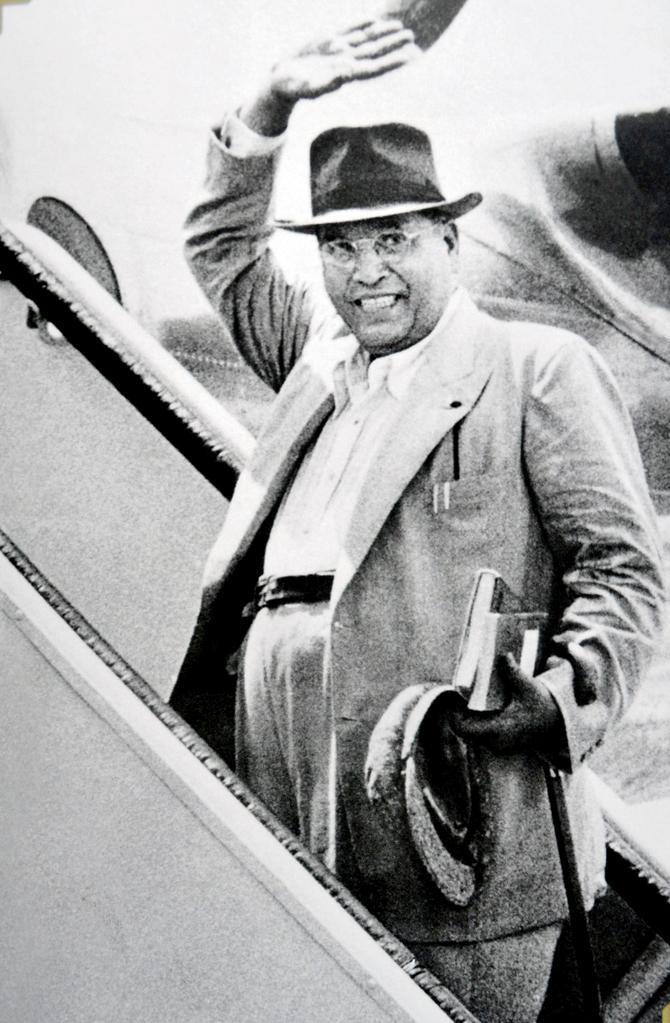 Dr Ambedkar smiling in a 1952 photograph (above), on his way to Columbia University to pick up an honorary degree. A photograph from June 1925 of him while at a guest house in Nipani, Karnataka, where he had gone for a conference on depressed classes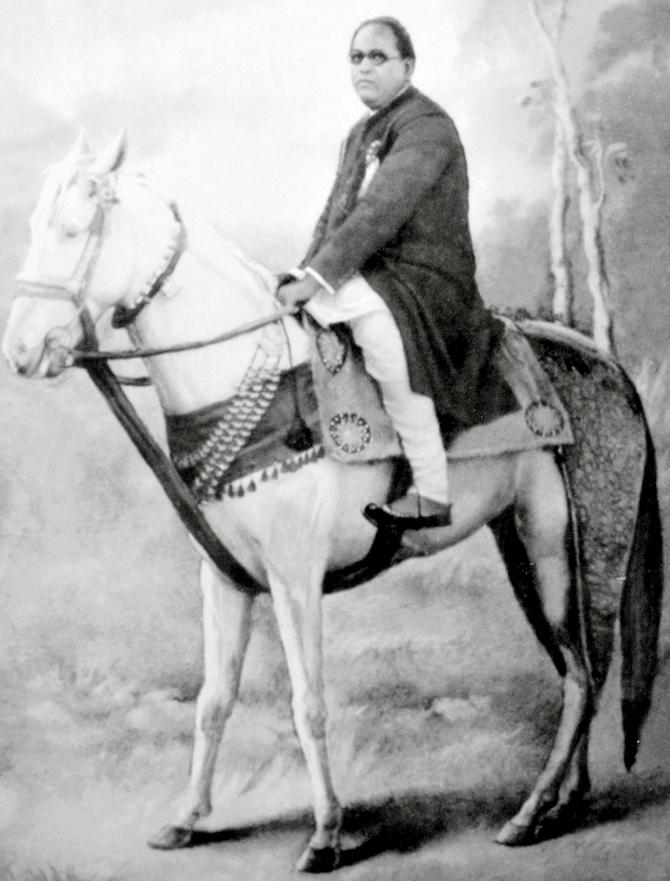 While doing his graduation he came across a real photograph. "That's when I realised what a proper picture is," says Surwade, whose archive collections were on exhibit at Jehangir Art Gallery earlier this month. The discovery spurred him to start collecting 'proper' pictures of the leader.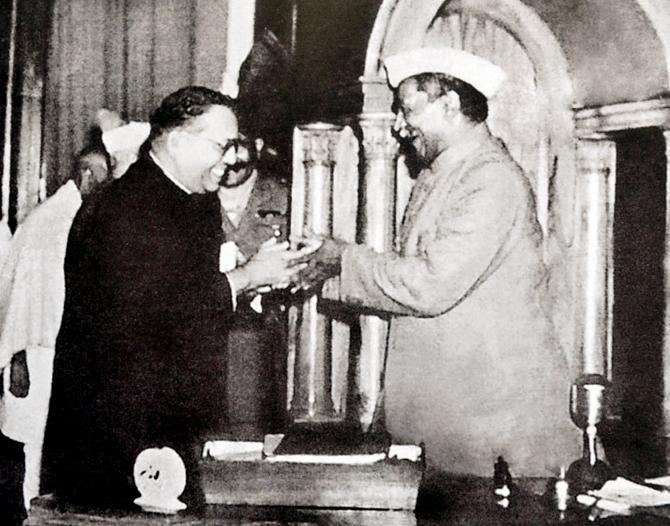 Dr Ambedkar, chairman of the Drafting Committtee, presenting the final draft of the Constitution to Dr Rajendra Prasad, then the chairman of the Constituent Assembly
This he achieved by finding people who had met and were close to Ambedkar during his lifetime. Among them was his second wife, Savita, commonly referred to as Mai. "In 1971, Mai moved to Mumbai from Delhi and would often visit Mr DD Bawiskar, a follower of Ambedkar. Interestingly, she had no photographs of him.
But, she had several personal letters which he'd written to her post midnight when he got free from his day's work," says Surwade. During their many conversations, Mai told Surwade that once sometime in the early 1950s, when Ambedkar was in Mumbai, his colleagues caught him in a good mood, which was 'rare'. So, they took him to Hamilton Studio at Ballard Estate and got a photograph clicked. It was a rare picture of him smiling, Surwade laughs.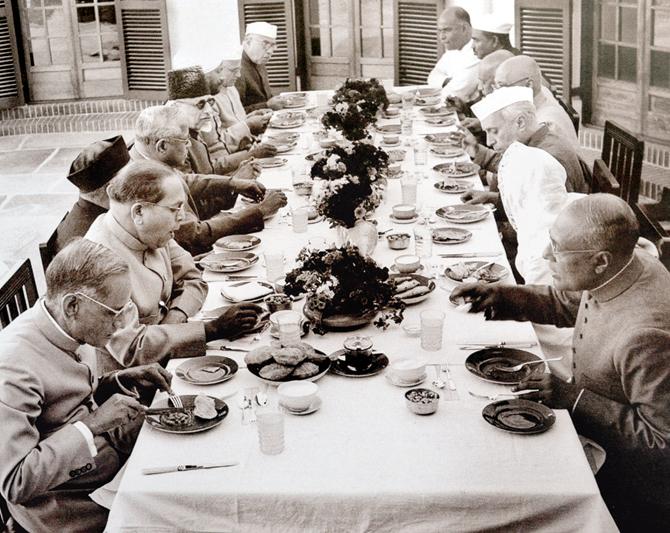 Prime Minister Jawaharlal Nehru with his cabinet, including Dr Ambedkar, the then law minister, sitting down for a meal
Surwade heard the story in the late 1970s, and a few years later, he went back to the studio and asked its owner Ranjit Madhavji to help him locate the picture. "He avoided me for the longest time. Utlimately, perhaps fed up, he opened his record room and allowed me to search for the pictures myself."
In an exercise that took him nearly four days, he went through marked envelopes of old negatives and finally received his reward when he found negatives of six photographs, preserved well. "Ambedkar was laughing in one of them," he adds.
There are other instances too. Ambedkar had been invited by Jawaharlal Nehru's personal assistant Pusham Patke to watch a play called Man Apman. "It was a comedy. While watching it, Ambedkar started laughing. Patke sent me that photograph too," Surwade adds.
Surwade's search for Ambedkar has led him to studios across the country. "Everywhere I went, I'd spend time visiting old studios. I even have pictures from America and London where he attended round-table conferences," he says.
Surwade, who on April 14 this year (Ambedkar's birth anniversary) released a coffee table book of some of these photographs with text by Dr Narendra Jadhav, says he has lost count of the number of pictures he has collected. Perhaps a thousand, he estimates.
The Ambedkar obsession, he says, is unlikely to end. Surwade, who has also released other books of collected speeches and memoirs of the man who drafted India's Constitution, says there can't be anyone like him. "He was a great man and his followers have failed him," he adds.
His leader may be no more, but Surwade says Ambedkar's teachings — to strive to gain education, self-respect and confidence — have remained with him. It's evident in the pride with which he talks of his children's educational qualifications.
"Exciting news! Mid-day is now on WhatsApp Channels

Subscribe today by clicking the link and stay updated with the latest news!"
Click here!